Galapagos Islands to Marquesas

We finally extracted ourselves and our fully laden boat from the Galapagos islands at 4pm, Monday 2nd May and set off on our voyage to the Marquesas, with 2915 miles to go. We had spent the last few days fetching and carrying water and diesel in drums, sacks of vegetables, fresh produce and meat to the boat; all tanks were full to the brim and vegetables were stacked everywhere, including two entire banana stalks in the shower, which was the only place we could find to keep them safely!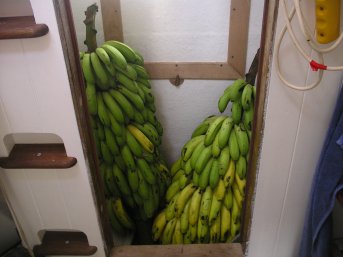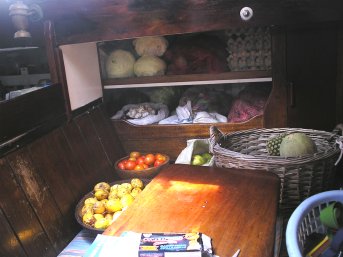 We headed out around the bottom of Isabella aided by a light breeze and jib, main and staysail up, until we were clear to set course directly for the Marquesas, just as the sun went down over the last land that we would see for a month.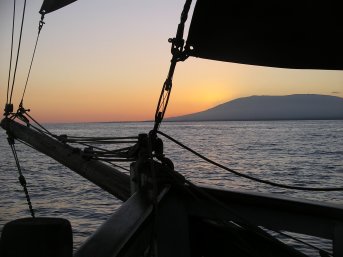 The sea was beautifully flat and despite the light wind, we managed to make 5 knots with a bit of help from the current, though by 10pm the mainsail was down due to too much flapping around and the engine was on. Just after 1am, with Merryn and Rob on watch, there was suddenly a great big thud and a clang, and something broke the surface of the water on the starboard side, off the stern. We never knew what we hit, despite looking for it with a light soon after, but whatever it was was reasonably solid and sounded like it had hit the propeller as well as the hull. We didn't spring any leaks and the prop didn't seem to make any more vibration than usual, so we presumed all was OK, though we will only be able to tell when we have a look underneath when we are at anchor.
3rd May
The next scare the next morning during breakfast was when the engine suddenly started to peter out, but it was only Rob who had been equalizing the diesel between the two tanks and had managed to turn off the wrong stop tap, so there was no problem. Just after lunch we had our first whale visitor of the voyage, identified as a Short-finned Pilot Whale, who stayed with us only a few minutes before disappearing.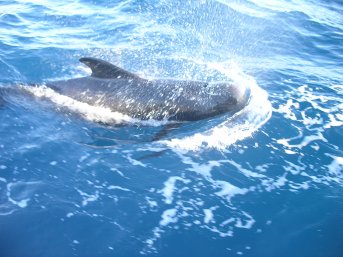 During the day the wind increased nicely and we ended up sailing well in the late morning through to just before midnight, when the wind died as it had the night before and it was back on with the engine went back on. By the next morning there was a chance to turn the engine off again as the wind picked up, and we tried the mizzen with poled staysail and jib, which gave us 4 knots, but felt a bit strange and made the boat roll around all over the place. By midday we had had enough of the experiment and we headed off 20 degrees for a broad reach, with all sails up we managed 6½ knots VMG which was much better and more comfortable. Continuing the after-lunch whale theme, the day's visitor was a huge 40 foot long Bryde's Whale who swam around and under us for about ten minutes.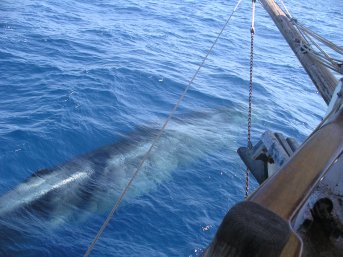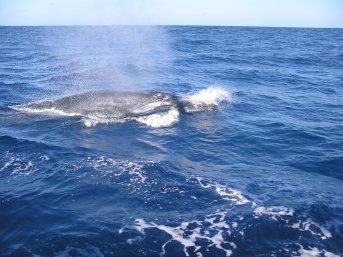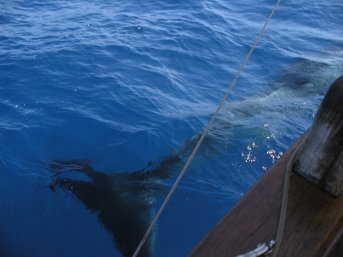 Movie clip - whale surfacing and blowing

During the course of the day our speed steadily increased under the influence of the Equatorial counter current, which seemed to be helping us along at between 1½ and 1¾ knots, until we were reaching a healthy consistent speed of over seven knots. There followed many days of fantastic sailing, clocking up 162 miles, 190 miles, 181 miles, 170 miles in four consecutive 24-hour periods, breaking all records for Lista Light! The wind was consistent F4-5 which sent us along beautifully, although as the wind rose and fell we needed many adjustments and reefs in and out, smaller and bigger jibs up and down to keep going as fast as we dared without snapping the mast! The only downside to all this wind was pretty large waves after a few days, but we had enough speed to cut through them and enough pressure from the wind to stay heeled over a little and not roll about much, so it wasn't too uncomfortable.

Movie clip - zooming along at 7½ knots

We soon realised that the bananas were ripening (most of them at the same time) so it was bananas for breakfast and snacks, banana milkshake in the afternoon, and fried banana for desert!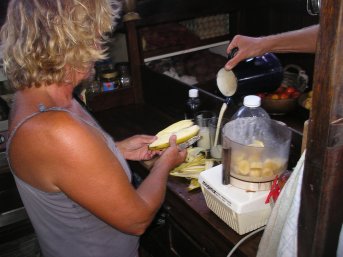 We had a good run in the fishing department, clocking up 8 Dorado in four days, four of them within an hour! Most of our success was due to our new squid lure which we put out after finding lots of small squids washed up on the deck in the mornings (which made a change from flying fish); these are obviously the Dorado's favourite lunch.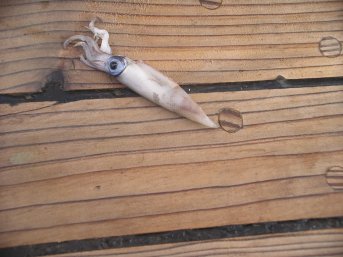 Despite steering the boat and the usual galley tasks, there is plenty of time to get lots of jobs done. Merryn was finally forced in front of the sewing machine and did some repairs to several pairs of tatty looking shorts, and Rob scarfed and lashed a crack in the whisker pole, and had a second go at mending a persistent leak in the floor of the dinghy, this time reading the patch kit instructions first.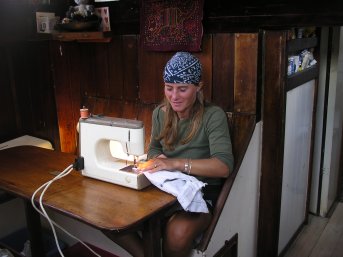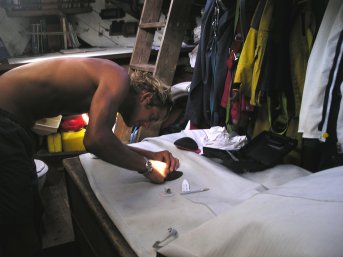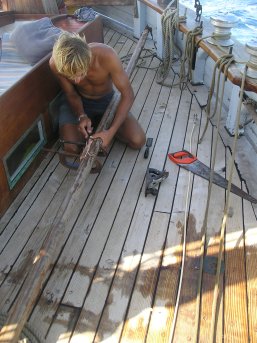 Day eight, and Stu cuts up the last of the fresh meat, so it's vegetarian menu from now on, except for some vacuum packed meats in the fridge, but we have sack loads of onions, potatoes and oranges, and lots of cabbage and marrows left, and of course whatever the sea provides.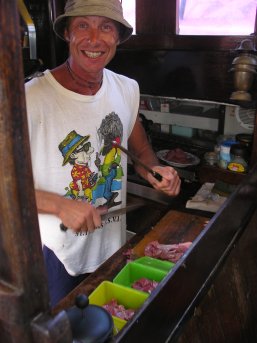 Even more bananas are ready, and starting to go black and smelly, and we realise that we may have over-stocked on them slightly. Merryn gets in the shower to harvest them all, and Jay makes more banana milkshake, some lovely banana bread, and slices up some banana to dry in the sun and make banana crisps.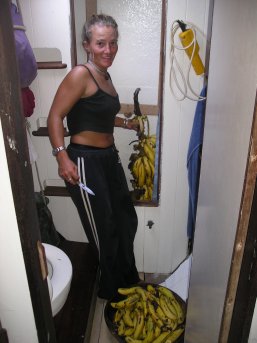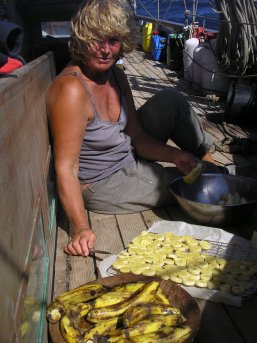 Mike caught our biggest Dorado yet, and made Cerviche with it - raw fish filleted and marinated in lemon/lime juice. Lovely! Unfortunately, this was the last fish we were to catch, sod's law of course since the meat had run out!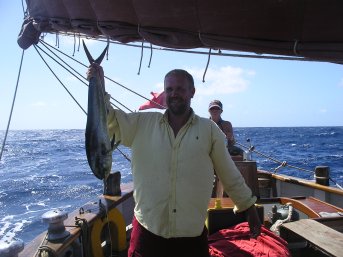 By day 11 (12th May) we reached our halfway stage, with 1457 miles left to go. After the all-time record of 190 miles in a day on the second day when the wind and the current was strongest, we had been slowly decreasing our daily total towards 150 miles, which is still remarkable for us, sailing along very well at 6-7 knots most of the time. Unfortunately the favourable current had pretty much deserted us, with now sometimes ½ knot at best, which had also contributed to the reduction in our progress. At about 6am, Stuart suddenly had difficulty steering - one of the steering cables had snapped! We rushed to find the bit of scaffolding pole that we carry as an emergency tiller to stick through the top of the rudder, since we were under full sail and we could have ended up pointing in any direction. After it got light, Rob unearthed the backup cables that we had taken off in Seville, and fitted the replacement cable from the dingy, whilst we were hove to. As the wind abated slowly there were some periods during the previous day, during the lulls, when the sails slammed about as we rolled around until finally we tried turning and running downwind, with the engine helping to keep us going through the water. This was a chance for Mike to try out his spinnaker ideas using a huge heavy old sail we had, but unfortunately we didn't have much success since the wind wasn't strong enough to hold the heavy fabric filled, so we ended up running for several days under poled jib and poled staysail with the engine helping us along slowly, our usual set-up for very light following winds.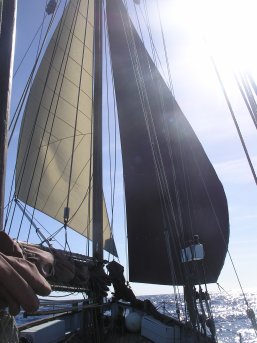 The day's bad luck with equipment ended with the engine alternator not charging late that evening, though this was remedied by Rob taking it apart the next morning and releasing a stuck brush, and all worked OK. The next morning Rob was again working away in the engine room, this time changing the gearbox oil since it was well overdue for a change. As the wind grew slightly stronger, we were able to sail goose winged under main and poled staysail which gave us a slow rolling motion, which was almost relaxing!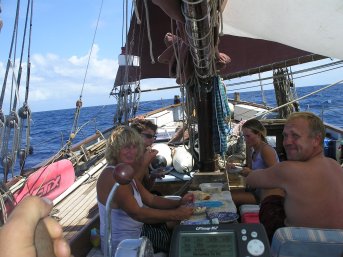 Towards nightfall, the wind had died a bit so it was back on with the engine, but the next morning minds were active and we finally solved the problems we had - by inventing a load of new flying sails which could take the rolling sea and the light airs we were having. Starting with the poled jib we had had up all night, we added a mizzen staysail using our intermediate jib, then flew a fisherman's by hoisting another old jib upside down between the top of the mizzen and the main topmast. We finished off our creation by putting up a double reefed mizzen, and it all gave us an extremely comfortable 4-4½ knots !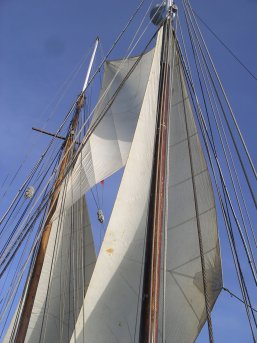 Various incarnations of these sails did us very well for many days, and provided a much more relaxed rig than usual, able to accommodate the choppy seas and variable following winds that we experienced. During this time, there came an addition from Jay, since Rob was struggling for things of interest to put on the site, as not much changes from day to day.
People often ask what kind of things we eat on an ocean passage and the truth is food becomes a very important part of the day with lots of preparation leading up to consumption. On this trip there has been the 'before the fresh meat ran out' and the 'after'. It has been an advantage having a trained butcher on board, Stuart, as he selected the fresh meat from the market and kept it going for ten days – six days longer then we usually carry fresh meat in the fridge. During that time, we had stir fry x2, Bolognese, Goulash, Chilli Con Carne, pork with roasted vegetables, Boeuf Bourguignon, Kofte kebab burgers and finally Schnitzels – tender beef pockets enclosing blue cheese filling, all absolutely delicious!
Those were some of the easy meals – we were also catching a lot of Dorado so lunches were often fish salad, fish stew or Cerviche, supplemented by tinned pilchards or tuna if we had been unsuccessful. Since the meat ran out we have had Psychie's marrow, one of our favourites and a Merryn speciality, pasta and pesto, potato and onion curry with chapattis, curry pasties (Mikes first and highly successful attempt at pastry), eggs in coconut curry sauce; lunches have been various salads, marrow soup, tomato soup, cumber and cream cheese mouse, this all interspersed with banana milkshake, banana fritters, banana in caramel sauce, banana bread, banana and chocolate chip muffins, banana crisps, flapjacks, date and walnut loaf, and fruit salads, pineapple, melon, banana, oranges and watermelon. The passion fruit all had to be made into juice after about four days worth of fruit salads but the wonderfully juicy Galapagos oranges are still going strong even though we've had freshly squeezed orange juice every day – the big sack we brought should last us to Fatu Hiva.
I haven't mentioned the breads – Mike's olive bread, Rob's now perfected fisherman's bread (spongy half-brown half-white bread previously cooked in a pan but now more successfully in the oven), brown rolls, white baps, white plaited bread, wholemeal loaf and plenty of pancakes, Stu's speciality. Unfortunately the bananas are virtually past it, maybe one more day's worth of squashy ones, and the rest will be fish food but we still have grapefruit, watermelon, oranges and lemons before we have to supplement with tins of fruit.
I'm planning a vegetable mousakka for tonight with marrow/pumpkin slices instead of aubergine, with cabbage, onions, beans and tomato as a sauce, plus a packet of mushroom soup instead of the Béchamel sauce – we'll see how it turns out! We still have the lentil rissoles, enchiladas with refried beans and Rob's popular Aloo Saag to anticipate and no doubt other inspirations.
Needless to say that since we ran out of meat we haven't caught a single fish – the line is still trawled every day with our selection of trusty lures, all now proven (except the most expensive and largest fish one, which has attracted two monster strikes, but lost both of them), the blue rattling squid, Ian's red squid and the 'Tormentor' have all done some serious business.
There has also been a selection of breakfasts – fruit salads and hot rolls, toast, scrambled eggs on toast, French toast with bacon, full English – sausage, bacon, eggs, baked beans, tomatoes, mushrooms (I can't remember what we'd done to deserve that one), pancakes with lemon, maple syrup and sugar; omelette with bacon, pepper an onion and home made muesli (oats soaked overnight with dried fruit).
If you think we (or I, corrects Merryn) sound rather food orientated you are probably right but you know what they say – an army marches on it's stomach – well so too does a boat crew crossing the Pacific!




The pumpkins were becoming a bit like the banana situation, since the small chunk out of the pictured pumpkin did one meal, and we had four whole pumpkins - there followed the usual pumpkin soup, roasted Mediterranean pumpkin, pumpkin lasagne, etc for a while. Merryn managed to find a bag of flour that had been invaded by a load of wriggly weevils, which we considered briefly for their protein, but decided to sift them out of the flour before using it for bread.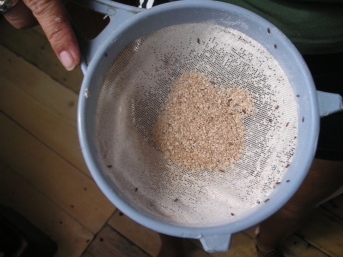 The next few days saw much sail work as the winds became squally and unreliable and we spent large portions of days and nights putting up and taking down sails, until we got bored, stuck out a few small ones that would not flap when the wind was light, and stuck the engine on! Rob and Mike made use of one particularly torrential squall early one morning for an alfresco shower, but generally the rain wasn't too welcome.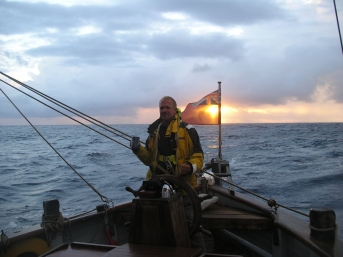 The mileage was now rapidly decreasing below 1000 miles to go, and we changed our clock back for the second time in the journey, to GMT-9 (the same as Alaska). The last five days were mostly very light winds, so most of the work was done under engine, and were much the same, with occasional drizzle here and there, and occasional bursts of wind that made us hopeful, before they died away again.
The only event during the last part of the journey was Rob and Merryn's first wedding anniversary, which Jay somehow found a whole load of nice nibbles to make a very good lunch for !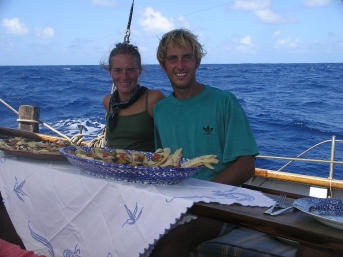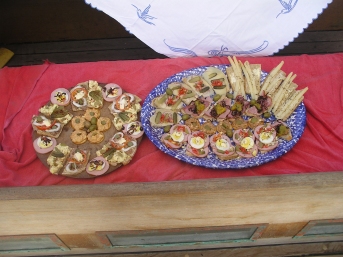 With two days to do we maintained a slightly slower speed that would get us into Fatu Hiva early morning, rather than in the middle of the night, and so at 03:20am on the 25th May, Merryn spotted a large lump twenty miles in front of us in the bright moonlight, which we watched getting larger and brighter as the sun came up.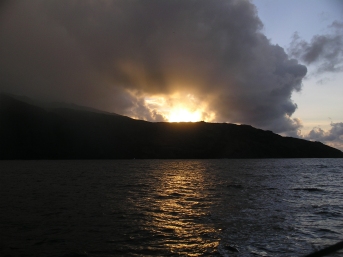 To get up to Hanavave Bay where we were going to anchor, we skirted around the bottom of the island, and went up most of the west side, watching the beautiful scenery reveal itself as the sun rose.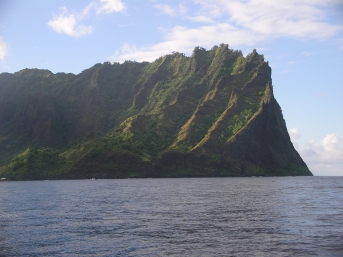 We reached the Bay of Virgins (apparently renamed by horrified missionaries from the Bay of Phalli, due to the shape of the rock columns) and after a couple of circuits around the crowded anchorage (14 boats!) we dropped anchor just after 10am. We had made our run of over 3000 miles in 23 days, which was almost a week sooner than we thought we would make it, and had been blessed with fantastic winds for almost half of the run! Here is a very interesting graph of our daily progress (there wasn't much to do!!)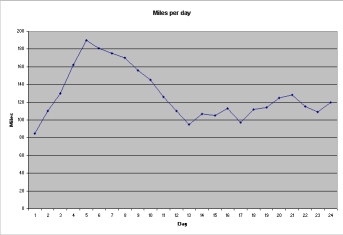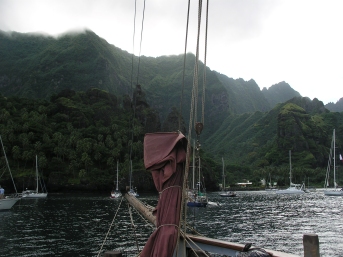 Hanavave Bay lived up to its reputation, with breathtaking views of massive steep sided valleys and overhanging rock pinnacles balanced over the town. The locals were very friendly, but it was strange to hear everyone speaking French again, especially since everyone looked more like Maoris than Frenchmen!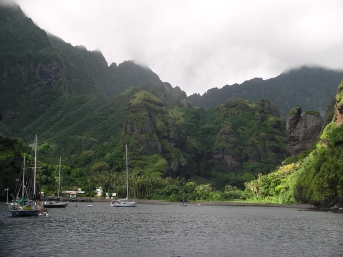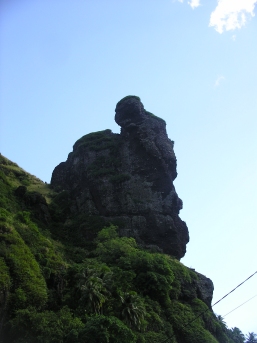 After a stroll around the town, Jay and Stuart found the shop and a friendly local who brought us a huge sack of fresh fruit. We finally got some butter (which we had ran out of a week before) and a couple of other essential items at the tiny town shop, but since we had no French Polynesian Francs, we bartered a couple of boxes of cheap wine, which everyone was happy with. The next morning a local called Philippe took us to Omoa Bay, the main town on the island in his boat, an outrigger canoe, passing a big crack in some rock on the way.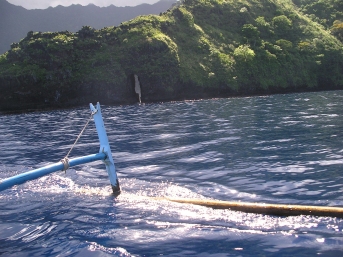 We had read about a walk from Omoa to Hanavave, which goes over the top of the mountain ranges, and is a distance of 10 miles, so we intended to walk back that way - a good way to see the best of the scenery and stretch our legs a little after three weeks on the boat. After a wander around the town, where we found some Brie, French bread and Pate for our lunch, we started off on the climb at about eleven, steeply ascending the valley wall above the town.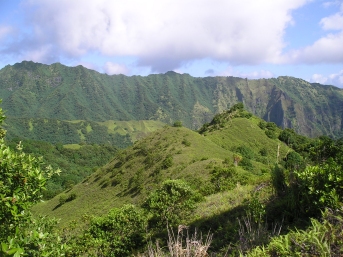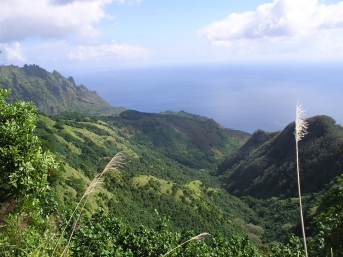 The track of beaten earth went steeply up and up and up until we had to stop for lunch and a rest several hours later, not yet at the top, but with a fantastic view over the sea.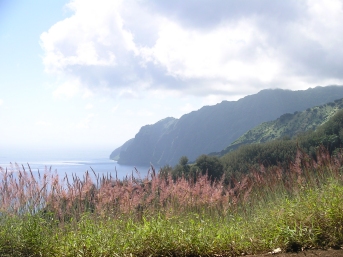 It had become fairly obvious that we had not brought enough water with us, since we had drunk all that we had in the sweltering heat, so we had to wait several hours until we finally found a muddy trickle and were able to fill up the water bottles.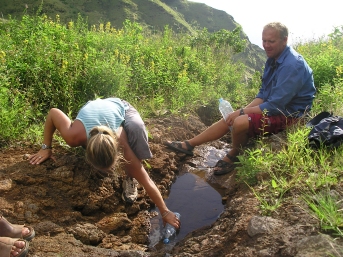 The walk back down to Hanavave was no less tiring, since it was fairly steep and the road deteriorated, but the views as we went back into the deep valley were amazing, and once we were able to see the boat from way up high.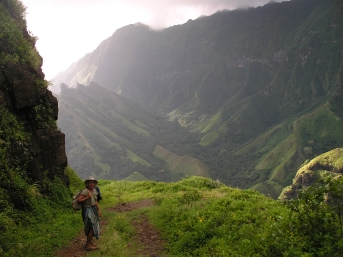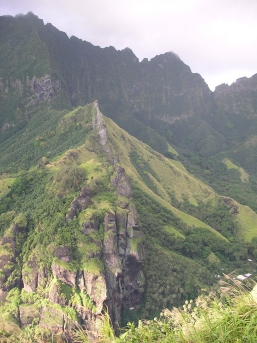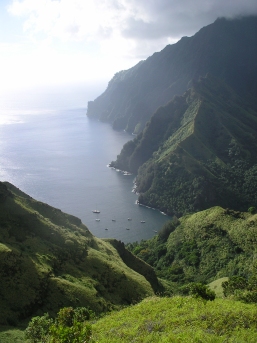 The next day there was not much movement, since our legs hurt, but Merryn was at the washing machine most of the day, and various other boat maintenance occurred. We had heard that, the next morning, there was a special Mother's Day dance at the primary school, and so we went along to see the kids perform.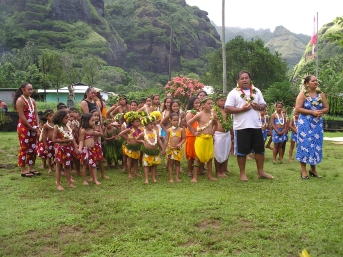 Movie Clip - the tiny kids doing a dance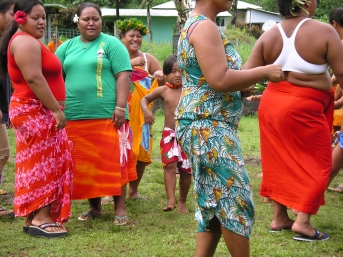 Stuart went off with some young American guys who had sailed here on a 26-foot boat for a hike through the jungle, and Mike went off in search of the various statues and skulls reputed to lie about the jungle according to some of the books we had read, although he was not successful. The next day, Rob, Merryn and Jay went off to find the waterfall that Mike had reached, and had a lovely swim and wash in the cool water.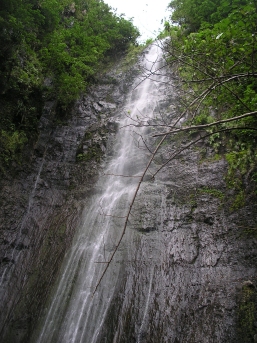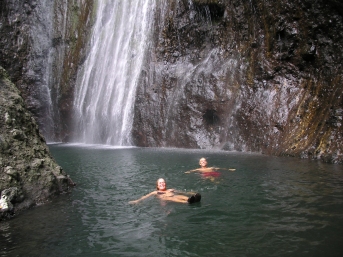 Another day of relaxation, then it was good bye to the Bay of Virgins, and off towards Hiva Ova, the largest island in the southern group, not before an hour of battling with the anchor winch which had decided to misbehave and keep jamming the anchor chain around it. This is a map of our progress through the islands over the following few weeks.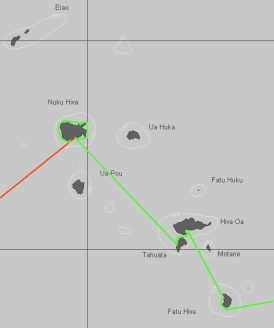 We made reasonable progress with all sails up, until we were suddenly hit by a big squall coming over one of the islands. We had expected torrential rain, but not the amount of wind it contained, and all of a sudden we were tearing along at 9 knots, at which point we soon after thought it a good idea to somewhat belatedly take down our biggest jib before something bad happened to the mast! With such assistance, we made it to Atuona, the main town on Hiva Ova, just before dark and anchored in the small bay full of other sailing boats.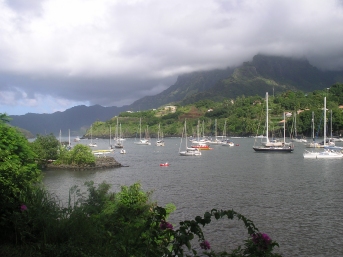 That night the French Navy patrol boat moored in the bay generously invited everyone in the anchorage to a barbeque, where they provided free food and red wine, and we had a good time chatting to them and the other boat people, and even had a tour around the patrol boat by the captain. Making our way to the town the next morning we were pleased to find facilities such as a bank and shops, although we were a bit horrified by the prices - gone were the stupidly cheap Ecuadorian prices and here to stay until New Zealand were the island prices, often about 5 times more!
The town also had a tohua, a traditional meeting place with carved pillars in the centre.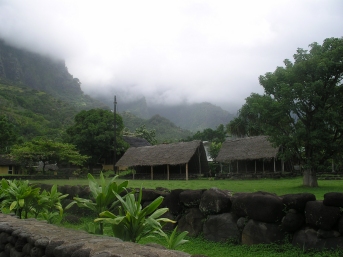 We were tired of the hideously rolly anchorage with dirty water, so we left late the next morning to find ourselves a nice secluded beach on the far side of Tahuata island, after stocking up on some fresh vegetables and other essentials, and trying again to do immigration at the Gendarmerie, which had decided not to open that morning.
Three hours later, and we had anchored in a beautiful small bay complete with lovely sandy beach and palm trees, and a relaxing afternoon was spent swimming in the clear water, followed by a barbeque with good French sausage.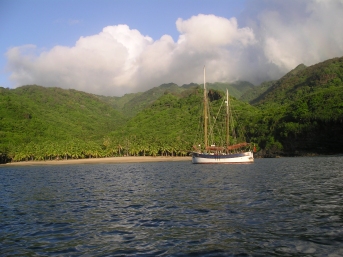 It was off again the next morning, only a few miles South to Hanatefau Bay, near the village of Hapatoni, where Noel and Co. had spent a few days and had recommended.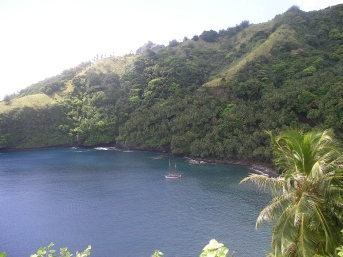 Here we met Richard, who has a hut in the bay, who showed us around the village and the restored pae pae, the ancient stone foundations in the centre of the village, and a petroglyph.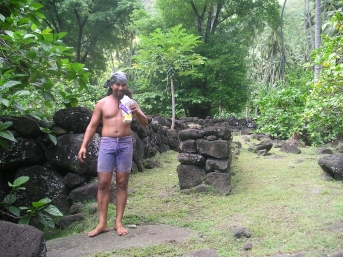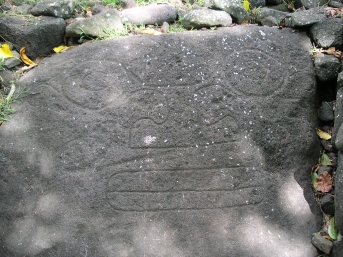 There was a 3-day fete to raise money for the church on at the village, which we were invited to. The fete seemed to generally involve lots of eating and sitting around, playing of boules, and lots of practice for a music and drama show put on by each village attending the event.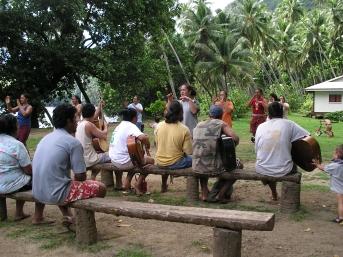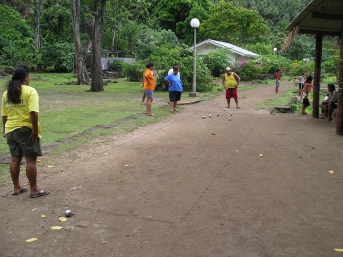 We ended up staying for five days in the end, several more than we had expected, since it was such a pleasant quiet spot for Jay to devour several books, Mike to spend most of his time spear fishing and for us all to get to know Richard and a few of his friends, Frederick and Timau. In fact, Stuart got on so well with them that he decided to stay for a few months, and left the boat !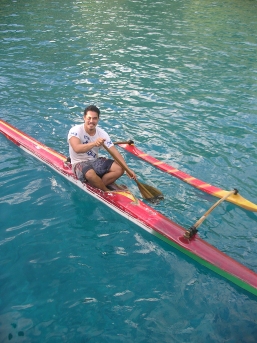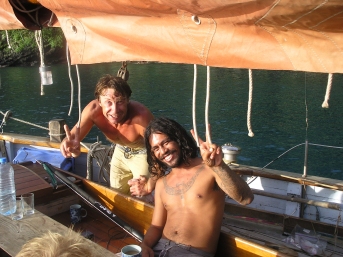 While Merryn and Rob took a walk to the neighbouring village, which didn't look far but ended up being a tough and sweaty climb up the steep road for half the day, Mike speared his biggest catch yet, a Trevelly fish that was to feed us for several days!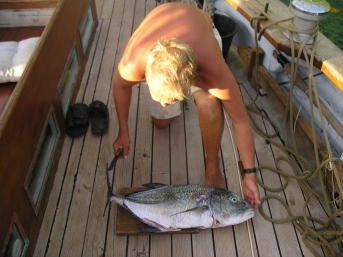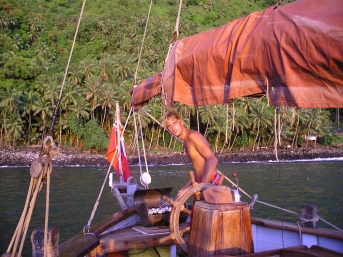 We finally left Hanatefau as four crew on the 5th June for an overnight sail to Nuku Hiva, waving goodbye to Stuart, left to live in Richard's hut in the bay.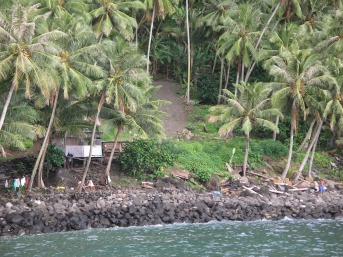 The next morning, after a windless night under engine, uneventful except for a few dawn showers to wake us up, we arrived in Taiohae Bay, the main town on Nuku Hiva. Over the course of our four day stay, we all (even Jay!) finally used the internet for the first time in over a month, had a good look around town and stocked up on fresh provisions. Rob ended up spending the best part of two days inside in the internet café uploading the website data for the update, which is usually complete in half a day - the internet was not fast, but better than nothing! We also had cause to buy more beer - our huge stock from Panama finally ended, and so it was back to normal prices for beer - a great shame, but certainly nothing to discourage consumption. We also realised that we had been a bit unsociable lately, and invited people of a few boats over for before dinner drinks which somehow turned into drinks instead of dinner. We left Taiohae Bay for a more remote anchorage on the North East side of the island the next morning, sailing in tandem with Richard on his boat Shamaal who took Jay on board as crew for the day.




The anchorage was beautifully protected and smooth, the views wonderful, and there were just the two of us there to enjoy it. Early the next morning Jay, Richard, Merryn and Mike set off on a walk to see what we had been told were the best ancient remains on the Marquesas, climbing over the saddle into the next bay which afforded a good view of our boats.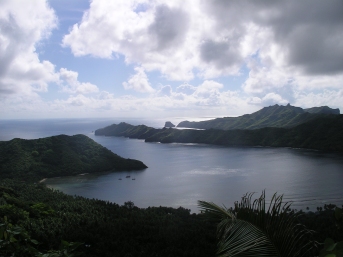 Both Rob and Mike had been feeling a little strange over the last week, with between the two of them - muscle fatigue, tingling feet and lips, upset stomach and strange, painful and long lasting leg aches bad enough to interrupt sleep, and so Rob didn't feel that his legs were up to the walk. We wondered whether they had both eaten enough of the large Trevelly fish to catch a mild version of fish poisoning, the bad cases of which result in paralysis and death, but were unsure since the symptoms had not occurred immediately after eating the fish!
Back on the walk, the restored sites of Hikokua, Kanuihei and Tahakia were impressive, with statues (tiki) and foundation stones (paepae) on a large scale.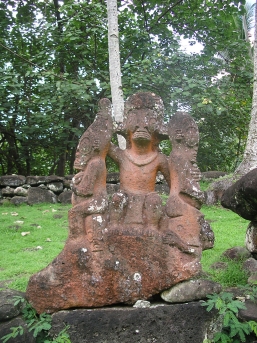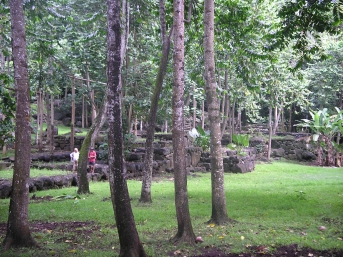 After a quick stop at the ice cream shop in Hatihee village, it was back over the hill to the boats.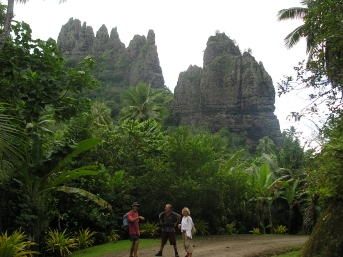 For another few days we passed the time mostly relaxing and eating, having Richard on board as dinner guest most evenings. For those of you who mentioned that Rob was long overdue for a haircut, you will be pleased to note that Merryn finally got to it and gave it the chop.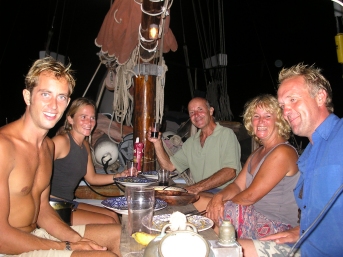 Since we had last filled up our tanks in the Galapagos, we were running very low on drinking water, even though we had made it last a little longer by filling up jerry cans with non-drinkable water for washing in Fatu Hiva. We had been unable to find water of drinking quality on a wharf to easily fill our tanks, so we had to finally concede that it was hauling water by dingy and jerry can, and since this part of the island was mostly uninhabited, the water available from a standpipe near the beach tasted good. Mike and Rob set to work and seven round trips and half a day later, each time with five jerry cans, all tanks were full and Mike and Rob's arms were considerably longer!
Before departure the next morning, Merryn and Rob went for a walk over the saddle the other side of the bay, finding a nice beach but not having any luck in locating the oldest remains in the Marquesas, which were supposed to be around somewhere.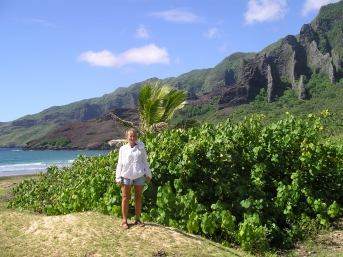 Jay accompanied Richard in Shamaal again, and the remaining Lista Light crew followed a few hours later, making it into Daniel's Bay back on the south side by nightfall, after a scenic route around the remote northern side of the island.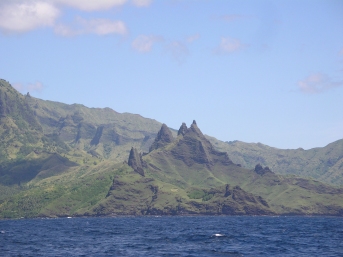 Sorry - image not available (Lista Light anchored near Daniels Bay)

We were up bright and early for yet another walk, this time to see the third largest waterfall in the world, which can be reached after a two hour hike through the forest. The best view was from about half way there, but the bottom part of the waterfall was obscured by rock formations, in a similar way that most of the waterfall was obscured when we arrived there.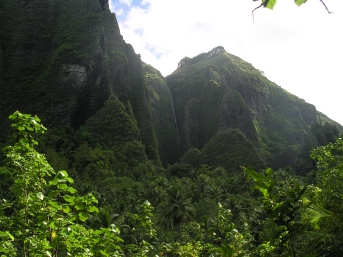 A quick cooling dip in the water, and a power shower for Mike, Richard and Jay, then lunch shared with Daniel's dog Makaka who had been an excellent tour guide and showed us the way. After returning to the boat, we did another water run to top up all tanks, then Mike cooked a beautiful pie with roast potatoes that went down very well - Richard was heard to comment that he hadn't had roast potatoes that good since his mother died twelve years ago!!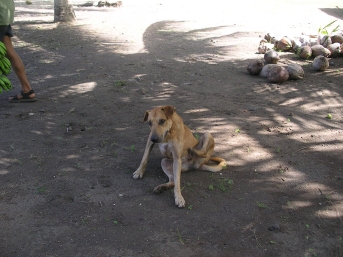 The next morning back round to Taiohae Bay, where we took on some extra diesel to make sure we could make it through to Tahiti on what we had, then anchored up again in the bay. After internet and provisioning, we left a few days later for the Tuamotu island/atol of Manihi, followed by Ahe and Rangiroa, spending around a month before arriving in Tahiti, next update whenever possible!!

Back to previous section - Balboa to Galapagos Islands
Forward to next section - Marquesas to Tuamotu






















This page hit Count : 163045
This is the Lista Light Website, for the travels of the sailing boat Lista Light

Click here for text-version of site