Cook Islands to Tonga (via Niue)

We left Avatiu harbour, Rarotonga at lunchtime on the 6th September, after a last minute purchase of ten duty free cases of VB and other provisions for our 600 mile journey to Niue, assisted by our new crew Jack.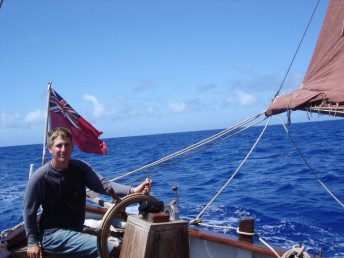 Sailing was good for the first day, and we made good progress on a broad reach, but the wind died down slightly the next day and by the following evening some engine help was required. Just as dusk fell and Rob was winding in a fishing line, he realised that there was a fish on it and without any struggle from the fish landed it on board - a lovely yellow fin tuna, nice and plump!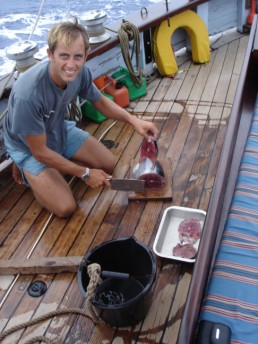 The tuna fed all of us steaks the first night, went in a fish stew the second night and was enough to feed nine people fish curry on the third night - a good catch! A large flying fish had also landed on deck the previous night and although small, was tasty after Merryn marinaded it in balsamic vinegar and soy sauce.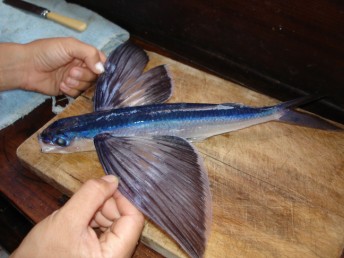 We had decided, weather permitting, to stop at Beveridge reef, a tiny reef three miles across which is just off the direct track to Niue for a rest and a swim on the way. As we approached on the morning of the 10th September, the weather didn't look promising since it was overcast and showery, but we decided a good rest would be nice and went in anyway, joined a little later by Jack's previous boat, Dolittle.
We invited the Dolittle crew and the crew from another boat already at Beverdige reef over for beer and curry, and were entertained by stories of a shark bite a few years ago at Beveridge reef which required sixty stitches.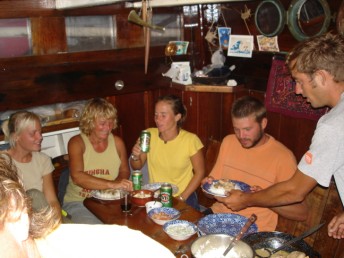 Despite the shark story (backed up by Alan showing us the scar) we decided that a dive was a good idea the next morning, and set off out over the reef and into the water.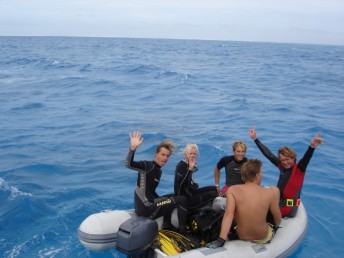 Whilst the coral wasn't wonderful, since a hurricane hit last year, there was plenty of life, including a couple of white-tipped sharks to pester with Cees' underwater camera.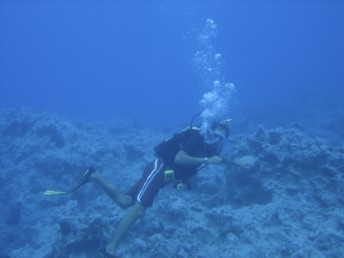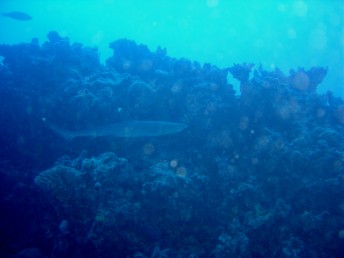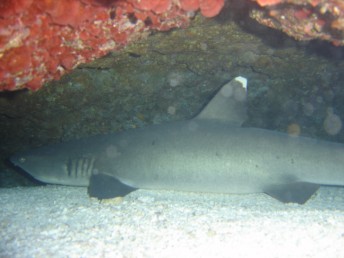 After the morning dive, it was up anchor by noon and off to cover the remaining 130 miles to Niue, an excellent sail at 6-7 knots all afternoon and evening, although as usual it all failed at 2am and we had to take most of the sails down and continue under engine, with poled jib and reefed mizzen helping slightly, though mostly flapping in the light breeze. We motored around the bottom of Niue and up the west side to Alofi, where we picked up a mooring about an hour before dark.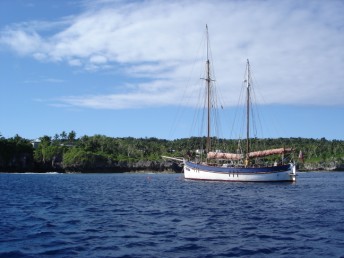 Niue is a self-governing island with links to New Zealand - it is low and flat, rising to only about 100m high, and has lots of caves and chasms around the coast. It suffered a devastating direct hit from hurricane Heta last year, and so pretty much everything is new, since the island was flattened during the storm, with waves climbing up 40m of cliff and sweeping over the land 10m high!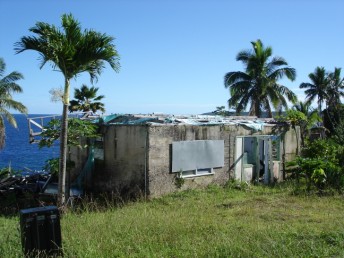 As Jack and Merryn were exploring one end of town, they came across a motorbike rental shop, and came up with the plan of cruising around the island looking at all the beauty spots by bike. That evening the idea gathered momentum and people from several other boats wanted to join in, and the next morning we all ended up on six motorbikes zooming around the roads.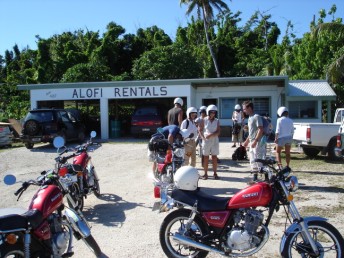 First stop was a small pool and a cave…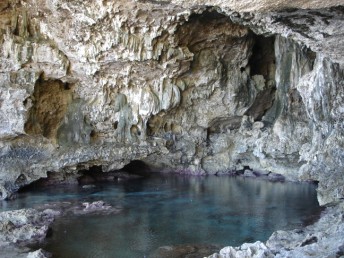 ...swiftly followed by a second and then a third pool at different stops, where we cooled off and had a quick snorkel.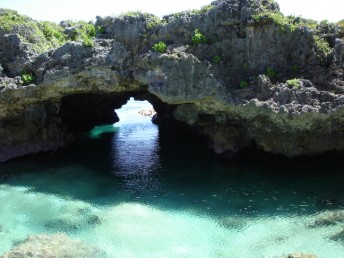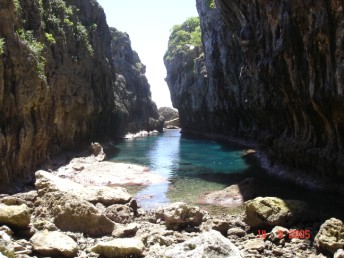 The third pool was in a deep chasm, and the boys had fun climbing up the sides and jumping off into the water. We then walked for half an hour around to another small bay, where there were some amazing rock arches and we stopped for lunch.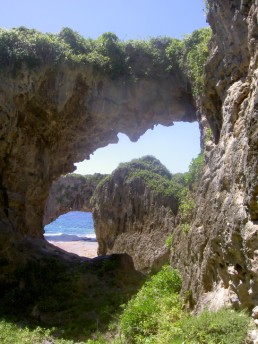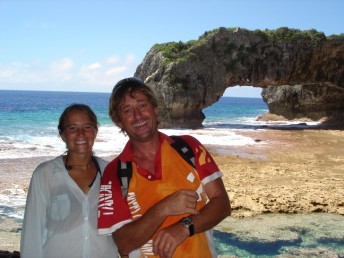 Cees (pictured above) was the second crewmember from Dolittle due to join us, and instead of waiting until Tonga he moved on board in Niue.
After lunch we went right around to the other side of the island, Noel getting the prize for most careless riding by going over one village's central green after failing to navigate a sharp bend, and Cees winning the most dangerous under and over taking manouvre prize - somehow no-one was hurt and after a short walk, we were staring out over the sea on the jagged windward side of the island.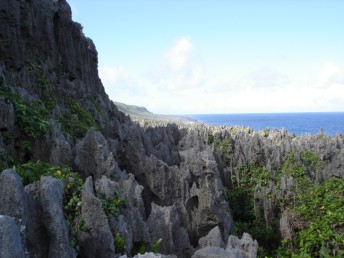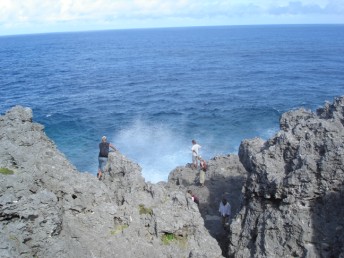 Movie clip - big wave hitting the shore and swirling around the rocks

The journey back to the main village was uneventful except for some large ice creams, then a sundowner at the Crazy Uga café.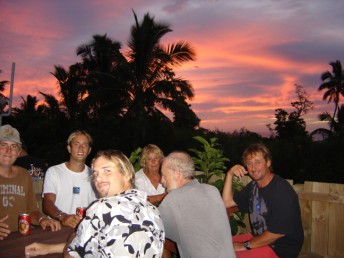 A day later, we slipped our mooring buoy, now a crew of six (five permanent members and also a hitch hiker from Niue Yacht Club to Tonga). The wind got up nicely as we left the shadow of the island, and a few miles out we put up main, mizzen, staysail and big jib and were going along very nicely at 6-7 kn, with Cees (pronounced like "case") trying out the steering.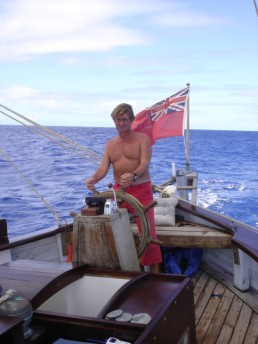 Noel and the Endelig crew left a little after us, and after a few hours caught up with us for a photo session - requiring the topsail to be hoisted of course, and resulting in loads of excellent pictures of Lista Light sailing well.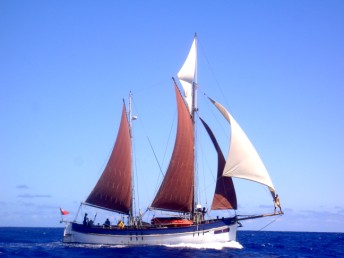 Phil from Niue Yacht Club wasn't having the best voyage, spending most of his time comatosed or sick, but the rest of us were enjoying the good sailing, until the wind died that evening and we continued for the night and the next day under goosewinged mizzen and staysail, with the engine assisting. The next morning, the dawn brought the first views of Tonga, and we caught up with another boat, Sanuk, for some more mutual picture-taking.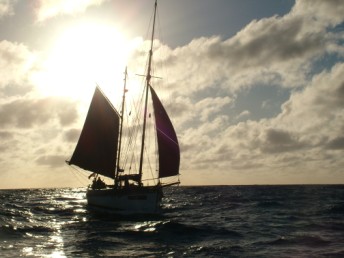 As we sailed around the north coast, we were lucky to have a sighting of a hump-backed whale and calf swimming the other way between us and the coast.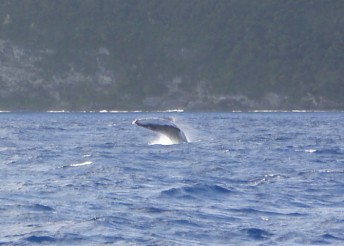 We carried on around to the west side, and then into the maze of small islands, inlets and reefs that is the Vava'u group, and up to Neiafu, the main town. Here we had to tie alongside the wharf until customs, quarrantine and immigration formalities were done, then we picked up a mooring buoy and headed off to Mermaids, the local bar.
The next morning we explored the town and picked up some provisions; we went to the market for some fresh fruit and veg, and to "Pete the Meat" for some steaks and sausages for the barbie.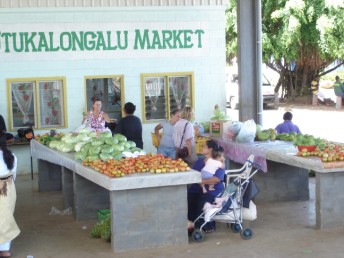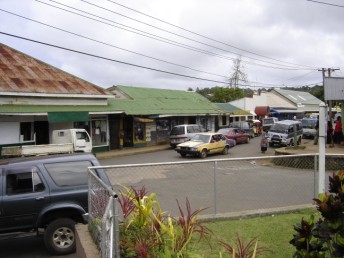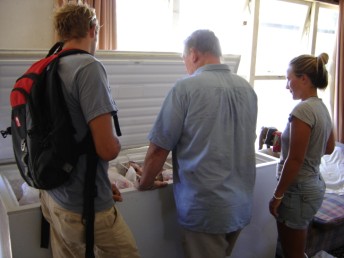 The Vava'u group is ideal for easy and relaxed cruising by boat, with lots of small islands all in an area about 30 miles across, which means more than 50 places to anchor all within an hour or two of each other. We left Neiafu that afternoon, and went to our first anchorage behind an island about an hour from the town. The next day Cees got his kiteboarding gear out, and had a good day zooming about, and was a lot more successful than our attempts at spearfishing which resulted in a net amount of zero fish.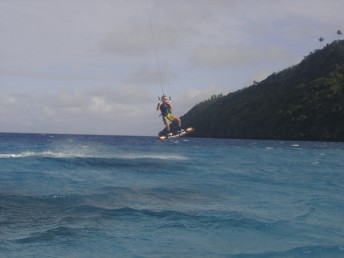 We were enticed to the hotel bar on the island by Happy hour, which ended up being a very late night, with lots of dancing and drinking, all helped along by the hospitality of the owner, who used to be the bass player in The Cure.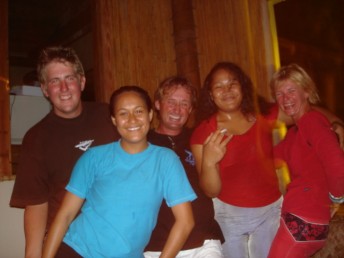 The next afternoon, after a very slow start, we sailed around to our next anchorage, a short one hour journey, where we were joined by lots of other boats to celebrate Jay's birthday. Rob and Cees built a huge fire on the beach during the afternoon, and lit it just before sunset.




A few hours later the fire had consumed vast amounts of fuel, and had died down enough to cook on; we all feasted on pan-fried fish and salads brought by all, and of course a few celebratory drinks. We were even gate-crashed by some local Tongans who were very helpful in keeping the fire burning, and climbed a tree to fetch and open us some coconuts when we ran out of mixer.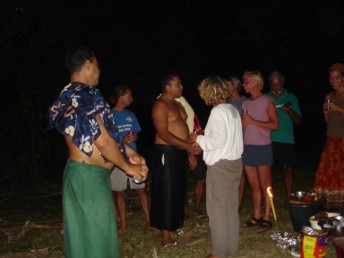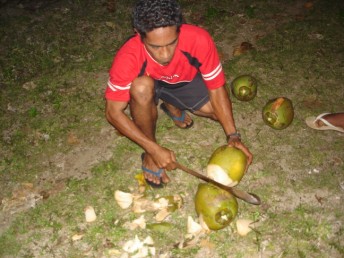 The next day, after a quick clear-up on the beach, we motored the strenuous distance of a mile to the next anchorage, settling off a small beach off the end of a motu. Cees took advantage of the wind and beach combination in getting his kite out, and had a good afternoon session, while the rest of us enjoyed the sea life from the surface.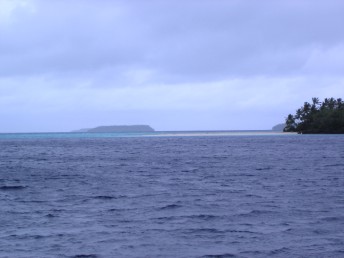 Moving on again the next day, we were encouraged to a particular spot by an invitation to a hog roast - some people that we knew had bought an entire small pig from 'Pete the meat' and were roasting it on a spit. The usual yachtie rules applied - everyone bring a salad or something and we all dig in eating each other's food, often a welcome change from tired recipies! Unfortunately no-one remembered their cameras, so no pictures of the pig on the fire.
During the evening and overnight the weather deteriorated, and ended up cloudy and windy by the next day with some showers - we had been taking good weather for granted near the equator, and had to expect more changeable weather from now on, especially as we went down to New Zealand.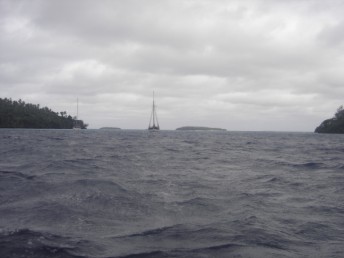 The next morning we went to a good snorkelling spot half an hour away in the dingy - called the Coral Gardens, it was once spectacular but was damaged in a cyclone in 1990 and has partially re-established itself. We were very excited to hear whalesong while we paddled about, and lots of blue starfish amongst the coral.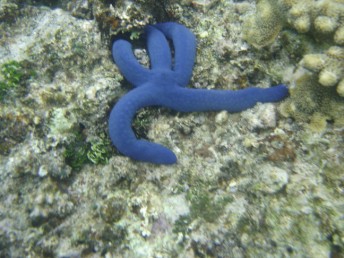 Encouraged by the whalesongs that we had heared, we went on a three-hour roundabout sail to the next anchorage (which was 15 minutes away!), hoping to run into some whales on the way. The wind was strong, at least 25 knots (F6) so we had a good sail at times, although since we were going in a circle, we were beating into the wind and waves at times. We cicled around countless small islets and bigger patches of land, but unfortunately were not lucky, and missed the whales.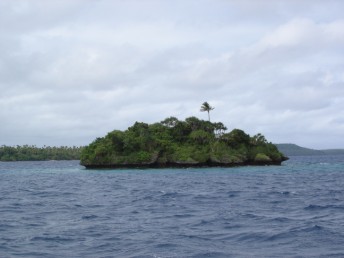 After a pleasant night stop, luckilly helped out by being invited to Dolittle for dinner since we had practically nothing left on board to eat, we sailed around back up to the main port, Neiafu, getting absolutely drenched in the process by torrential rain. Luckily Cees had his trendy wet-weather gear and his waterproof hat to hand, and was slightly less wet than the rest of us.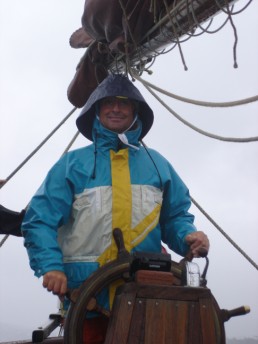 That night was the obligatory stop at The Mermaid for fish and chips and beer, and the next day was taken up with provisioning, internet, haircutting, checking out through customs and immigration, taking on water and clothes washing, all ready for a quick stay at an island on the west side of the Vava'u group, then on to Fiji, a four day sail.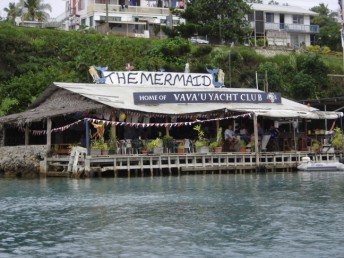 Map of the stopps taken so far in Tonga, and the way out towards Fiji




Back to previous section - Society Islands to Cook Islands
Forward to next section - Tonga to Fiji






















This page hit Count : 163052
This is the Lista Light Website, for the travels of the sailing boat Lista Light

Click here for text-version of site