Malta to Gibraltar

We all spent the last of the daylight hours exploring the many passage ways that seemed to go on forever. There was something to see at every corner and the pictures that we took can barely portray the beauty of the streets of Malta.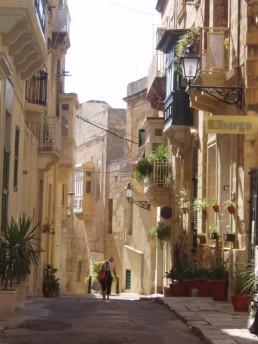 We all met back at the boat as the evening drew in and after a good hearty dinner Martin, Noel, Jack and Gareth headed off to one of the local bars before hitting the main clubs in town. After a fun filled night on the town with many clubs being visited we retired to the boat. The next day everybody mooched around doing their own thing which consisted of some time on the internet and plenty of exploring.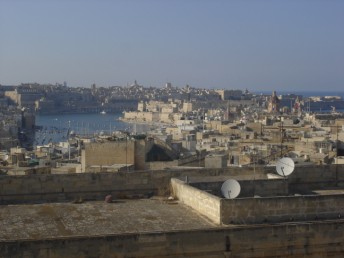 Early Monday morning Gareth, Martin and Jack headed off to do the dry goods provisioning. After speaking to the local information desk we headed off to the biggest supermarket in the immediate vicinity. On arrival we discovered almost forgotten luxuries like English mustard and Marmite. Once we had stowed our purchases Gareth headed back out to start on the fresh vegetable side leaving Jack to start on the website update.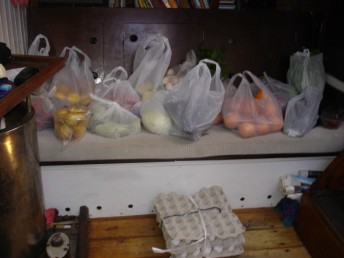 After enquiring about laundry services we discovered them to be extremely expensive so Gareth, Jack and Noel spent most of the next day working their way through a massive washing pile.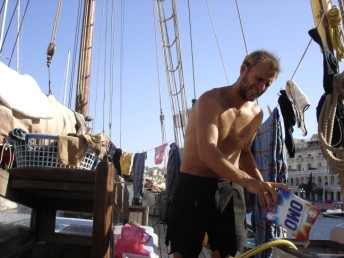 Unfortunately Martin has decided to leave the boat here as we are taking longer than we initially planned and he wanted to get his yacht master certificate before they stopped the courses for the winter. So after looking around a bit he got himself a flight for the next morning. As it was going to be Martin's last night on Lista we took him out for a meal and a few drinks, followed by a few drinks on Lista before we retired. We roused ourselves the next morning to give him a Lista send off, and we look forward to the reunion with him in Bristol. As we were intending on leaving today Noel spent an hour or so in the engine room giving everything a once over. Everything looked good until he checked our fresh water filter which was clogged up with sand from the dirty water we had picked up in Yemen.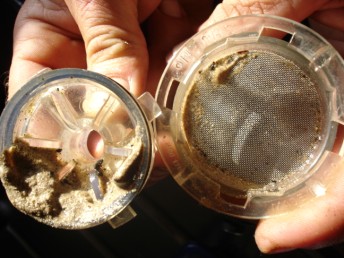 By mid afternoon we had settled up our bill with the marina and we motored out of the harbour. Once we were out there we decided to try our luck with the fickle breeze and all the sails went up with one reef in the mizzen and the main. Even with all of our toys out we still needed the ever faithful Perkins to keep our momentum going. By evening we had lost the wind completely and the sails came down. It was a clear night and we experienced our first quite cold night for a long time. So cold in fact that people were even seen to be doing their night watch in their full wet weather gear.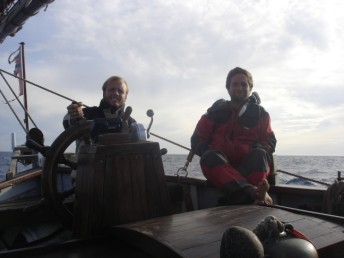 Unfortunately by the next morning the wind had picked up again and surprise, surprise it was dead on the nose. We were now picking up weather reports on the V.H.F. and one was heard to say that there was a force eight gale coming our way. Being heartily sick of the short sea and not looking forward to it getting any worse we decided to head for a harbour in nearby Sicily to weather the gale over before venturing out again. Two short tacks later saw us heading for the harbour.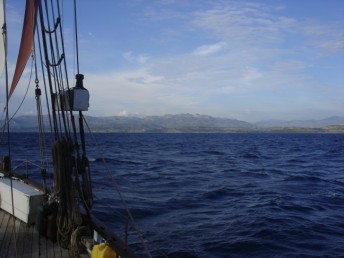 Unfortunately directly in our path were two fishing trawlers that forced us to bear away to pass them causing us to completely lose the ground that we had slogged into the short sea for much to annoyance of everyone. We kept going as close to the wind as we could until we were in the lee of the island and then we motored onto our chosen harbour that we just got into as the sunset behind us.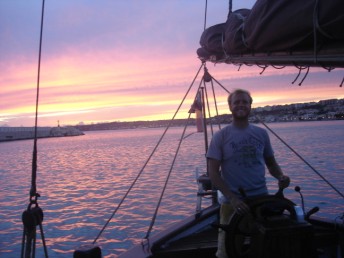 After a quick chat with customs on the VHF we were given permission to tie up on the fishing wharf for the night and after a quick visit from the officials we were free to do as we liked. So after a good hearty dinner and a glass of very acceptable white wine we decided to go and see what the town had to offer. We did chance upon a bar where some locals were enjoying a beer. After enjoying a couple of beers with them, tiredness saw us retiring to the boat shortly after. We were greeted with a beautifully calm day the next morning so after we had picked up a few things from the chandlery and decanted some of our jerry cans into our tanks we left Sicily's fair shores and motored onwards with the staysail up as our mandatory piece of canvas and a stowaway in the form of a Robin on board.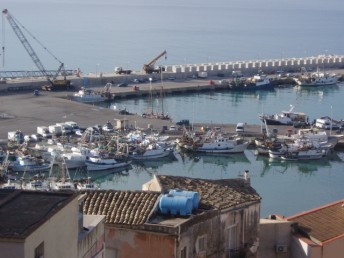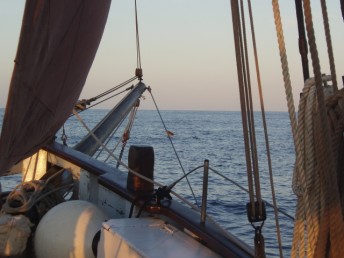 On leaving the harbour we hugged the shore line as close as we dared and enjoyed a nice flat sea and no wind. Once we came out of the lee of Sicily we found the wind coming out of the North West again, so we raised the number one jib, staysail, single reefed main and single reefed mizzen and we motor sailed just off of our course with a fair turn of speed. By the next morning however we were to far off of our track so down came the sails and we motored into the wind. Over the next few days we caught plenty of small Dorado, our best being four in one day, but most of them were returned to fight another day with us only keeping two of the larger ones.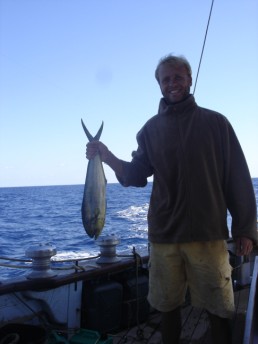 Over the next couple of days the wind started coming more out of the North so all the sails went up and we motored sailed for a while. Unfortunately the wind died down to an unusable amount, but we were very glad to see the sea had calmed down with it as we motored along at an average of five and a half knots. As the sea was so calm there were many maintenance jobs being done which included Gareth finishing his lizard, which he was very proud to see doing a good job the next day when it was put into active service.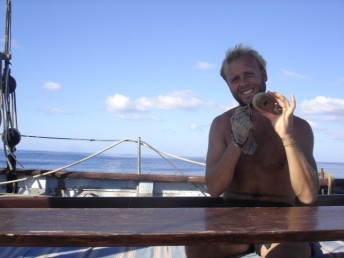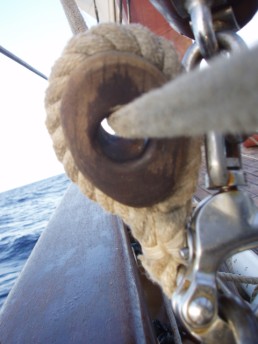 Jack and Noel were on watch one morning when there was an absolutely screaming take on the rod. Noel took up the challenge and after ten minutes of hand numbing struggle we landed a huge yellow fin tuna. Noel's delight was clear to see as he rushed around waking people up to see his prize.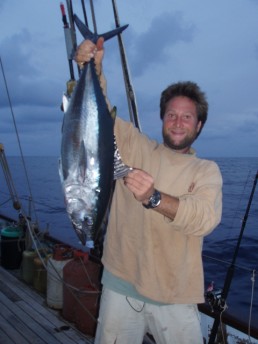 It was day nine when we crossed the Meridian Line. Needless to say a sign was made for the occasion and the Lista Light crew gave their best pose for the camera.




Later the wind moved around behind and we greeted it with a poled out staysail and tri-sail. The wind stayed steady through out the night and when morning came we suddenly remembered our secret weapon. So we unearthed Brutus and gave him a dust down. Soon he was up and flying with all of his former glory. To celebrate the occasion we launched the dinghy and Gareth and Jack got in and circled the boat several times getting some fantastic pictures of the legendary Brutus.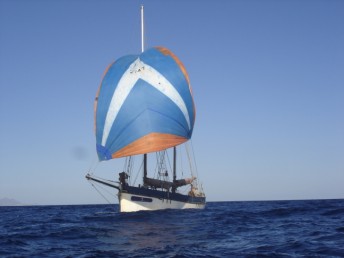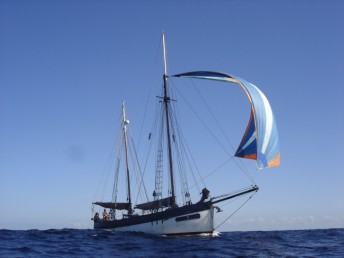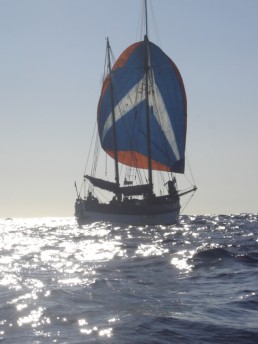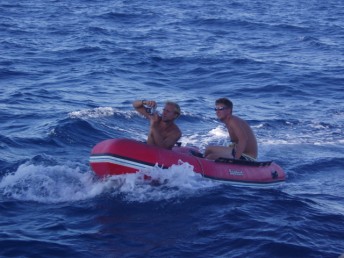 After a fun filled day of watching the legend fly and calling back all of the old spinnaker flying skills, we hauled him down for the evening. Annoyingly as we got close the current who's company we had enjoyed for the past two days turned against us which pushed our arrival time way into the early hours of the morning. As we drew closer to Gibraltar we were greeted with an abundance of light from the oil refinery and the town. After creeping in around the many tankers and other small freighters that were anchored in the bay we dropped our anchor next to the other yachts that were already there and we toasted Lizzies latest accomplishment with a cold beer before retiring to our bunks.

Back to previous section - Port Said to Malta
Forward to next section - Gibraltar to Portugal






















This page hit Count : 163044
This is the Lista Light Website, for the travels of the sailing boat Lista Light

Click here for text-version of site