West Coast of Scotland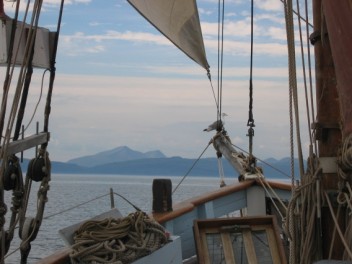 2August 2008

Our exit from Jura is far from speedy. Hour after hour we crawl past Jura's headland, with Lista contemplating reversing; 2.4 knots...1 knot... We sit on the mill pond.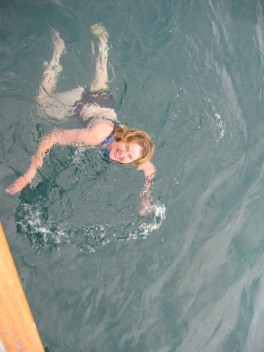 A common gull alights on Lista and idles on her bowsprit. Dave and I dive into the freezer, well that is Dave dives in and I dip finger after blue toe and ankle in. I squeak around the boat and sprawl shuddering on the deck. David brandishes a soap which slips through his fingers... oh well, he was never one for over cleanliness, the 'African' arm pit it is! Clare grins at the eejits shivering in the water and lights another roll-up.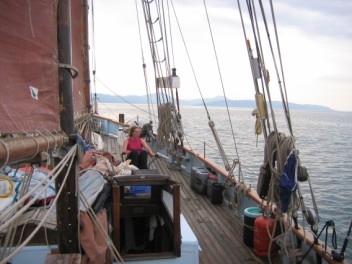 After a while in need of action, I fling myself onto the rowing machine (which still requires a cunning scheme to attach it to our power supply) and lurch along the deck. Clare shins up a halyard and decides it will be her mission to climb it each day. Within seconds David, the classified orang-utan, has also sprung up Lista's rigging and is dangling on high unhooking the radar rope. This is a useful trait in our captain along with his ability to dangle from the boom as it sways perilously into an angry sea. I, however, have mastered neither and dangle 2 feet above the deck in a wimpish attempt to pull my girt bulk upwards.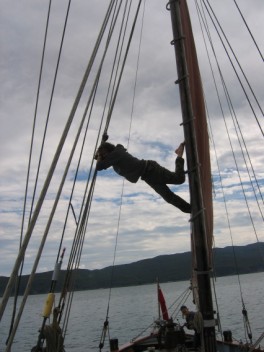 Eventually Carsaig, Mull , grows closer. Towering sea cliffs strike through the ruby sky. We let out the anchor and after the second attempt Lista holds fast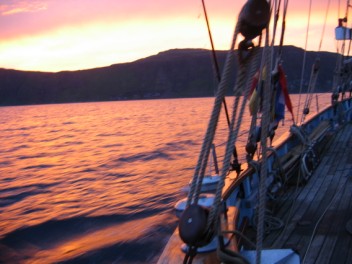 As we sit and drink tea and coffee we itch, an attractive bunch. Clare announces that she will keep clear of landfall while the midge massif rules as unfortunately they appear to particularly relish Lee skin.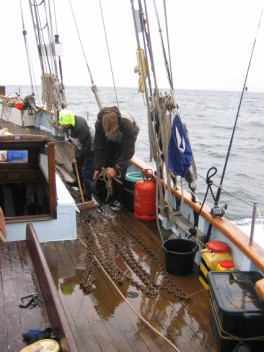 Next morning we pull the anchor up from her serpent's nest. Coil upon clay clad coil of chain unfurls along the deck, like a line of terrier turds. The plan is to mark ten metre points along its length so we have more of an idea of just how much anchor chain is being dropped into the plonk. I have become aware during my short, but lengthening rendezvous with the world of sailing, that knowing how much anchor chain has been dropped is crucial to a successful night's sleep.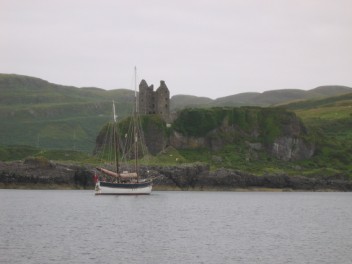 6 August 2008

We sail on our way up the Firth of Lorn with the Grampian Mountains rising in the distance. We had planned to anchor in Oban, but the winds prevent a speedy arrival and we spot Kerrera. Low, undulating, green hills reminiscent of the North Island of New Zealand and a 'Fimo' model greets us. Sheep grazing the hills and a castle watch our arrival.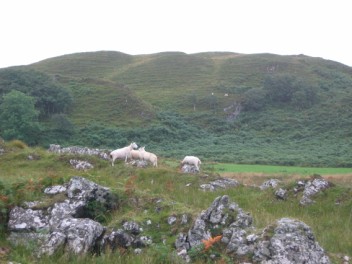 Clare refuses to go ashore until the infestation subsides, 'There are sheep on shore with ticks and everything. This morning I awoke to a tick nestling on my neck. For TWO days it's been feeding off my blood. They've probably created a family by now!' She's constructing the best weapon for her next drop on land.




We row ashore with the Kelly Kettle and a packet soup. A sea archway is full of old shoes and broken bottles. We need water and follow a stream along its meandering bog course. Meadow sweet, black knapweed and scabious prick the tussocks. A farmstead shelters in a fold of a hill. It looks the perfect site for a future home, although fertility for vegetables looks questionable. We climb up to the highest point we can see and gaze over the mountains. We give up on acquiring water and return to the dingy.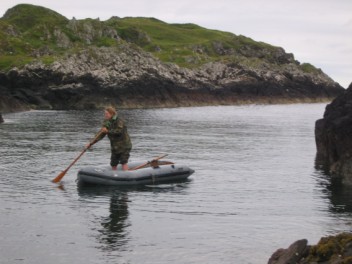 We hadn't quite anticipated the tide rising so much and find our boat bobbing by an island that had previously been attached to the sea. Very bright! Wading across, a shawl of fry scatter through my legs and long lengths of kelp part. We paddle back to Lista over sand and kelp fields, with crystal clear views to the sea floor.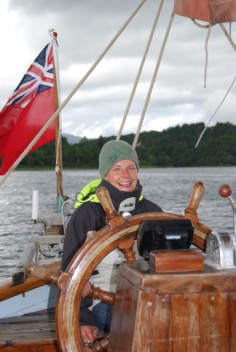 Early next morning, Oban harbour wall draws near. Clare flies through the air in a 'leap of death' and claws at a step and we land. Tom and Sarah and the wennits (Adam, Jenny, Ellen and Ben) join us for the weekend. Our mountain of supplies grow. Particularly useful are vacuum packed cooked lamb chops and eggs.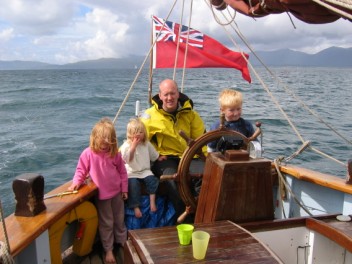 I think it's about time that we pay homage to the humble egg (in a worryingly reminiscent Edwina Curry moment). What a perfect parcel: scrambled, fried, boiled, omelettes, cakes, pancakes.... So diverse, so tasty and organically packaged to last for months. It is misinformation that leads one to believe that eggs should be refrigerated (the egg compartments in a fridge are there to fox you). On the contrary, eggs should in fact be stored at an ambient temperature. Hardy sailors have told us of ploys to extend the life of an egg by sealing the pores in the shell with oil... but we shall continue munching through our mountainous supply until we start crowing (not long, I think).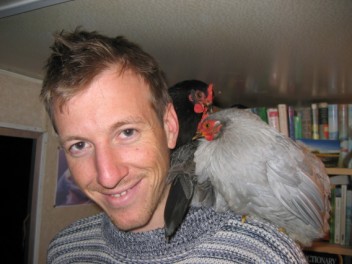 Of course we had ideas of bringing a clutch of our broody bantams with us as the perfect giving travelling companions- feeding us with eggs and finally a roast.This never transpired, but will at some point no doubt.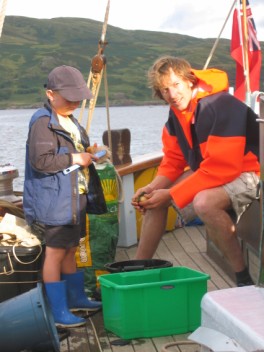 We settle for a couple of wet days amid the mussel farms of Loch Spelve. Adam catches mackerel which is finally fairly abundant around the Scottish islands. The children become pirates and run around and around Lista's deck and then dive under tables and into bunks in hide and seek. David and I run into the hills and have clear views of Ben More (966m) one of the Scottish Munros and also one of the peaks on the Scottish Islands sailing and running race.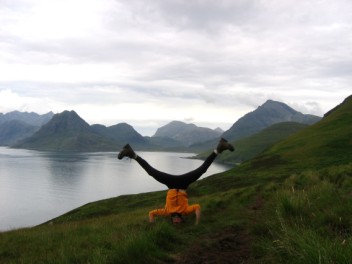 A Munro must measure at least 3000 ft high or approximately 914 m. 'Bagging' a Munro has become an obsession for some people with all 277 being bagged in increasingly short time periods. The 'Munro' originated from the early twentieth century gentleman, Sir Hugh Thomas Munro who published a list of qualifying mountains in the Journal of the Scottish Mountaineering Club in 1891.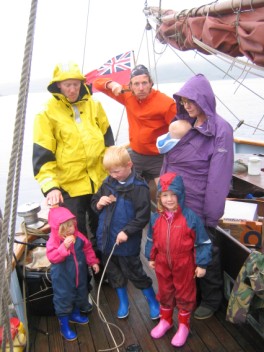 We trot down the slope through bracken and heather plucking the odd Bilberry. Crashing through bracken we reach a river. With all the recent rain, it is thundering through its canyon of rocks. Forgetting the Duke of Edinburgh and mountaineering diktat, we plunge into it, madly thrashing for the other bank. Completely exhilarated, we jump in again and kick furiously to prevent ourselves from bolting down the river like flotsam.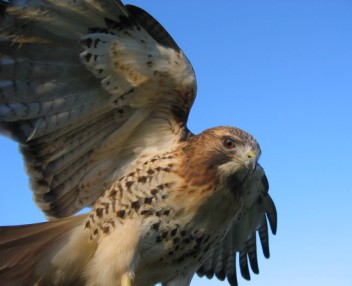 Conifer plantations grow everywhere. We run through one that has been recently planted. It looks like a battle field, where past trees have been felled, with their root balls left jagged on the surface. Huge lines of ditches have been excavated to drain the site. It's a typical sight of destruction. The plantations completely alter the ecology of an area, plunging it into acidity, changing its hydrology and once the dense canopy has matured shade all but the hardiest of vegetation out. The forest floors are bleak and baron. The canopy might support the odd raptor nest, a goshawk, buzzard, pine martin or red squirrel, but compared to native mixed woodland or the heathland that these plantations have decimated they are moribund.

We sail back to Dunstaffnage and meet a couple who are planning to sail to New Zealand. Their home is the last boat made of Kauri wood in New Zealand in the 1950s. The New Zealand Kauri Kauri australis is a huge native conifer only found in Northland and on the Coromandel Peninsula. Kauris grow to 30m and are believed to attain an age of about 2000 years. They are the fabled giants of New Zealand that tourists flock to see. Unfortunately, they were logged ruthlessly in the past for their valuable timber and dammar resin. Indeed, much of Northland is covered with their fossilized remains.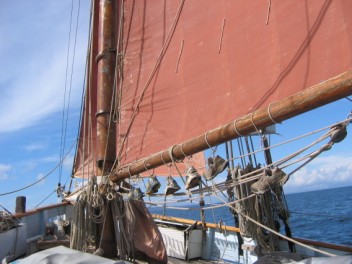 We moor by a huge former Dutch ice breaker. Her bearded owner grabs our ropes and chats about his voyages and passes some newspapers our way. We have become pretty bereft of current affairs and this can only slip further from us as we sail further away.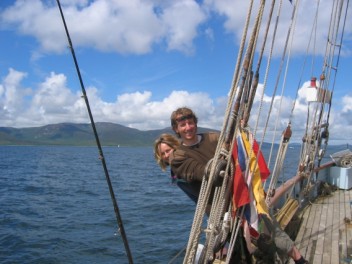 Fiona, Ross and George arrive. Fiona far to fleetingly and before we know it, at sunlight next day she is running back along the coast to Oban. We sail passed Lismore and into Loch Aline for sunset, plucking mackerel and coley from the waves as we go. That night a line of lanterns drift into the sky, twinkling, one after the other.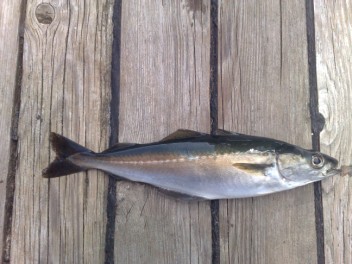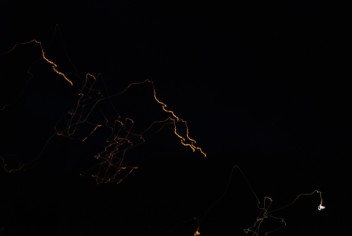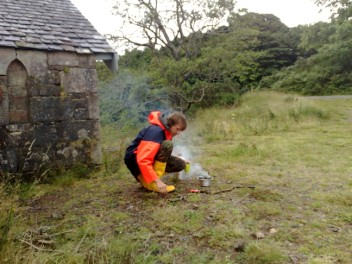 The next morning we continue up the Sound of Mull, finally reaching Tobermory. George sleeps inside Ross' jumper giving him the appearance of an expectant Mother. George is familiar with 'Ballermory' from the children's series and chatters about the characters before jumping onto the dingy with Ross for shore. The buildings are a hotchpotch of bright colours framing the bay. We anchor on the wooded shores.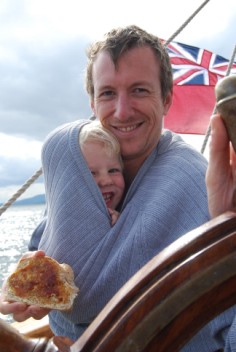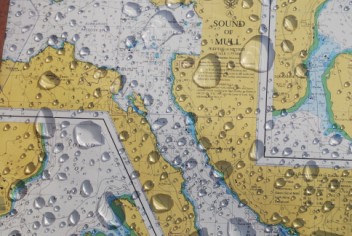 I have been to Tobermory before with my friend Tamsin and her father Simon. On that occasion we anchored Lola and rowed ashore for a ceilidh with phosphorescence whizzing from the awes like a thousand shimmering stars. Tam and I then walked across the island passed Highland cattle, bell flowers and pipers before lying on the cliffs above Iona under an azure sky with white sands beneath us. Amazingly, the Isle of Mull lived up to my memories and that night glitter shot out of the loo as I pumped it!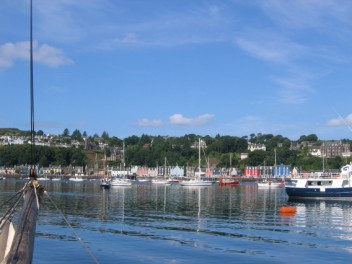 Phosphorescence is an incredible phenomenon which can coat your body in silver as you swim at night or create waves of glitter behind a boat as it moves through the darkness. It is produced by bioluminescent plankton, mostly dinoflagellates. These are tiny single-celled organisms that emit bright flashes of light when disturbed. It is thought that the lights are an anti-predator mechanism, to attract the predators (shrimps and fish) that will prey on the predators (planktonic copepods) attacking the dinoflagellates.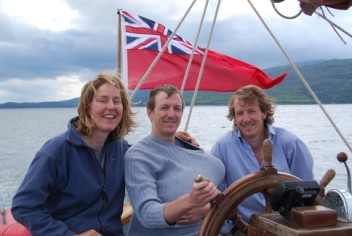 'Sex and the City' has landed at Tobermory. A lorry chugs around the Highlands and Islands ensuring that no one should be bereft of designer shoes and gossip. I missed my fix in Exeter and miss it again in Tobermory. Instead I run up a hill and into a woodland park, wending my way along a trail overlooking the sea and down to Lista.




Ross and George leave 'Ballermory' on the bus, George showing his 'hurt' on his middle finger to the passes by. Apparently, the bus drive back to the ferry is spectacular, winding along lanes looking out to sea and lochs in the sun.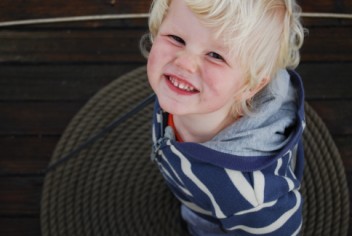 One morning a colossal cruise liner appears and obliterates Tobermorry. These are massive, floating hotels several stories high, an incredible feet of engineering, belching out yellow fumes. They look out of place amongst the wee fishing harbours and intimate inlets of the Scottish islands.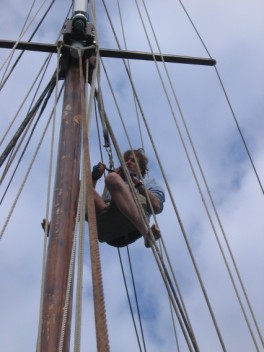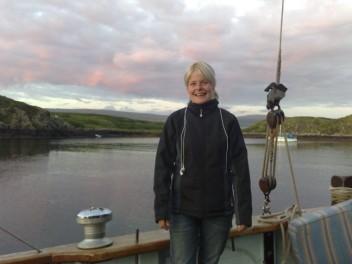 Finally we make our way past the point of Ardnamurchan and can see Rum and Eigg in the distance. We float on the water, sails flapping in the pathetic breeze, Eigg within easy reach, but no wind to carry us there. The oily smell of fish floats on the water and in the distance Dave sees a splash and what looks like part of a minke whale. Minke wales are the smallest baleen whale to be found in the British Isles) and every time I have visited the Inner Hebrides I have seen them.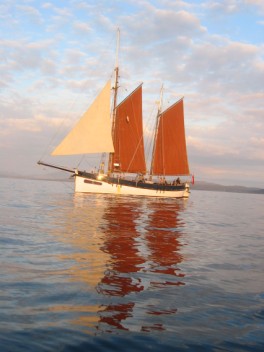 Another sunset floods the sea and Lista, but this really is stunning, blood red fading into softer hues, with the hazy blue shapes of mountains and islands in the distance. We limp into Muck and anchor.




15 August

Finally we reach our goal post, Eigg and with our bunting of flags flapping we see Tamsin, Simon, Nick and Tom waiting for us at the Pier. The days fly past. We circumnavigate Eigg, tacking and jibing, seeing the same white bothy for hours. Rum and Eigg's Sgurr change shape from different angles. A wealth of sea birds fly passed, porpoises flicker out of the waves and then disappear and the fins of a basking shark appear.


Sorry - image not available (Clare & Tom pull in sheets)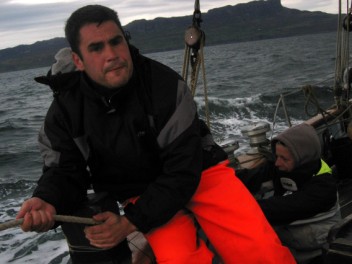 Tom has become the first 'mate' aboard who Dave has had to ask to stop pulling at a sheet! This is a rare accolade, particularly with Lista's creaking, heavy, armoury. That night 'the Irish' appear and moor by our side. They board Lista with fine malt whiskeys and tales of Ireland and Greenland. We are under their spell and sing sea Shantys with them into the wee hours. The next day they are leaving, wisdom guiding them away from drink soaked days, to the Outer Hebrides. It's only very occasionally that one meets a kindred sole, we certainly have found one.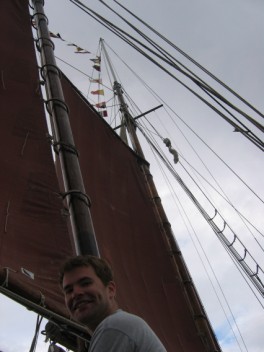 We run up to the Sgurr. For once the curtain of clouds has parted and we see for miles to the Outer Hebrides and over to the mainland mountains. Eigg was once known as 'Eilean Nimban-More', Gaelic for island of the big woman, which is apparent on mounting the mighty Sgurr which rises from the south of the island. An Sgurr forms the largest mass of columnar pitchstone lava in Britain. The northern plateau and southern moor are basalt, which have weathered into fertile soils. Cliffs around the northern point are sandstone. Here the famous 'singing sands' can be found where dry grains of quartz squeaks under foot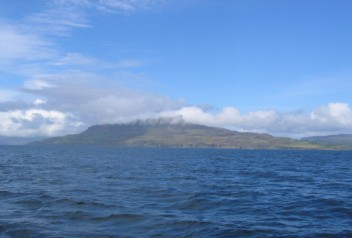 The islanders, along with the Scottish Wildlife Trust and Highland Council own Eigg. There is primary school, shop, tea rooms and bar, with a community of over seventy people living on the 5000+ acre island. Cattle and sheep graze the pasture and silage is made on the crofts. One islander I spoke to grows a myriad of vegetables under poly tunnels for the shop.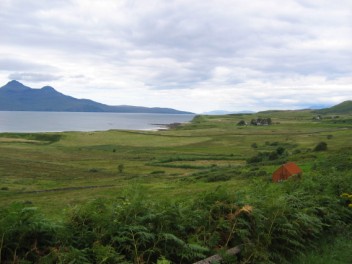 When wondering the tracks and single road that spans the island from Galmisdale to Cleadale we notice that the birds (as on many islands) are fairly tame, that the silage fields are not of the familiar rye grass monoculture but contain a plethora of wildflowers, including yellow rattle and milkworts. A pair of golden eagles are reputed to hold territory on Eigg, but we only saw buzzards dining on worms. Previously, when visiting Eigg in the winter we encountered a 'fall' of woodcock; up to a hundred birds descended from the sky into the heather at dusk. I need to find an explanation for this.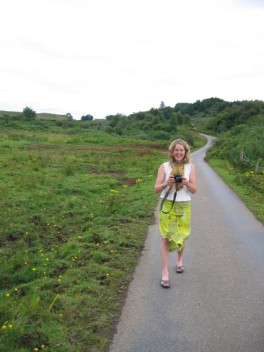 The wedding is spectacular, with the most magical setting. Clare joins us with a wet skirt (and a handy chat up line) after a dunking when pulling the mooring lines in. She finds us in the morning on the other side of the pier, after her first row of shame!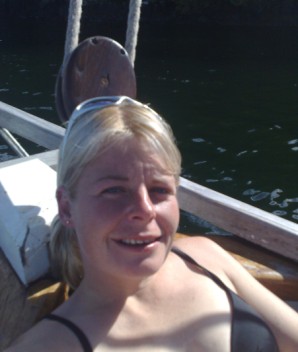 Eigg, what a place to have grown up in. You can see how it would breed the wonder lust in the soles that haunt it. Staring out of the kitchen window to sea, wondering what lies beyond the horizon, hushed to sleep at night by the waves sounding like a distant train.


Sorry - image not available (Looking out to sea)

We watch Eigg and our friends recede and collect Anne and Brian from Muck. I make a double batch of savoury and sweet flapjack, not the greatest of achievements, remaining with us in various guises for days.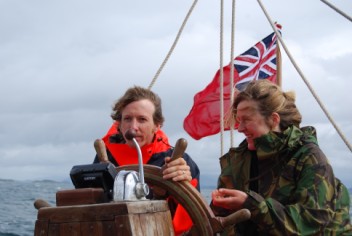 We sail passed Coll and Tiree, aiming for the west coast of Ireland. A boat sails towards us, we can't understand why it's sailing straight for us for goodness sake! Then we see whose aboard, they're waving, the Irish, returning from the outer Hebrides! We mutually shout, 'Fair winds' and they turn and sail into the distance on their own journey.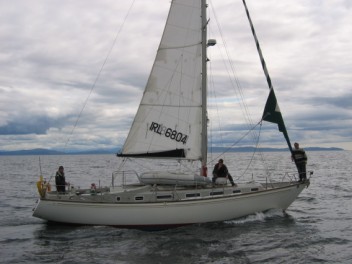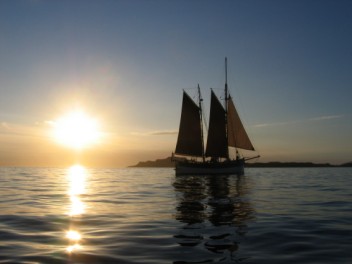 Back to previous section - Fishguard (Wales) to Isle of Jura (Scoland)
Forward to next section - Bay of Biscay






















This page hit Count : 6820
This is the Lista Light Website, for the travels of the sailing boat Lista Light

Click here for text-version of site