St Kitts and Nevis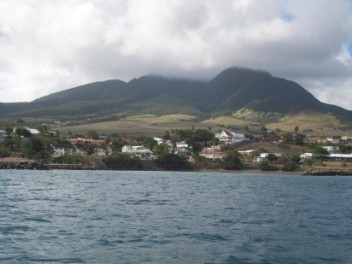 We sailed down the coast of St Kitts scouring the coastline for likely seabird habitat and birds. It did not appear particularly promising; nevertheless, Dave and I took off on the bikes for a round island seabird reconnoitre.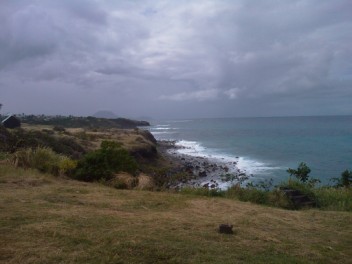 The bikes have become a vital part of the trip- our loyal iron steeds transporting us around countries and islands, to shops, boat suppliers or providing us with a getaway from the deep blue. On arrival into a new harbour they are wrenched from Lista's stomach, deep in the engine room, with seats and tyres reassembled before straining disembarkation onto the harbour-side. Or, more likely, we grapple to drop them into the dinghy and paddle furiously to a beach, (with Dave screeching instructions as to the best strategy) desperately trying to stay afloat, whilst riding a wave onto the sand.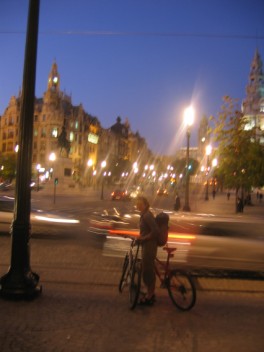 To date the squeaking duo have pedalled us through the arid lands of Morocco, passed tagines brewing at the roadside to the snowy heights of the Atlas Mountains; along the ancient, tiled streets of Porto and for countless forays in foreign ports for sundry frippery from: foam, to loo seats, to soil (for our herb garden)to paint, books, marine ply..... We have jousted with long timber poles down the pavements (reclaimed from a D.I.Y. job that was abandoned by a recycling unit, a great stroke of luck) and hurtled along dual carriage ways with gas bottles trundling in the trailer.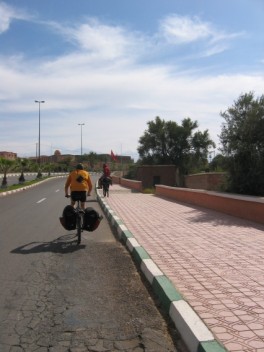 The trailer is the 'piece de la resistance'. The faithful number was purchased for our honeymoon to transport Bluberry (Mum's black Labrador) up and down the Devon lanes in leisurely style to Exmoor, our enchanted destination. (Blueberry, let me explain, is no canine 'Pre-Madonna', it's just her enthusiasm for runs leads her to hurl herself at ferocious speeds after us, culminating in 'pad burn out'- hence the carriage).

But, perhaps the greatest feet of the trailer on the trip so far has been the Portuguese food haul in Cascais. With a loyal audience of trolley minder, Dave and I began pushing tonnes of spaghetti, juice, tinned tomatoes, rice etc. into pannier bags, wrack bags, rucksacks, shoulder bags and finally trailer. Much to the delight of the grinning trolley minder, Dave finished the job with a bucket on his head in a final contortionist's flourish.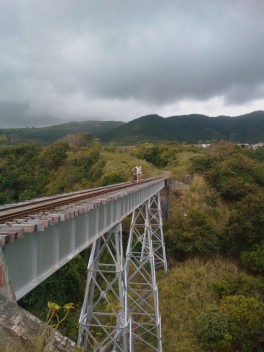 So in accustomed style, the bikes led us off to the wonders of St Kitts, via the railway as the best vantage point for the windward coast. The round island escapade did not reveal breeding seabirds, but there were Magnificent Frigate Birds soaring the coastline, Brown Pelicans, lazily flapping along deserted beaches and Brown Boobies skimming the waves. The bikes attracted the customary attention which has ranged from grins and laughter at the mad whitey couple ascending some tortuous hill, to chiding pleas for lifts or simply rambling chat. Road kill is always interesting – this time we found mongooses (a disaster- introduced threat that munches through seabird eggs and chicks). Rats (another introduced disaster) and goats (third disaster- they graze out nesting habitat and trample eggs).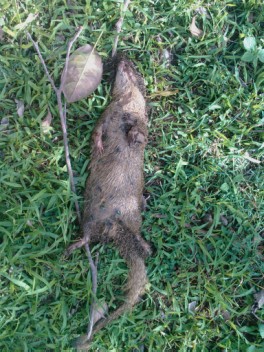 We also found an old man wondering the railway in welly boots searching for bee hives and monkeys. He was the first rural character we had met in the Caribbean, for many it seems that the new lights of the towns are superior to the old country ways. The hives were of course for honey, the monkeys for experiments. (Monkeys are another mammalian pest, introduced to some Lesser Antilles islands, adding a new predatory and unwanted tier into the islands' ecosystem).We played him the Audubon's Shearwater calls in case he should recognise them, but apparently not.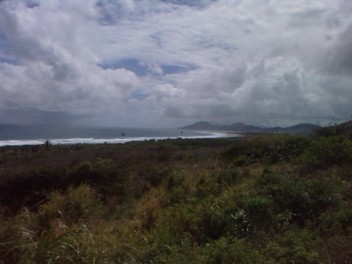 We abandoned the bikes in sugar cane and dived down a sandy track to the coast. We found a deserted beach with luscious vegetation tumbling over sandy cliffs as far as the eye could see. Again, no signs of breeding seabirds, save a solitary Brown Pelican languidly flapping and scrutinising the waves.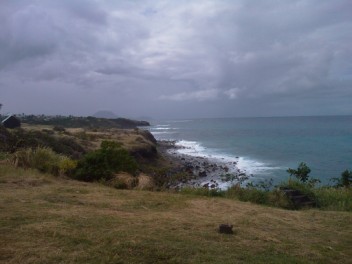 High forested mountains stretched up into the clouds in the centre of the island, with seemingly limitless Audubon's Shearwater nesting potential. We did not have time to survey its recesses on this trip, no doubt predators would be doing their work of banishing the burrow nesting birds anyway. We did play the call to other islanders but no one recalled the once widespread Shearwater of the Lesser Antilles.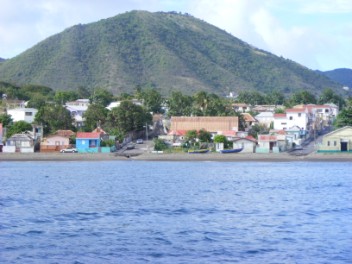 Megan and I 'scored' on outreach, 'winning' a school presentation, radio slot and chats with some really helpful local birders, Percival Hanley and Mikey Ryan, within a couple of hours of landing. Along with information gathered from papers and the library, the most likely spots for breeding seabirds appeared to be south on Booby Island and the St Kitt's peninsular. Meanwhile, we chatted about the project to 'ZIZ the Pulse' before flying to the school. Only to find that we had been doubled booked by an aggravated lady who was presenting on 'stress control', hmm! Finally, a class of teenagers studying science and geography were unearthed and we followed the sluggish steps of the teacher to their room. The projector had been snatched by the stressed, stress reliever, so Megan and I taught the class in the traditional way, with posters, chalk and black board. No matter what we said, however, the winners were always the 'Boobies'. As soon as we mentioned a 'Booby' the whole class collapsed into sniggers and giggles, leaving Megan and I desperately searching for alternative birds. Oh the delights of common bird names from Tits, to 'Cock' Sparrows, to Brown Boobies.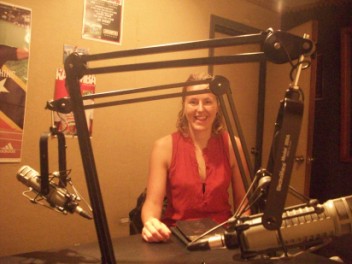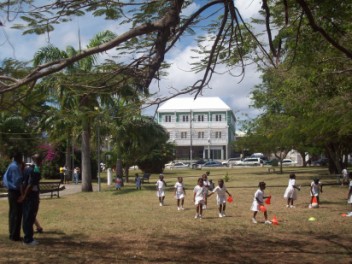 We sailed south and found a beautiful bay with a roost of sixty odd Magnificent Frigate Birds along with turtles and shoals of rainbow fish. Megan and I took off in the kayaks, while Davo finished building a new rope locker box and Emily partook in a smattering of sun bathing. We found Brown Boobies, more Frigates and Brown Pelicans, but no nests. The beaches were white, endless, backed by mangroves and dreamy. We munched on some peanut butter sandwiches, before finding a lagoon fringed by a necklace of rotting fish. We couldn't comprehend why? Pollution or drying out with associated lack of oxygen? Frigates circled above, but appeared uninterested in the bounty. We did not have the kit to take water samples, so regretfully left. As we paddled back to the boat, a huge green turtle snorted air in front of the kayak. Suddenly, he saw us and splashed his flippers in a fluster down to his watery recesses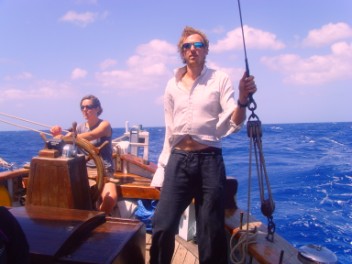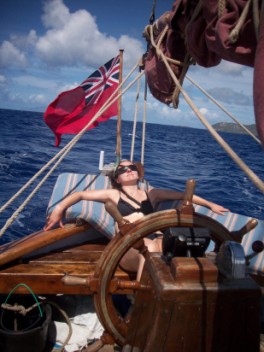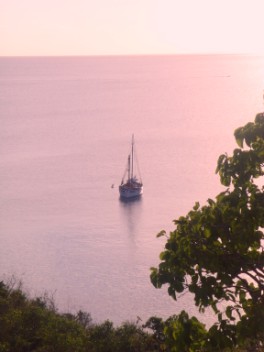 We were all pinning our hopes on Booby Island. Megan and I had viewed it from a distance in the kayak but could not get a proper look, so we bundled off in Lista, found some sand to anchor her and chucked the kayak over board. We bashed through the waves but all we could see was rock and prickly vegetation. Very disappointing, but perhaps terns which return to breed in April, will be nesting when we return next year?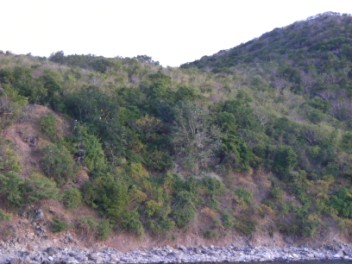 Next stop was Nevis, we headed north and circumnavigated the rotund island before docking in Charlestown. Nothing much to report- we couldn't find breeding seabirds, but we did find great people and a journalist keen to write about our project. One guy ranted continuously about Barracuda and how he would eat no other fish. The only hitch being their susceptibility to ciguatera- a bio-accumulation of toxins that builds up in predatory reef fish. On some islands it is illegal to sell Barracuda for that reason, but the man pertained that as long as flies go near it or the cat (without any unfortunate outcomes) all would be well.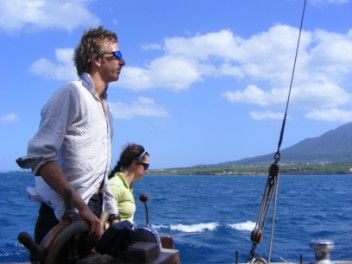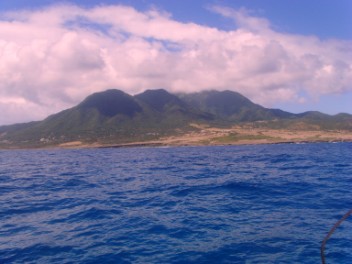 Dave ran off into the hills, finding some rural revelry amongst the verdant vegetation and abandoned sugar cane mills. Megan, Emily and I tapped upon our laptops – a rather unhealthy pre-occupation that devours our time. It does allow us to work on the hoof, which is great, but the spectacle of lines of people buried in a cyber world in a bar smacks of our incompetence at real interaction. A pair of Zeniada Doves were far more attuned with interaction, cooing sweet nothings to one another in their flimsy nest atop of a light. The sound of the Zenaida's woops will, I am sure, always conjure the Caribbean for us. They are ever present and beautiful, with their flicks of iridescent plumage, their throats inflating as they belt out their amour to the world.

We were invited to a St Patrick's Day hash - a crazy, howling run amid 'on, on's' and 'hash, hash', following flour trails through the hills, starting and ending with a healthy pint. Much as this would have appealed to us, the infamous Redonda beckoned as our next stepping stone on our seabird quest down the Antilles chain......




Back to previous section - St Eustatia
Forward to next section - Redonda






















This page hit Count : 3906
This is the Lista Light Website, for the travels of the sailing boat Lista Light

Click here for text-version of site