Canaries to Cape Verde Islands

It takes a surprising amount of food and beer to feed seven people for a couple of weeks. In fact, it took us over £500 worth of shopping! When the fresh meat runs out after three or four days (we have a fridge but no freezer) , with the salad and veg not that long after we have to get a bit more creative with our cooking, but things like cheese and vacuum packed meats last for several months in the fridge which makes our diet not quite vegetarian. There is of course also fresh fish, when we are lucky enough to catch some.
Although there is local fresh African type veg and some meats available in the Cape Verde Islands for a final fresh stock up before the main Atlantic crossing, we weren't too sure about the selection of other foods such as tinned ingredients that would be available - there was not much ten years ago the last time Lista Light visited. Food in general is also more expensive in the Caribbean, so it is worth buying as much as you can whilst still in Europe. We hired a car for the day, and did three trips to a massive supermarket - below is the result of the first trip laid out ready to be stowed away - some fresh juice and a few tins.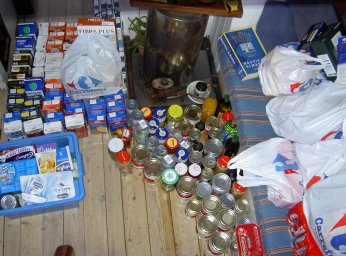 The new lads were roped in and helped prepare the boat and get everything ready - Bernardo is a Portuguese musician who has done some sailing before, but on more modern boats, and Cesar, a Spaniard, is a learner by sailing standards. Since, by day sailing standards (with a new place to stop most nights) a long voyage is fairly boring from a narrative point of view, the next part is in the vague format of a diary.

6th November
At 1pm we untied the boat, hauled up the anchor and headed off out of the Santa Cruz de Tenerife harbour and down the side of the island, before we could turn and head for the Cape Verde islands. Although the wind was light and blowing from the South (our course was SSW when we turned the corner after Tenerife) we put the staysail and mainsail up mostly for entertainment and to show the new crew the ropes. As the wind slowly died overnight, we took the sails down and motored onwards. The lights of El Hiero, the last Canary Isle on the way south, refused to go out and were still visible by dawn the next morning way astern.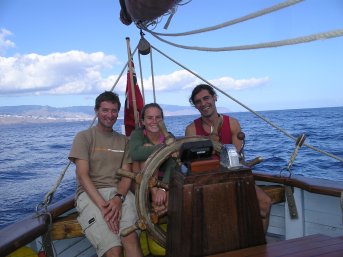 7th November
At lunchtime the wind picked up a bit and so up went all the sails, unfortunately there was still not enough wind to turn the engine off, although we reduced the revs to a fast tickover just to help us make progress through the water; if there is not enough speed then steering becomes difficult and the boat tends to roll around in the waves. The prevailing Trade Winds in this area should be a northeasterly at this time of year, perfect for pushing us in a southwesterly direction, but our bad luck continued with the wind blowing from the south south west which was pretty much right where we wanted to go. After some light showers late that afternoon the sky cleared and the stars were out in force, which makes a night sail much more interesting.
When sailing 24 hours a day, we split the watches so that everyone does various 'shifts' with various people. With seven people, our watch system works out as follows: 21h-01h : 3 people. 01h-04h : 2 people. 04h-07h : 2 people. The remaining 14 hours of daylight are split equally between everyone i.e.. 2 hours each.
So, a typical rota for someone would be steering 5-6pm, off until woken up at 1am, then on watch for 3 hours (sharing steering with a partner) until 4am, then back to bed until next slot at 10-11am, then another slot in the afternoon 2-3pm. What with at least two square meals a day to cook and wash up after, and often an amount of pulling of ropes in between, it's amazing how quickly time goes.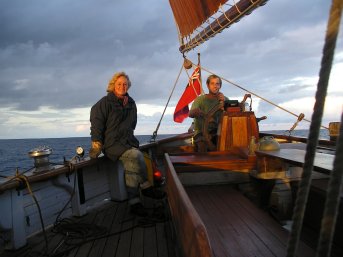 8th November
Still sailing into the wind, unfortunately often at right angles to the direction that we want to go in since Lista doesn't sail very close to the wind. Although the wind is quite strong, we are only going about 3-4 knots since we are tacking into it, with a good heel over which makes moving about and cooking pretty interesting.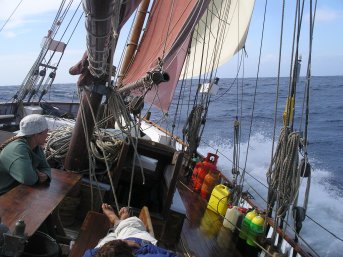 That evening, we shortened sail for the night since the wind strength was rising, by putting up a smaller jib and reefing the main and mizzen sails. At about 11pm it was decided that the mainsail needed to come down since there was really quite a lot of wind, which is a fairly entertaining thing to wrestle with at night, but all went well. When sailing at night we all wear safety harnesses with a fairly short lanyard that clips into a rail so that we can move around up and down the deck, but still be tied on safely.
Both Bernardo and Cesar turned out to willing and enthusiastic both on the boat in general but also in the galley, and readily joined in with the healthy competition of the daily cooking chores, bringing a tasty Portuguese and Spanish touch!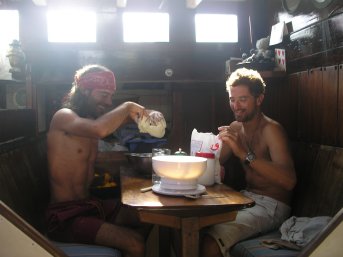 9th November
By the morning rain had settled in and we were fairly wet and miserable by the time dawn broke, and the sky was overcast and showery all day. We managed, through our tacking about, to go over Endeavor Bank, an underwater mountain that rises from the 3500m deep plain to just 150m, which resulted in some very confused and choppy seas and a fair bit of being thrown about for a short time. Towards the end of the day the wind dropped again, and the engine helped drive us onwards.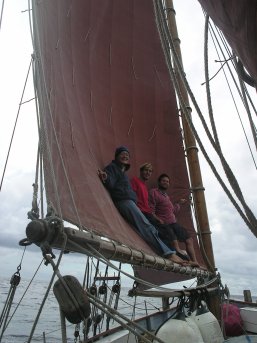 10th November
We finally gave up trying to tack into the wind (since for every 20 miles covered we were making only a couple in the right direction) and took the sails down, motoring along and making good progress towards our destination. After battering into the sea with all the sails up we were making a little more water than normal so we investigated under the floor and discovered a few leaks where the force of the sea had opened some seams up between planks. We made a few running repairs by attaching some tingles to the worst three leaks from the inside, which stemmed the flow.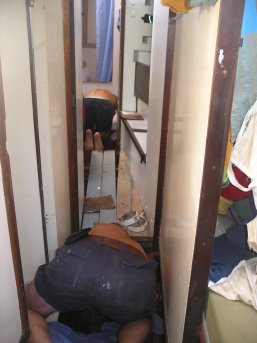 It was also a good day for fishing - we managed to catch two Dorado, which made for a lovely Portuguese peasant fish dish cooked by Bernardo.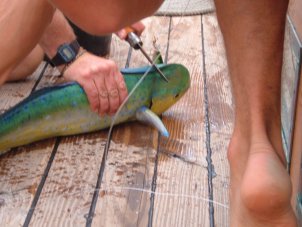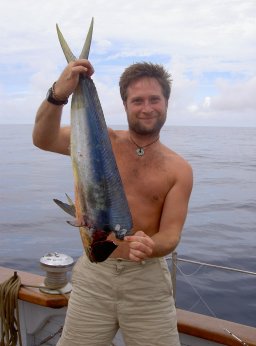 11th November
Passed the Tropic of Cancer 09:50am, and a sacrificial offering of some flowers to Neptune in the vain hope of some favourable wind, although we were to see none that day, and motored on as usual; even the wind against us died and all was calm.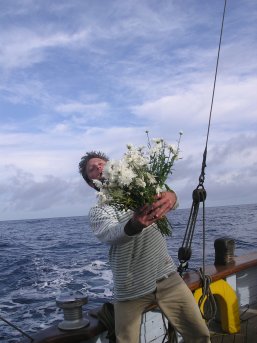 We suddenly spotted a pod of whales (we think they were pilot whales since they were fairly small) and slowly approached them to have a look, and a pod of dolphins also arrived to join in the fun. Unfortunately the whales only lifted the odd fin out of the water, so no good pictures, but the dolphins as usual came much closer.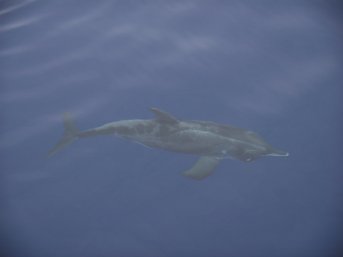 Lacking any good wind, we continued motoring the rest of the day and all through the night.
12th November
Having stopped the engine in the morning to change the engine oil, we finally had a chance to turn it off for several hours in the afternoon, as a good strength wind picked up from astern, and we got all the sails up - we had a four hours of beautiful sailing at 7 knots before the wind died again, and the engine had to be switched on that evening.

13th November
The day dawned still and hot, and by lunchtime we all needed a dip in the ocean (which had climbed to a beautifully warm 28 degrees centigrade) so we dragged a rope behind us and most of us jumped in and got pulled along by the rope. Many attempts were made to use the surfboard as a water ski, but only Noel managed to stand up and do some slow motion water ski-ing.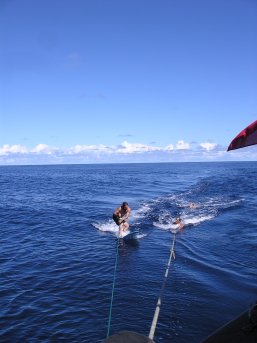 14th November
The final full day of our voyage, and finally we get a good trade wind behind us, and sailed well all day. The sea was also fair to us - we reeled in another Dorado for supper, and as night fell, we could see the glow of lights off the Cape Verde islands, but had a beautiful sunset first.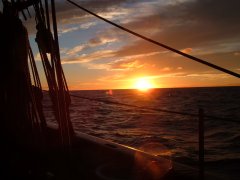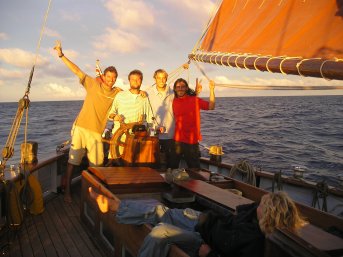 15th November
We arrived at Mindela harbour, on the island of Sao Vincente at about 10:30am, and anchored.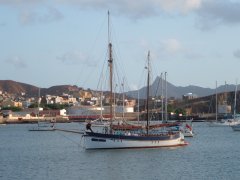 The island had changed a lot since Lista last visited ten years ago, but most of the changes were for the better as people seemed less poverty-stricken. We had a pleasant time sampling the local sugar cane spirit called 'Grogue', shopping in the market and relaxing on the beach, although Noel and Jay spent a couple of days diving under the hull and searching for and repairing leaks.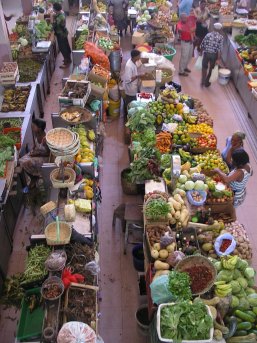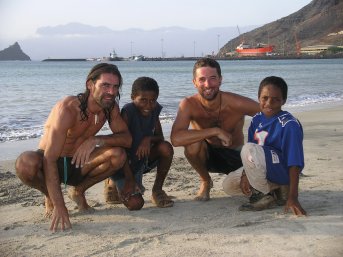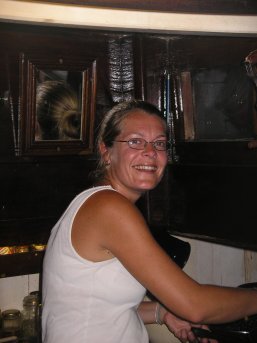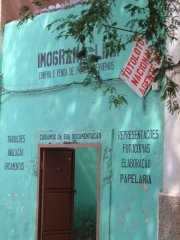 Wer'e planning to leave on Saturday 20th to cross the Atlantic, hope to be in Antingua around the 6th December.

Back to previous section - Porto Santo / Madeira to Canaries
Forward to next section - Cape Verde Islands to Antigua






















This page hit Count : 176672
This is the Lista Light Website, for the travels of the sailing boat Lista Light

Click here for text-version of site