Cape Verde Islands to Antigua

The beach activity continued in Cape Verde, and we made an excursion to San Pedro, where there was reported to be some surf. When we arrived, the beach was pleasant and deserted, but the waves were breaking very near the shore; however there was a good wind and the boys had fun being dragged along the beach by Rob's kite. Bernardo, however, managed to catch a few waves perilously close to the rocks and showed Rob what he should be doing with his surfboard.




After the usual entertainment of filling up with diesel and water, the haggling over fresh fruit and veg prices in the Cape Verde markets (helped no end by the Portuguese language capabilities of our new crew members), plus the lugging of all the provisions and ten cases of lager to the boat in the heat, much was prepared by the evening of Friday 19th for our departure the next day, and an attempt was made to finish the last of our Cape Verde money off on a meal and a few beers at the Club Nautico, where a band was playing.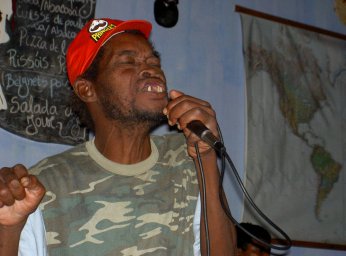 20th November
We paid off our 'boat boy' Orlando with some spare rope, some second hand clothes and a little cash for his doubtful services in 'looking after our dingy while we were ashore', picked up 50 rolls of fresh bread, stowed everything in it's proper place, hauled the dingy aboard and weighed anchor at midday, saying goodbye to the Cape Verde islands, headed for Antigua some 2050 miles distant due west. By this time of year the north westerly trade winds should be fairly well established and reliable, so we hoped to have a good run most of the way there with the wind behind us.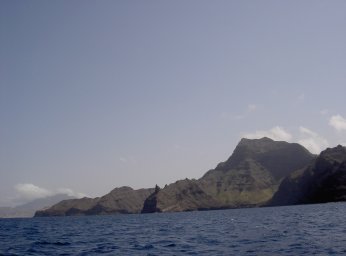 We made good progress that afternoon until the wind died was not enough to keep the sails filled as the boat rolled, so down they came and on went the engine that evening. We had started to blame the ship's parrot (who is purported to be the source of the ship's luck) for the continuous unfortunate wind that we were experiencing.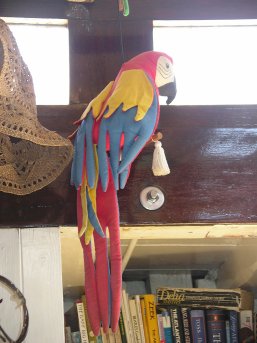 21st November
Whilst at the helm overnight, Merryn was lucky enough to be hit in the back of the head by a flying fish which is a fairly scary event when half asleep – Noel came up from the chart table having heard several screams thinking Merryn had fallen overboard. The fishy theme to the day continued with Noel bagging a fairly large Dorado early morning, so it was fresh fish cooked in lemon and garlic for lunch.
The other marine event of the day was passing a massive turtle, almost 2 metres long, which seemed just as interested in us as we were in it when we turned around for a look.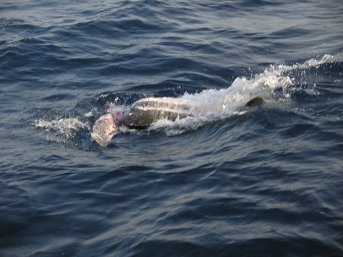 22nd November
A big day – not only Jo's birthday but Merryn and Rob's 6 month wedding anniversary, and a full year since England won the rugby world cup final. Noel provided a celebratory drink of champagne and orange juice with breakfast, and Jo was given a variety of presents, some that Noel had hidden since Gibraltar, and some that he had made onboard, like this hair grip.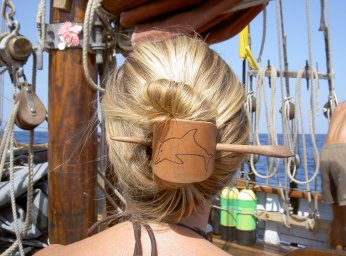 Merryn cooked a special chocolate brownie cake which was enjoyed by all.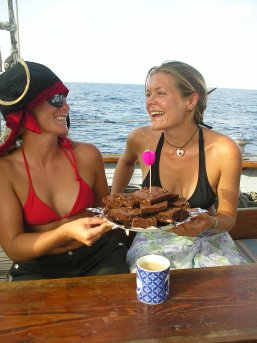 We were very successful on the fishing front, catching a total of five Dorado, unfortunately they were all quite small so back they went.
23rd November
The morning started with the biggest catch yet, reeled in by Cesar and Noel.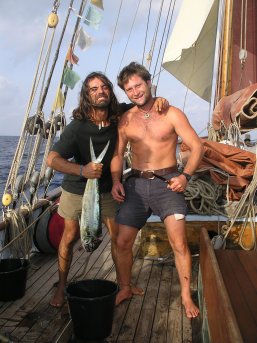 Noel enjoyed himself for a while playing around with fishy bits.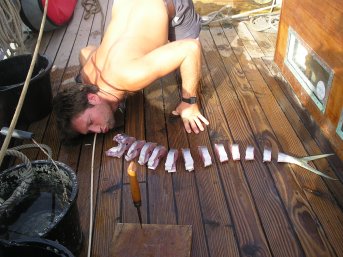 As it was so hot, we jumped into the sea to cool down and grabbed onto a rope to get pulled along behind. Cesar suddenly spotted a fin in the water which he thought looked like a shark, and there has never been such a quick exit by all from the water! Luckily the visitors were dolphins, and we had a lovely time swimming around with them for half an hour, Rob even managing to touch a couple of them by leaning off the bow of the boat under the bowsprit, and Cesar had a good go but wasn't lucky.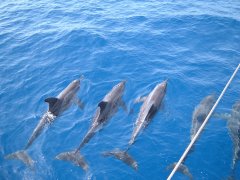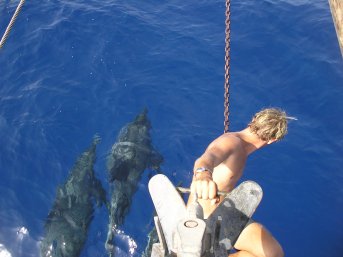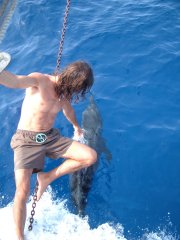 We were still motoring along since the wind had died the night after leaving the Cape Verdes, with nothing but very light wind from astern which was not enough to fill the sails properly as the boat rolled. The first of several inventive sail plans was put up – a bermudan triangular sail in place of the usual gaff mainsail, which flapped around less than the usual gaff mainsail, but was still not enough to turn the engine off.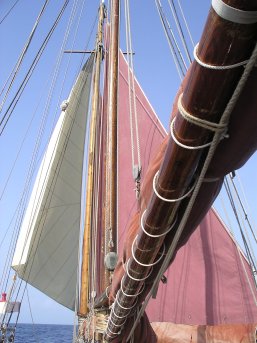 The Dorado caught earlier made a lovely Portuguese fish dish cooked by Bernardo.
24th November
Still no wind to speak of, but a slight freshening from the north helped us along a little faster with the engine turned right down. The calm environment and smooth sea gave plenty of opportunity for relaxation and guitar practice.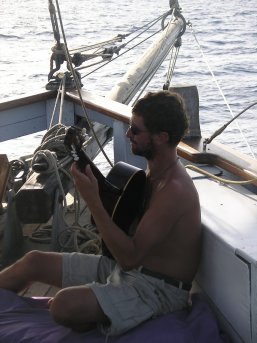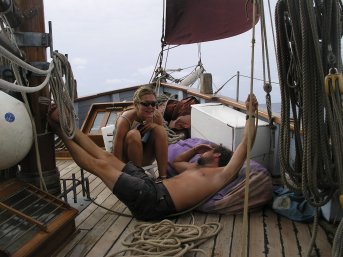 The fishing run of ten Dorado in a row was broken by Rob catching a fish we later identified as a Wahoo, although he was quite small (not exactly the 2 metres in length that they can grow up to) so he went back in. Whilst the decision was made to not keep him for dinner, Rob held onto his tail - watch the rivetingly exciting action in this small clip.

Video – Wahoo fish flapping about (not very exciting)


25th November
Despite a slight improvement during the night, there was nothing but the lightest of zephyrs in the morning, which encouraged the next sail configuration – a squaresail hoisted on a yard. Unfortunately it looked very ugly and makeshift (which it was) and didn't do a thing. Here Jay is proudly standing in front of her creation.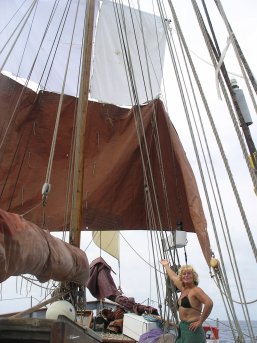 The lack of good sailing (or indeed anything else vaguely interesting to report for the day) allowed us to concentrate even more on our stomachs than usual – Spanish omelette and Portuguese fisherman's bread for lunch followed by vegetable massala curry and home-made chapattis for dinner.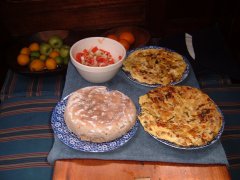 Merryn dealt with a bag of chillies so that they would hang up and dry out, and stop going mouldy.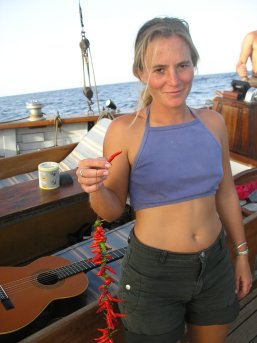 26th November
At last, our prayers were answered and we were able to turn the engine off for the first time in five days and sail well all day, making very good progress at up to 7 knots.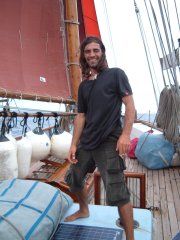 Of course, there is always a balance and the wind got stronger and stronger all day until we had to reduce sail by the evening, still making 6-7 knots under double reefed mainsail. We had the rare pleasure of seeing another sailing boat that night, who came up behind us and overtook us about a mile off. Jay chatted to them on the VHF radio, and asked him for any news on the weather.
27th November
The weather took a turn for the worse, with a good quantity of lightening and rain showers in the morning, finally culminating in the wind veering round to ahead of us, a which point after trying to make some progress, we took the sails down and motored straight into the weather for the best part of the day. The wind then backed around to the south, and by 9pm we had the engine off again and were going along nicely, which is how it stayed for the night, illuminated brightly by the full moon.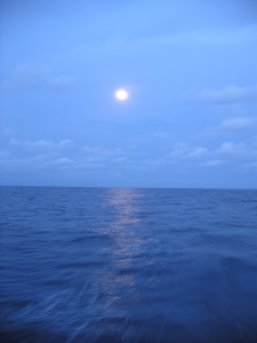 28th November
A good days sailing, a steady 5 knots all day with a good bit of sunshine and nothing whatsoever of interest to report.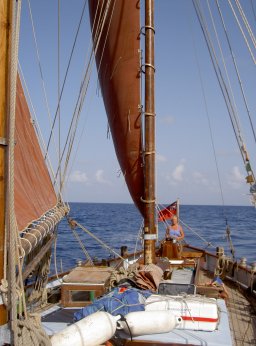 Rob got down to work and spent a portion of the day writing this very internet update – after a complaint that there were no photos to use, Noel took this particularly arty shot (almost worthy of the 'arty pictures' section!) through a porthole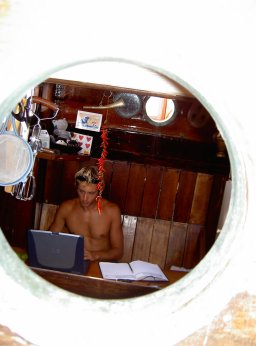 29th November
The day started with squalls, torrential rain and gusts of wind, followed by dead calm which was to be the weather recipe for the next few days. In a particularly wet moment after daybreak most of us had a 'shower' on deck, with the clouds providing the warm water. Having passed the halfway point (1025 miles done, 1025 miles to go) at 09:30, we had a fantastic afternoon of sailing despite the rain, and we made over 7 knots for several hours.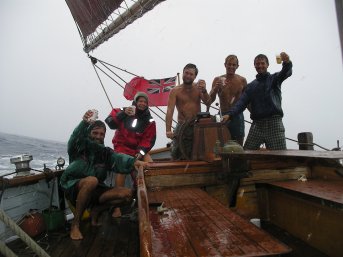 30th November
Continuing the strange and variable weather of the day before, we again made very good progress at up to 8 knots in the strong wind. Just before lunch we heard an exhaling sound and realised that a pod of whales about ten metres long had come to see us, and they swam around and under the boat for ten minutes, occasionally breaking the surface to breathe, although they didn't perform for the camera.. The good sailing didn't last too long though, and it was back to dead calm and the engine on that evening.
1st December
We managed to run for some of the day with twin headsails, something we had intended for most of the journey if the trade winds had blown correctly!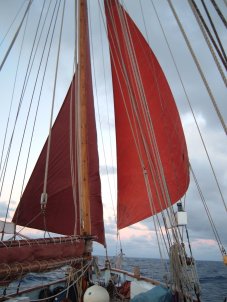 2nd-5th December
Unsettled weather was the constant entertainment for most of the time over the remainder of the trip, with fierce squalls bringing strong winds and heavy rain, followed by dead calms. We lost count of the times that we put some sails up, went like the clappers, then pulled them all down again and put the engine on when the wind died and the rolling waves made the sails slap lifelessly. The squalls could be seen coming in the day as a dark cloud with a shadow of rain under it.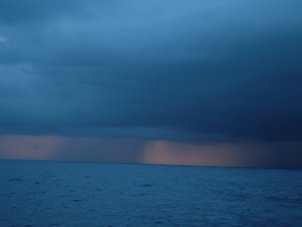 6th December
Merryn's birthday, and some good weather and fair wind for the day, which was a relief for everyone. Merryn had lots of home-made presents, and Jay spent a large part of the day cooking various things including chocolate brownies and a big curry with the last of the slightly shrivelled fresh veg on board.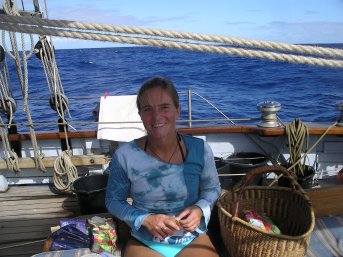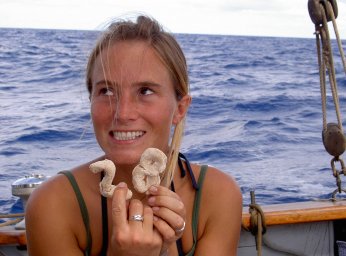 There was of course plenty of booze involved, with beers during morning present opening, champagne with lunch, and cocktails in the afternoon followed by lots more beer.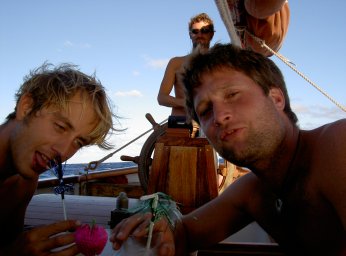 7th December
Less than 200 miles to go, and finally a wonderful sail all afternoon, part of the first 24 hour period of continuous sailing yet. The miles seem finally to be clocking down rapidly as we near our target. Since we hadn't changed our boat time three hours forward yet to Caribbean time, the evenings had slowly opened out so that we were now able to eat evening meal outside, and there was even enough time for some evening guitar playing before dark.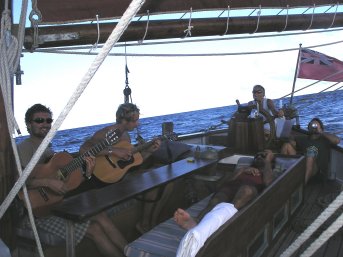 Just around dark we turned down for our final run downwind to Antigua.
8th December
The last night was unfortunately one where there was not a lot of sleep – a downwind run is always a little rolley, but it felt like we were almost thrown out of our bunks for most of the night, but he sight of land increasing in size on the horizon helped to raise spirits. We approached land around 9am, and skirted round the island….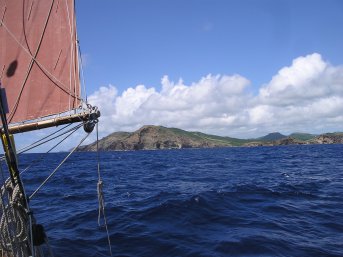 …and a couple of hours later were anchored in English Harbour, in a beautiful anchorage with a lovely beach and clean water to swim in. 2050 miles done in 18 days – a long way on a small boat in a big ocean, and everyone glad to be back on dry land again!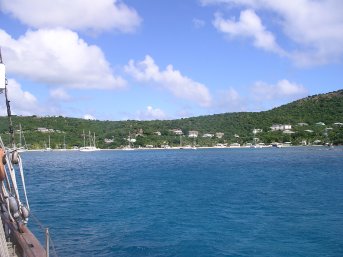 Antigua is certainly a beautifully green island, mostly due to the large amount of rain that they have had this year. We stayed at anchor off Galleon beach, near English Harbour, for over a week, enjoying a relaxing time and wandering about the island. English Harbour has some lovely old buildings built in Nelson's era and is home to lots of boats, some of which are quite impressive.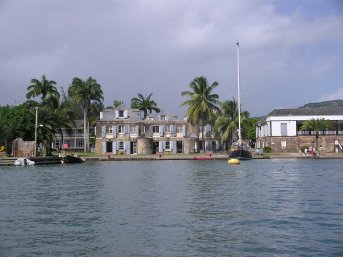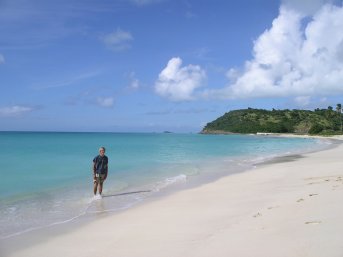 We had the good luck to meet a friend from home, Nico, who is out here working on a huge super yacht 'Rebecca' (130ft long!) - the boat is a luxury floating hotel with all the comforts of home.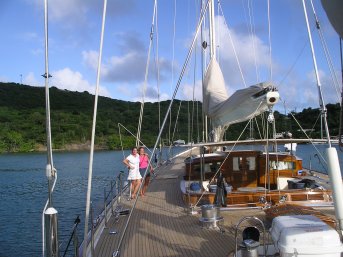 Sadly we said goodbye to first Cesar, who was rushing home to be with his family for Christmas, and then Bernardo, who was continuing his travels down through Brazil. We had to have a few drinks with them first of course to see them on their way; we were very lucky to have found such a good pair of crew that we enjoyed having on board.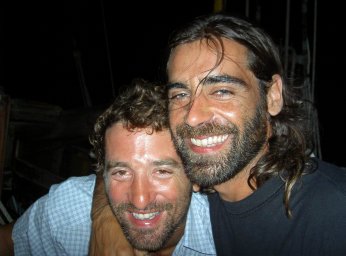 The local tradition is to go to Shirley Heights, which overlooks where we were anchored, on Sunday night to see the steel band, watch the sunset over Monserrat and enjoy the barbeque.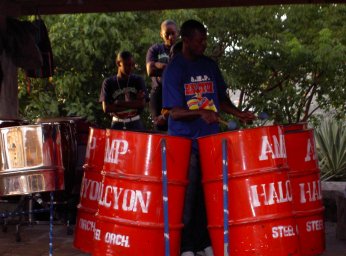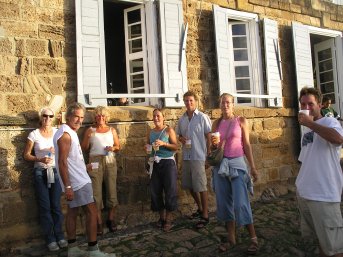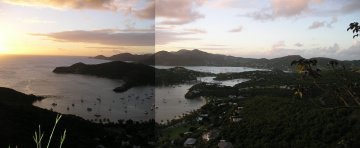 Unfortunately on the way down the path in the dark Jo managed to crack her wrist, which put her arm in plaster for 6 weeks and obviously made swimming difficult.
The relaxed time snorkelling off the boat in the anchorage and enjoying the local hospitality unfortunately had to come to and end since we needed to get the leaks fixed and to re-paint the bottom of the boat, so we went off to Jolly Harbour, a few hour's sail around the coast, to come out of the water to get the boat in good condition for the remainder of the trip.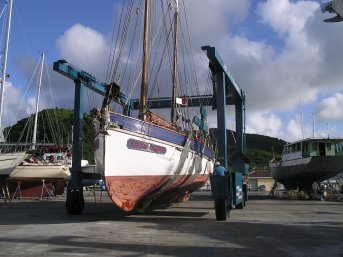 After looking at the seams between the planks, some of which were fairly poor and had caused our leaks, we decided that all the seams needed caulking and filling, and Mr Cochrane and his crew (Mannie, Llewellyn and Winston) were roped in to do the work for us since there were only 7 days to Christmas and it would have probably taken us months on our own!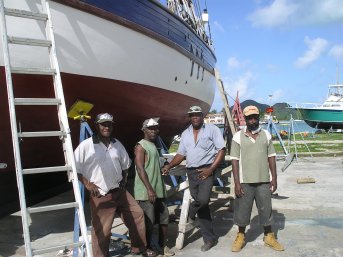 Mr Cochraine urged me to point out that they did a good, fast and high quality job, are available for work on wooden boats anywhere in the world and that his phone number is 4628011 for anyone with a wooden boat visiting Antigua, and were certainly glad of their help to get us fixed up and back in the water.
Having spent the first night on the boat we were all attacked visciously by mosquitos which made a miserable time intolerable, so we got ourselves an apartment and stayed there at night during the work, which was a lovely break. There is usually some breeze and less mosquitos when anchored off the land, but temperature and mosquitos increase hugely when up on the land, plus the fridge and heads don't work and there is sanding dust everywhere, all making for an unpleasant time!
While the work was done on the bottom of the boat, the topsides were sanded and repainted. Life was made 100% easier by having the use of a car to get all the bits and pieces that we need, that was lent to us by Barbara, it also helped with taking various friends and family to and from the airport.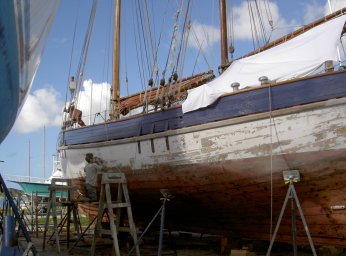 … and the last of the treenails left over from Bristol where we could not get at them were drilled out and replaced.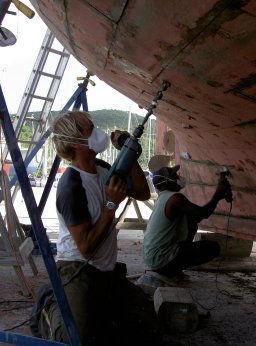 After the newly caulked seams were filled with epoxy…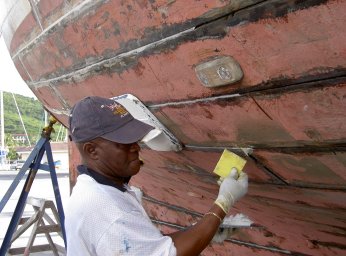 then came the job of painting the hull with bitchumen and antifouling, which is always a nice job breathing in lots of paint fumes under the boat, but a very necessary task to stop tropical worms eating the wood away. We were extremely relieved to have the boat back in the water late morning on Christmas Eve, and despite a small leak that initially caused concern but later stopped as the wood moistened and swelled, there were no other problems and we ran back round to galleon beach for Christmas, with Lista looking good in a new coat of paint.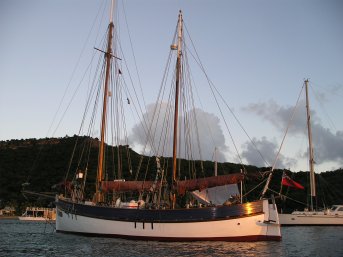 Christmas day is a slightly different affair in the Carribean, the standard cold weather and roast turkey exchanged for a lovely warm and sunny day, an outside party in the dockyard with a live reggae band and a barbeque for dinner, all washed down by copious amounts of champagne provided mostly by Si and Debs at 11am.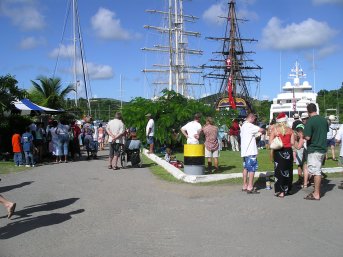 Then it was back to the boat for a succession of nice eats and of course lots more booze as the party faded towards twilight.
After several days of recovery and general running about Guy returned to spend a week with us on the 28th, bringing Phil with him at the same time. We had also managed to pick up Zoe in the meantime; having completed her time on the boat she had helped deliver across the Atlantic she needed somewhere to sleep whilst looking for another boating job.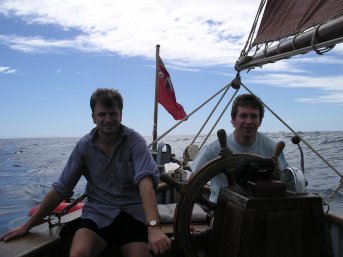 To show Guy, Phil and Zoe at least one day of sailing we went off around the west side of the island to Green Island, where we stayed for a few days enjoying the beautiful surroundings, snorkelling and scuba diving on the various reefs, although for some reason Guy was blamed for the cloudy and rainy weather which seems to follow him around the earth. On our return on New Year's Eve it was time to say goodbye to Jay for six weeks and it was off again to Nelson's dockyard for the New Year's Eve festivities which included a small fireworks display and some more music. Unfortunately some people took the festivities too far, the list of thoroughly wetted casualties for the night was three mobile phones, one digital camera and one bed, incidentally the first of two swampy visits that week. Anyhow after some recovery and little activity on the 1st Jan, 2005, the 2nd Jan heralded Maurice's second visit to the boat, and a fleeting visit by Merlin and Ann, who happened to be on holiday on Antigua. The evening involved another Shirley Heights visit, this time with no injuries on the way back down, and the next morning we were off again for a sail to Hawksbill Bay of the east side of the island, and stayed the night in a bay banked by mangroves and beaches.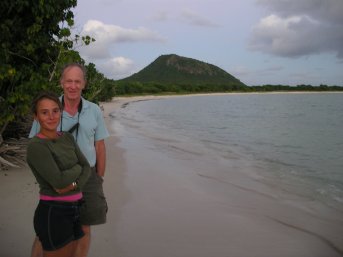 Another surprise visit the next day was to see the Daws, long standing family friends, since they had come to Antigua for Alex to get married. We managed to gatecrash the ceremony itself a few days later and had a thoroughly good time.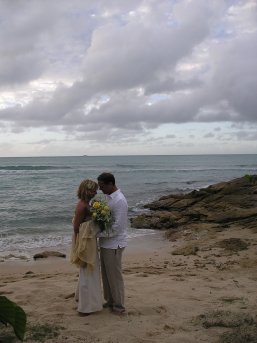 Back to previous section - Canaries to Cape Verde Islands
Forward to next section - Antigua to St Lucia






















This page hit Count : 175452
This is the Lista Light Website, for the travels of the sailing boat Lista Light

Click here for text-version of site