St Lucia to Colon

Not for the first time we were leaving St Lucia, but this time was the last; we headed off from a very roley anchorage between The Pitons with Katarina wondering whether she was going to feel unwell or not. We had a lovely sail down the windward side of St Vincent and in to Admiralty Bay for a few sundowners, after spending an hour hoping from unsuitable mooring to unsuitable mooring until the man who was offering them to us got so angry he put us on the biggest mooring in the bay, suitable for supertankers!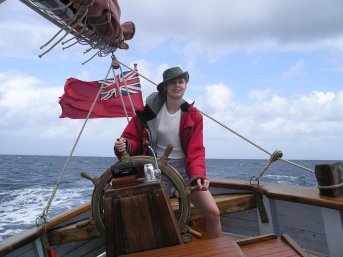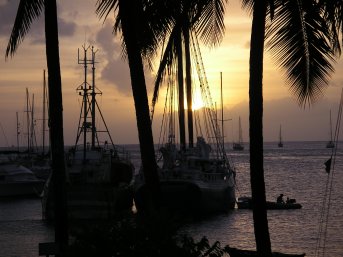 The following morning was Katarinas Birthday so after opening a few cards and pressies we got ready to head over to Petit Nevis for the day. In the meantime Stuart, a friend that Jay had met on her first visit to the Caribbean in 1989 popped over, his initial couple of years away had turned into 16! Much of his time had been spent in the Pacific and New Zealand so he gave us lot of tips for places we couldn't miss. We climbed the hill behind the boat for a bit of exercise, which gave us a lovely view of the boat below.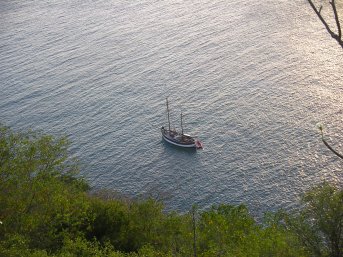 We found the anchorage all to ourselves that evening, and cooked home made burgers and marinated chicken on the barbeque.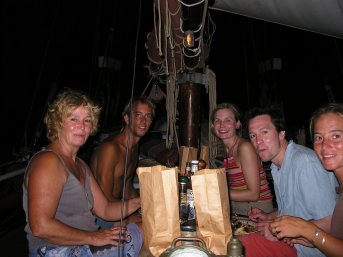 The next afternoon it was back to Bequia to drop Craig and Katarina off for their plane back home the next morning, having the good luck to see Endeavor, a beautiful 'J' class boat, zoom past us and anchor in Bequia.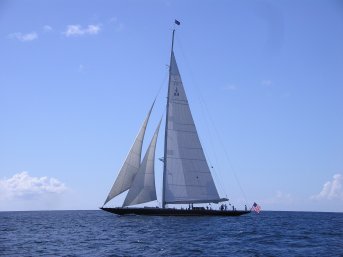 The next day it was off again, this time for Tyrrell Bay, Carriacou after a short customs stop at Union Island on the way. Just before we entered the bay, we caught our first Barracuda which made a lovely meal that evening, and was enough for fishcakes for lunch the day after too!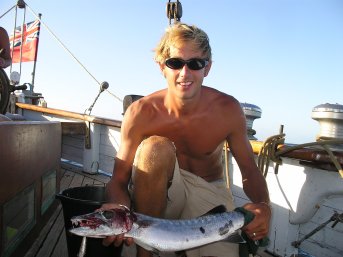 In Carriacou we met up again with Nick, whose boat had been caught in the hurricane at Grenada and badly damaged, who told us about a local boat launching happening the next day, which shouldn't be missed. After several hours and a lot of shouting, the boat was finally in the water.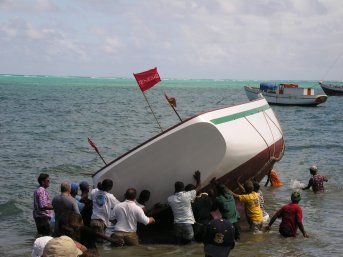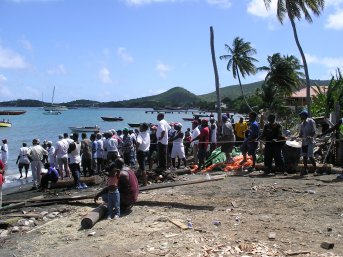 Video - the boat hitting the water

After the rest of the day relaxing, we headed down to Grenada, again a good sail with Endeavor steaming past us (Si, we knew you'd like another picture!)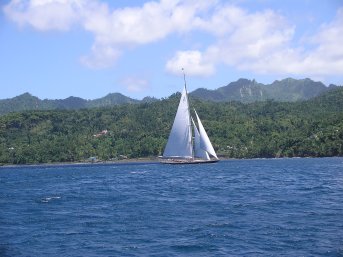 As we sailed down the side of Grenada, we found it strange that lots of houses had blue roofs, but as we got closer and used our tiny brains we realised that they were all blue tarpaulins and that many of the roofs were missing. We anchored in St George, the main port, and had a stroll around the town; most of the essential amenities were restored, but there was still a huge backlog of repairs to be done, and there were people rebuilding all over the place. Unfortunately the camera battery was flat so there are no pictures of the roofless churches, etc, but we did manage to get it working long enough to take a shot of the lovely colurs in the water in Grand Anse bay.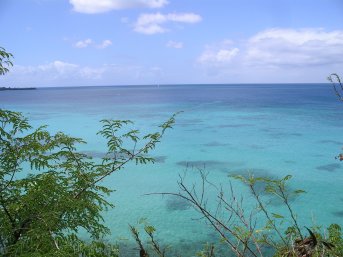 After a couple of days relaxing and finding boat parts in Prickly Bay, just around the bottom of Grenada, we headed for the islands off the coast of Venezuela, with Merryn worrying after hearing stories about pirates and armed robbers attacking boats along the Venezuelan and Columbian coast. We sailed overnight, arriving in Los Testigos at midday, and were very pleasantly surprised to find a friendly and chatty young man where we reported in to immigration, rather than the usual aloof and rude Caribbean official. Los Testigos (which means The Witnesses) is a group of five or six islands with about 150 inhabitants who fish for a living, and keep themselves to themselves - a pleasant surprise was the lack of people hassling us for money or anything else while we were there!
We went across the channel from where we checked in to stay the first night, and anchored off the beach behind a small island and reef which protected us from the swell.




After a relaxing day snorkeling and climbing the sand dunes up the coast, we headed round to another small bay, where there were quite a few other boats, most of whom were French. There was a small spit of sand separating the windward side of the island from the leeward side, with waves breaking over it, which made for a strange beach, with waves coming at you from both sides!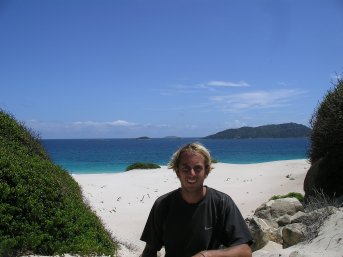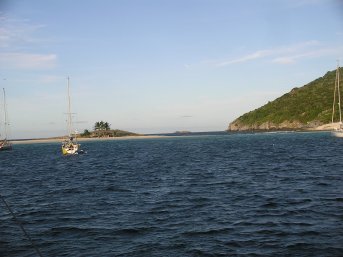 The sailors in the anchorage had befriended a local old fisherman who lives at the side of beach, and they used a lean-to at the side of his shack as a kind of social area in the evening, the arrangement being that in return, the old guy got a good helping of booze brought along by everyone! After chatting for a while, it turned out that the fisherman was off spear fishing the next day on his boat, and had invited everyone along, which was good fun, a few people getting lucky and catching a lobster or two.
We did another overnight sail with Merryn still panicking about pirates, and we arrived at Isla Blanquilla, a small island 90 miles west of Los Testigos which is only 60 ft high at its highest point, and has a few small settlements.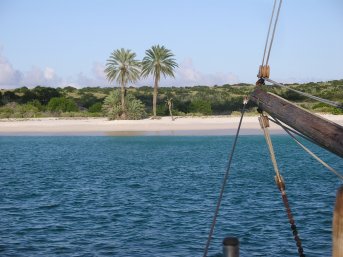 Before we left again the next afternoon, we took a short dingy trip to Americano Bay, named after the American who built a house there, which is now ruined. The lovely small bay with beautifully coloured water and white sand was made even more interesting by a natural arch near the entrance.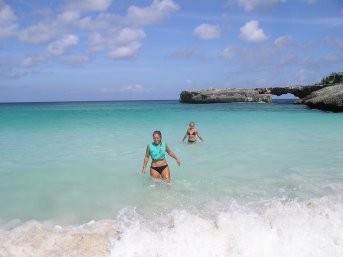 Keeping on moving towards our appointment with a few more crew in Bonaire on the 15th March, we left after lunch headed 120 miles west to Los Roques. The situation was made fairly desperate by the fact that we had run out of beer, white wine, tobacco and coffee, and there was reputed to be two supermarkets in the Los Roques! We motor-sailed overnight with jib and staysail poled out, since there was not enough wind to keep the mainsail filled as we rolled about in the waves, headed directly downwind.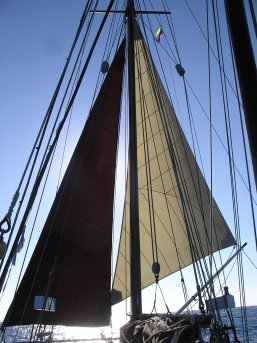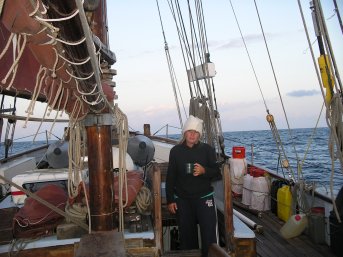 In the morning the wind was a bit stronger, so we had a better sail with the mainsail up, and arrived at the Los Roques islands about midday. There is a narrow southern entrance between a reef and the land, then a ten-mile sail up alongside a reef, with beautiful iridescent turquoise, green and blue coloured water, which made it fairly easy to see where the water was deep, although a watch from higher up made it obvious where we needed to steer. Unfortunately the photos don't really do the colours justice.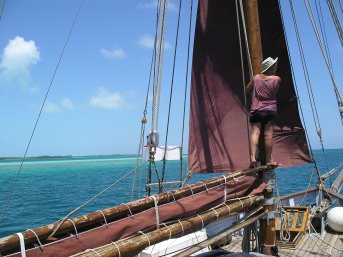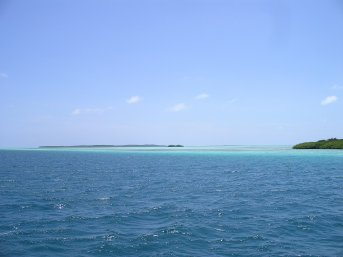 After anchoring off Le Grand Roc, the main island in the group, we went ashore for some shopping, managing to get some beer and a few other items, although the shops were fairly small. The island is basically a Venezuelan holiday resort, with most of the buildings smart holiday homes, and lots of restaurants and bars. The whole town had an almost twee look, since it was so nicely maintained, with brightly coloured buildings and sandy streets.
Pelicans were everywhere on and around the water, and were considered a pest by the local fisherman!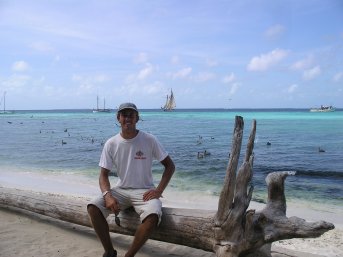 After a welcome night's sleep at anchor rather than on the go, we had a morning stroll up the hill to the old lighthouse, before it got too hot. There were fabulous views all around of the outlying islands and reefs, which the camera again didn't do justice to.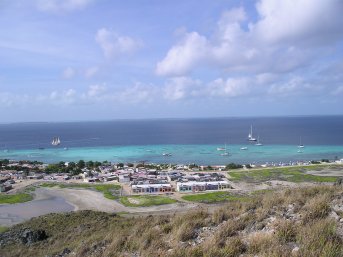 We carried on ten miles west to a beautiful small island and reef where we stayed the night, and next morning before we left an old fisherman came up to us in his boat with his tame heron sitting on the side. He asked if we wanted any fish, and knowing that we had no Bolivar to pay him with didn't stop him throwing 3 fish on board. We ended up giving him with a roll of insulation tape, which he was extremely pleased with, and we enjoyed the fish fried for supper that night!




The next stop, a leisurely half day's sail, was to Las Aves (which means the birds) , which are two deserted islands and reefs, but this time with covered by mangrove trees inhabited by thousands of sea birds. We spent the evening in complete desertion, except for the raucous sound of hundreds of birds roosting in the trees.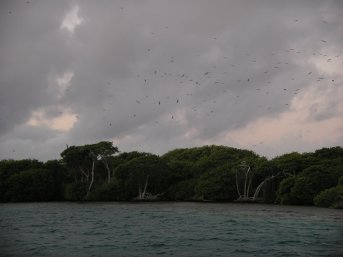 The next hop was a long one so we were up at first light, surprised that the birds hadn't woken us up already. After following our course threading back out between the reefs in the half-light, we went past the second Las Aves island and headed for Bonaire, the next island along. Bonaire is part of the Dutch Antillies, which are owned by the Dutch, so we were officially leaving Venezuela.
We arrived in good time that afternoon, picking up a mooring just in front of Karel's bar along the main front of Kralendijk, which is the capital of Bonaire. Bonaire is very cautious of reef destruction and so keen on it's thriving diving tourist industry that anchoring is not allowed anywhere around the island ! We anchored next to a bright yellow aussie boat called Neliandrah ('butterfly' in aboriginal - that's for Maurice) who we had a lot of fun and many drinks with, rarely has Jay been known to down so many rum and cokes!!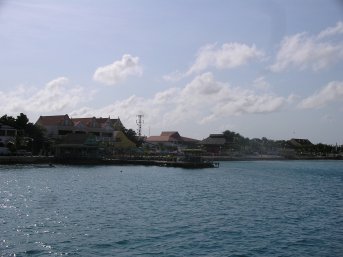 A few days of the usual running about trying to find bits for the boat, and getting down to the outstanding jobs followed, with Jay getting completely covered in paint again and repainting vast areas of the inside of the boat.
We had noticed for a while that the end of one of the planks in the side of the boat had started to spring out, and had not got round to refixing it, the result being that it had slowly got worse. We decided that it was finally time to tackle it and tied up alongside a dock in a nearby marina for the day, where Rob was able to drill a few holes and attach some threaded bar to wind the end of the plank back in (sorry no photos of this exciting repair). We also took the chance to change the engine oil, fill the tanks up with water and went back to our mooring that evening near the bar (which we had got fairly tired with since it played extremely loud music until 3am several evenings a week). Right in the middle of all the mending, with half the interior of the boat also in piles from the painting, Mike (the first new crew member we had found through crewing websites on the internet) turned up - we wouldn't have blamed him for turning round and running off straight away after one look at the mess but he stayed, and pitched in with the boat maintenance over the next few days.
We had heard about some very cheap, small and plastic twin tub washing machines available in Bonaire, and we ended up buying one and getting it back to the boat in a hired jeep. No more hunting for a launderette!! Merryn got to work straight away at the backlog and spent most of the day testing the new machine out, which is light enough to carry up onto deck to do washing, and small enough to stow away in the engine room when not in use, and hopefully won't rust into a pile within months!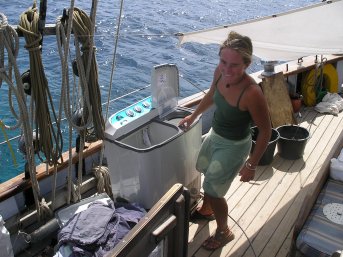 We made full use of the jeep and used it to go provisioning at a warehouse cash and carry, and then went for a three hour drive around the island, sometimes finding our way along dirt roads and getting generally lost seeing some beautiful bays with light blue water. We did see a couple of flamingoes, but didn't go right down to the south where the salt lagoons are and there are flocks of them.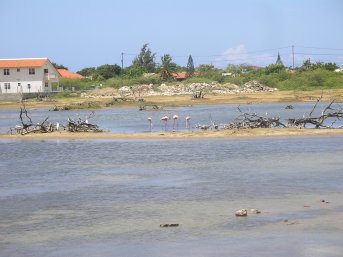 We waited just one more day for Stuart to turn up (our second new crew member, a Kiwi, who we had met in Grenada and had followed us to Bonaire on another boat) and then spent another day getting everything back in its proper place and organised, and did a final trip to the supermarket for fresh produce, then set off for Curacao on the morning of 19th March with a fresh 15-20 knots breeze, putting all the sails up to show Mike and Stuart the ropes, and practicing reefing the main amongst other things.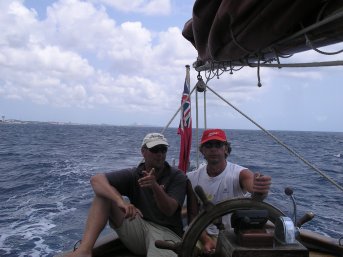 We had a great sail all the way across, making 6-7 knots and with the current helping too. We arrived outside Willemstad, the capital of Curacao at about 4pm, then realised that Rob hadn't been paying attention to where we were supposed to be going and no-one had checked - we were supposed to be going to Spanish Water, a lagoon we had sailed past an hour ago! We turned around and beat back into the wind and sea with the engine on full blast, and managed to find our way up the narrow channel into the lagoon and drop the anchor just before dark.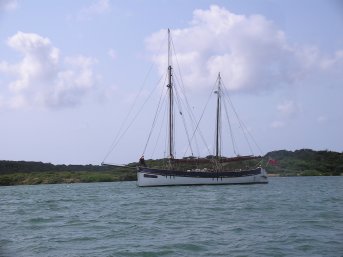 After a quick shower at the local marina the next morning (made slightly more difficult since the door was locked and we all had to climb over it), we set off for our passage to Panama, some 760 miles (about 6-7 days). The forecast was for Easterly wind, 20-25 knots (force 5-6) which is pretty much perfect strong breeze to get 35 tons of Lista Light ploughing through the water. We made near to 150 miles in each 24-hour period for the first three days, which much be close to a record for consistency over a long period of time! The waves were big, but since we were going in the same direction as them, we were fine, although Merryn managed to get drenched by a particularly huge wave breaking over the stern whilst she was steering.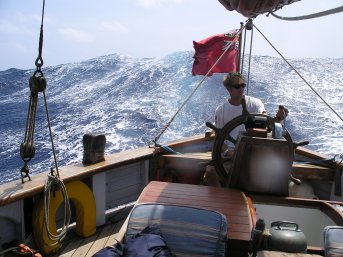 Movie - Big following waves

During the night of the third day, the wind increased until we had only the main up with all three reefs in, and we were still going a consistent 6.5 - 7 knots, and up to 12 knots surfing down waves as they broke behind us. Reefing the main, always a struggle even with five or six people across the Atlantic, was made much easier (and a two man job) by reefing tackle that Rob had rigged up before leaving Grenada, since there had been only three on board.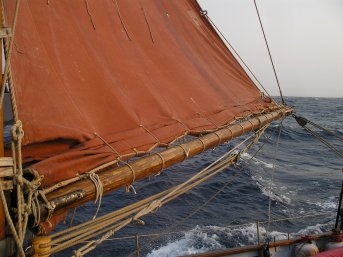 All good things come to an end, and throughout the fourth day the wind and sea dropped steadily and we shook the reefs out and put up more sails but to no avail - by the evening, there was no wind and the engine was back on, which is how it stayed for the next few days until we reached the Sanblas Islands, off the East coast of Panama. During the voyage, we had decided to stop in at the islands, which are reported to be unmissable, even though we had concerns about the time it would take to make the Panama canal arrangements - some rumours suggested a two-week wait.
The Sanblas are an archipelago of several hundred small islands and reefs stretching along the Panama coast, inhabited by the Kuna people, who are the second shortest race on earth - even Merryn towered over some of the ladies!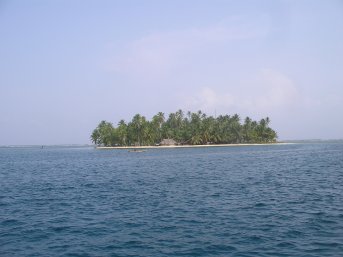 We were instantly surrounded by Kuna in their dugout canoes, trying to sell us their 'molas' which are detailed appliquéd cloth made up of many layers of different material.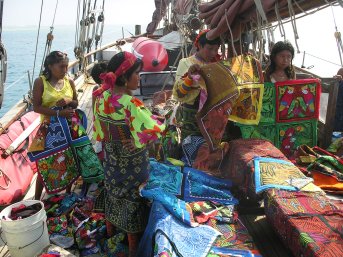 Jay couldn't resist herself and bought half their stock, and we finally got rid of them all and had a chance to relax a couple of hours, and have a well earned swim after five days at sea. After lunch we popped over to see customs and immigration on a nearby main island, where the small runway is (we managed to anchor in the flight path first time, and got shouted at to move.)
As we hadn't really been keeping track of dates, we were dubious about the overtime payments they asked for, making it a total of $150 for a three month cruising permit (the smallest available) and immigration, until we finally realised that it was Easter Friday. It was also Rob's birthday, so we went for a meal at a hotel on a nearby island, and drunk far too much rum late into the morning.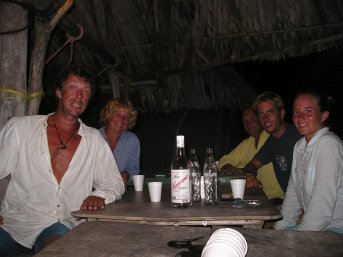 After a very slow start the next morning, we headed off for another island called Gunboat island, and stayed there for the night, and did lots of snorkeling on the reef and we saw our first big rays. There were a couple of other boats there from Austria, who invited us to a barbeque over a large fire on the shore that evening.




Our fifth stop was back to the East to Hollandaise Cays, which was highly recommended by people we had met - there was a boat whose owners had found the place so lovely that they had stayed there for five years! The entry to the sheltered lagoon (called the Swimming Pool because the water was such a pale blue) involved weaving in and out of several reefs, so a careful look-out was required to get in.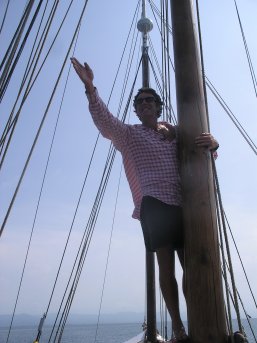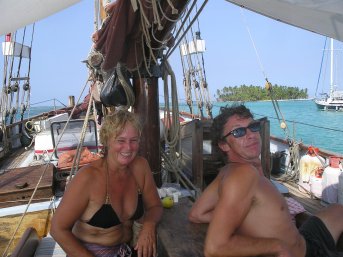 After several unsuccessful attempts at spear fishing that afternoon, even getting the scuba gear on for a higher chance of success, we returned empty handed, but still had an excellent crab and crayfish dinner that we had bought earlier from local fisherman.
Leaving the next morning as the sun rose over the island for the last part of the trip to Panama, we were cautious with the engine since we had run very low on diesel, and tried to make the best of the light wind coming from ahead of us.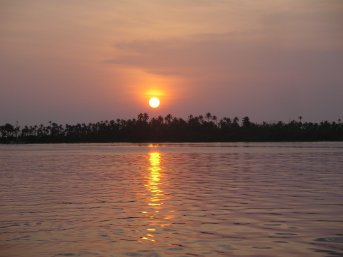 As the day wore on, the wind increased and even though we were close hauled, we were managing 5-6 knots by the afternoon, with a full set of sails up which is probably another record, since Lista Light's windward performance is not usually much to write home about.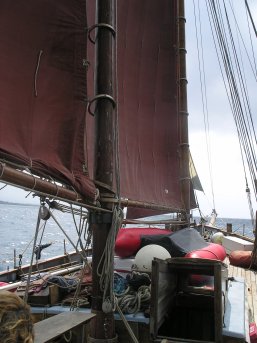 We were still sailing nicely to windward when we arrived at our overnight stop in Punta Playa Chichita, a small village along the coast of Panama. We had a gap in our paper charts of the area, and so the journey along the Panama coast had been done using electronic charts from Rob's laptop, which had proved invaluable, and a good trial of the backup technology.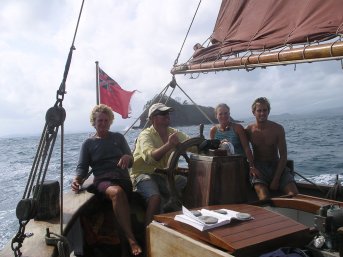 Up early the next morning, we continued to Panama with a fair wind all the way, and we started to see more and more large boat traffic leaving and approaching the canal as the afternoon wore on.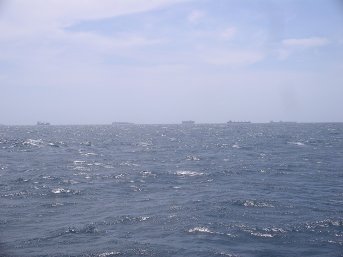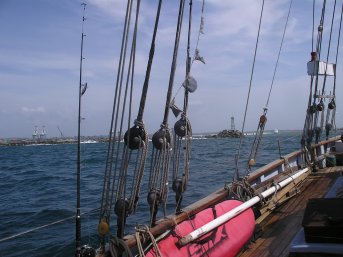 We entered the harbour area about 4pm and were anchored outside the Panama Canal Yacht Club, just off Colon, by 5pm. Having heard so many different reports of the waiting time, we got straight down to the paperwork the next morning, enlisting the help of one of the taxi drivers to do immigration, Panama visas for the entire crew and going to see the Panama Canal admeasurement office, which is the first step in the procedure - to get someone to come out and measure the boat, which decides how much you have to pay.
We rushed about getting the bowsprit in before the admeasurer arrived the next day, since without the bowsprit we are very nearly 50 foot, which puts us in the cheaper category (600US instead of 850US). It all went successfully and we were measured at 49 foot something, which was very kind of the measurer! Having gone through that, we had to pay the money into the bank and phone for our transit date that evening - which turned out to be the 21st April, almost three weeks away, which was a little disappointing.
In the meantime we had met up with Noel and Jo, who had arrived before us on their boat, and they told us that dates were being moved forward all the time, so we were hopeful of actually getting through much sooner, probably at least 1 week earlier.
Meanwhile a long time to wait - but luckily there is always something to be done on Lista Light; we also found a man selling cheap diesel (as long as you don't ask where it comes from) which we took a long time siphoning out of drums that he delivered to the deck, and generally getting the deck and ourselves covered in diesel. It was also time to get shopping, since most things are expensive on remote Pacific islands - we tried to shop for the next 3-6 months, and so ended up with a big pile of shopping to be slotted in all over the boat.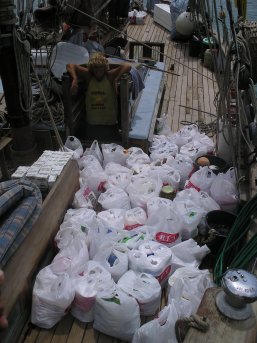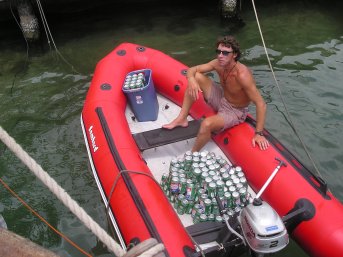 So a waiting game until we get a better canal date, but we have a few tricks up our sleeve which might succeed, so we may get through very soon.
There is a Panama Canal web cam, so when we know our transit date and rough time I'll send out an email.

Back to previous section - Antigua to St Lucia
Forward to next section - Colon to Balboa (Panama Canal)






















This page hit Count : 163042
This is the Lista Light Website, for the travels of the sailing boat Lista Light

Click here for text-version of site