Antigua to St Lucia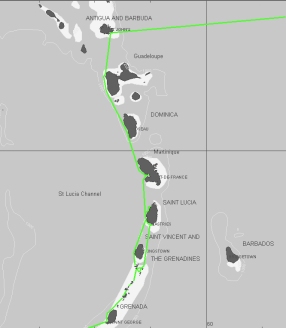 Having said a fond goodbye to all on Antigua, and seen Guy off back to England, we left towards St Lucia on 8th Jan, held up slightly by the recurrance of an issue at the top of the mast, which we had to have re-welded and strengthened.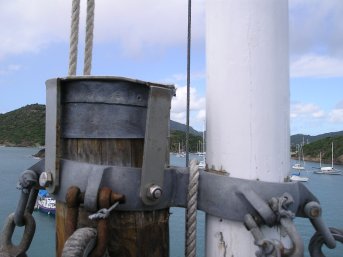 Crew was now down to five - Noel and Jo, Rob and Merryn and Maurice on board, and we made good progress down to St Lucia in three days in order to meet our next set of friends due to arrive on the 11th.
After waving goodbye to Si and Phil in Antigua we headed out of English Harbour towards Guadeloupe, making good progress under just staysail and main, which we soon reefed as the wind increased and then reefed again at lunchtime. A happy event for Jo was the removal of her plaster cast after six weeks, with Noel playing doctor using a hacksaw blade.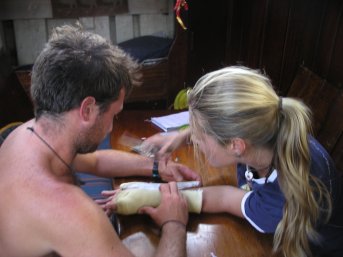 We arrived in Deshais, Guadeloupe before 4pm, anchoring off the beach and venturing into town to find a good feed in a French restaurant, finding it strange to be back using Euros and speaking French.




The next morning it was another early start headed onwards to Dominica, starting off with all the sails up whilst behind the wind shadow of the island, but getting going well between the islands, managing a consistent 7-8 knots and up to 8.4 knots at one point, although we all got thoroughly wet in heavy showers.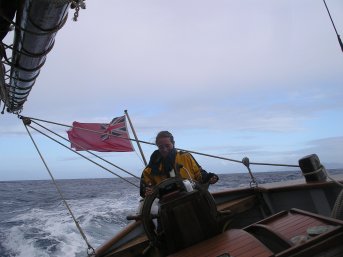 We arrived in Castaways Bay, Dominica at around 5pm and stayed aboard that night, since we planned to get up early the next day - and we watched a spectacular sunset from the boat.




As we headed off for Martinique the next morning under full sail, we had an escort of small dolphins for a while, and again the wind picked up as we got out from behind the island, sending us along at 6-7 knots until after lunch, when we went behind Martinique and had light variable winds again. We motored into Fort de France, which is in a huge bay, and anchored close to the old fort.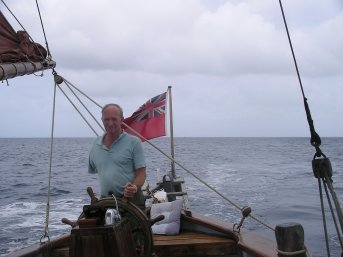 A thoroughly unsuccessful evening ensued, first being boarded by customs for an hour, which involved form filling and lots of poking around the boat, then having finally got ashore after a heavy shower, we wandered the streets for about an hour looking for a nice place to have a drink, but somehow we were unable to find anything apart from a run down and dirty bar full of strange old people. Having endured a quick beer, we finally found somewhere slightly better, but we certainly missed the main night life area ! Back on board for a late dinner, then up early again the next morning for the final run down to St Lucia, where we arrived between the Pitons by lunchtime.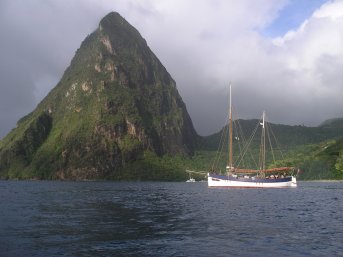 After delivering Maurice safely to Mary in her hotel at the Pitons, off we went to pick up our next guests - Ben, Jason and Lucy from the airport and that evening enjoyed a fabulous meal at the Jalousie Hilton hotel near to where we were moored.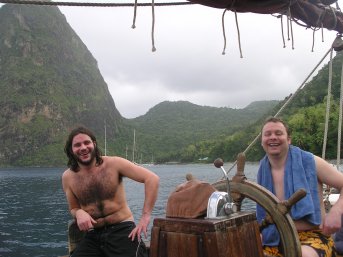 After some time spent relaxing on the boat and snorkelling in the beautifully clear water in the deep natural harbour, we went to Soufriere for the night and then on to Rodney Bay, where after anchoring in the usual way we headed ashore, only to be pulled out of the bar a little while later since the boat had dragged the anchor in the gusty wind and had actually hit another boat! Luckily all was well in the end and damage was very slight to all parties, nothing that a bottle of rum and many apologies couldn't mend.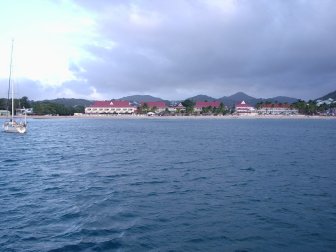 After a somewhat sheepish exit from Rodney Bay we stopped in again at the Pitons to say goodbye to Maurice and Mary, and were headed off again towards St Vincent when about 15 minutes into the journey, there was a POP! and the engine room was suddenly full of smoke! After some frantic running about a burst exhaust box was diagnosed, caused by a cooling failure melting the box. We limped back into Soufriere with the boat billowing exhaust fumes, and spent the next day removing the offending exhaust, which unfortunately involved removing the gearbox first. A day spent running about trying to get it fixed eventually culminated in getting someone to make up a new one in fiberglass, which wouldn't melt in the event of another cooling failure, but would take 2 days to make, followed by another day refitting it - meanwhile we enjoyed the quality snorkelling off the reef right next to the boat, and made friends with the local sea ranger Norbert, who demonstrated how to drink two thirds of a bottle of vodka in an hour and still make sense.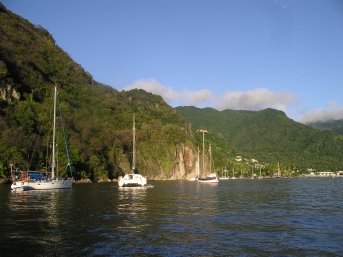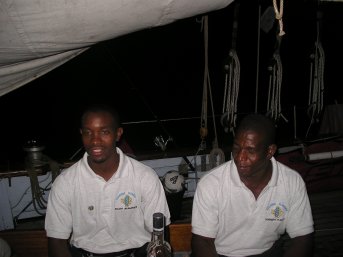 Our extended stay in St Lucia also allowed us to go for a walk to see the waterfalls take the dingy on a trip to a local deserted beach and take a local boat ride close in to the coast to see all the local villages, and enjoy several good sunsets from the deck.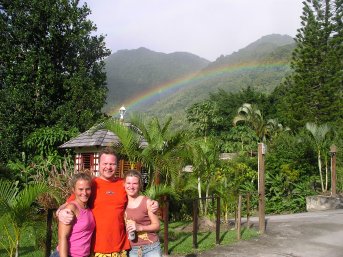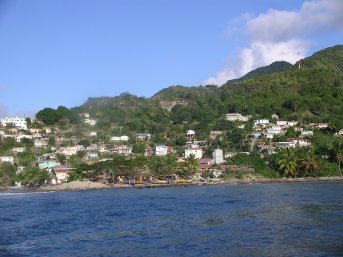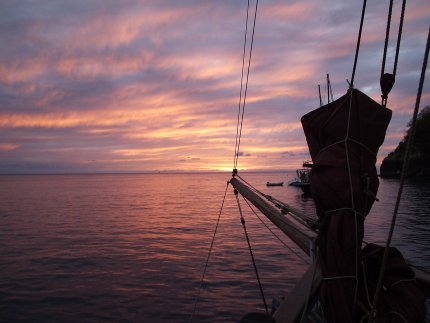 Having only a few days left with Ben, Jason and Lucy and having been unable to do much sailing due to our mechanical problems, we set off to do a three day round trip to Bequia, Mustique and St Vincent, returning to St Lucia in time to catch their flights. We went out in Bequia, where Lista Light had spent some 15 years with a previous owner, and ended up in a local bar where the lady kept complaining that she wanted to go home every time that we bought another round of drinks. There was plenty of pool playing with a few locals, one of whom claimed to have been one of the pirates in 'Pirates of the Carribean', since the film was shot in Bequia and St Vincent. We were also very pleasantly surprised to see a boat very similar to Lista Light, and when we went to speak to them the Norweigan boat builder on board said that his cutter was built in pretty much exactly the same place in Norway, a few years later.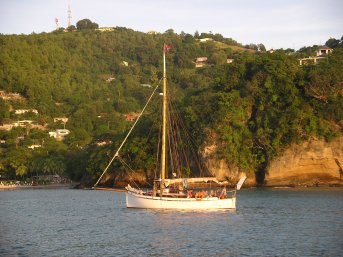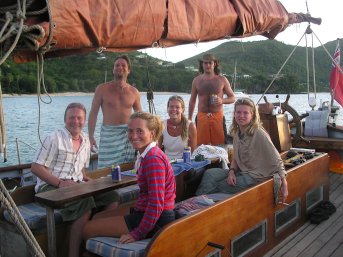 Assisted by a good strong breeze, which turned into a downpour, we made Mustique just before dark.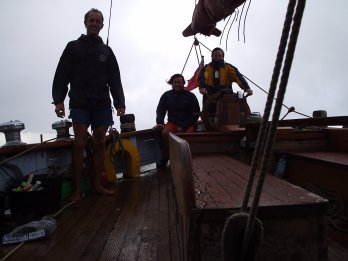 Mustique, home of the rich and famous, was certainly different from the other islands with its manicured lawns and facilities, but would not be completely seen without a quick visit to Basil's Bar in the evening.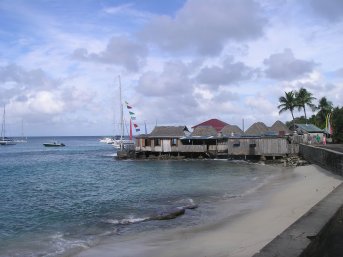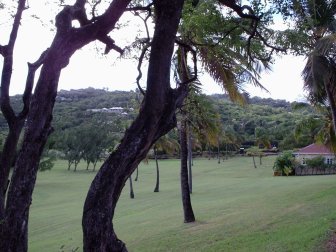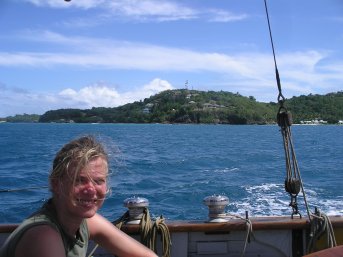 Beating into the sea on the way back to St Vincent, Ben was ecstatic to finally catch a fish, which rapidly became two in the space of ten minutes.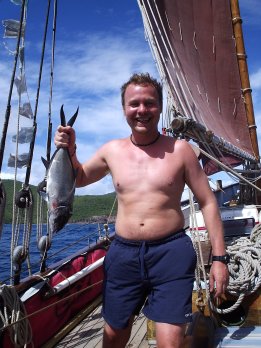 We decided to have a 'Carribean evening' that night since it was Jason's last night when we reached Cumberland Bay, St Vincent. After finally managing to get rid of the locals selling grapefruits, coconuts and necklaces who couldn't wait for us to get anchored first and got completely in the way in their various craft, we tucked into the Pina Coladas. We had agreed to visit both of the small bars on the beach front, but we were disappointed to discover that they were all shut and everyone had gone home when we ventured out at 9pm, but luckily we had vast supplies of alchohol on board.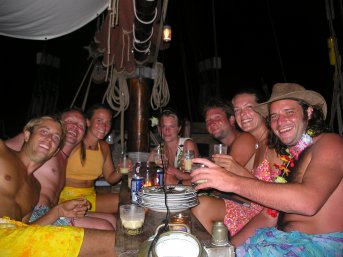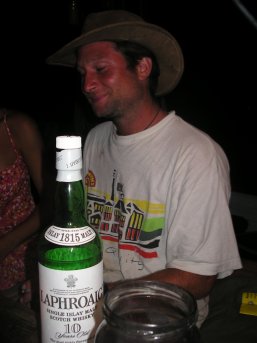 Jason was slightly worse for wear as we beat back into the wind and sea the next morning, spending his last day mostly asleep below until we waved him off at the airport in the evening, having anchored for the night off Vieux Fort, St Lucia, close to the airport. We spent the next day and night at Laborie, the next bay down, which had a few reefs in and which required a look out for shallow water as we crept in.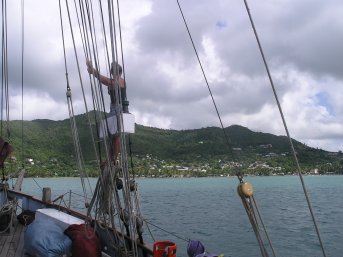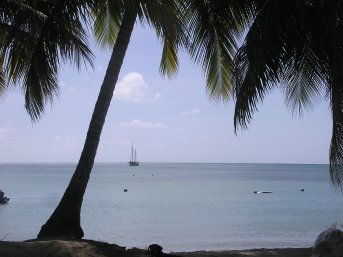 Noel was slightly put out by a policeman who told us we couldn't scuba dive without a local guide just as Noel, Jo and Rob had got fully kitted up and were just getting into the water off the beach, but after relaxing on the beach for a while we ordered food at the small beachside hotel for the evening and returned to the boat. Some pretty poor and generally unsucessful attempts at surfing the break on a reef near the boat were made by Ben and Rob before we headed ashore for supper, only to be told that the maid that we had ordered from had forgotten that the kitchen was closed that evening; we made amends by finding a local bar and having beer for dinner.
Back up to Vieux Fort the next morning so that we could drop Ben and Lucy at the airport, but not before an excellent lobster dinner - five lobster for £8 bought from a local fisherman who came alongside in his boat.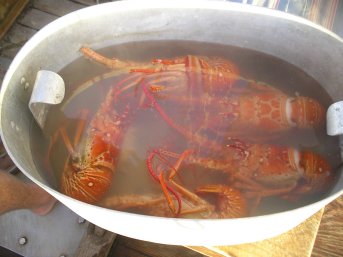 And then there were four again, and we left the next day and sailed back to Bequia, passing St Vincent again.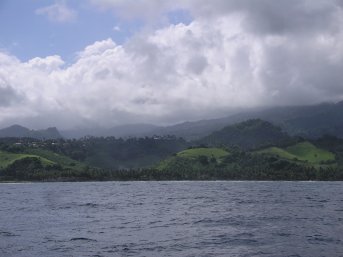 We relaxed in Bequia for a few days, filled up with water and did some laundry, and walked to the other side of the island to a village called Spring.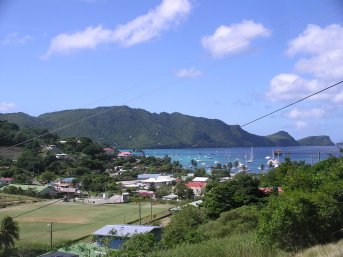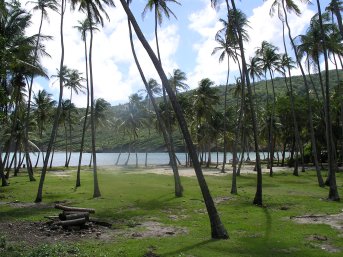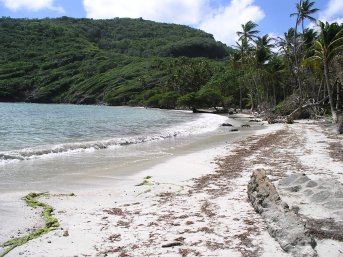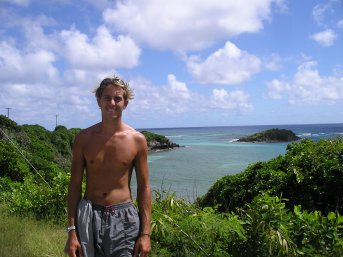 Next stop was Cariacou to meet Noel and Jo's new boat, since their time on Lista Light had come to an end. Due to a bad knot tying incident, the Grenada courtesy flag had come lose, so Merryn was forced to go up the mast for the first time to remedy the situation.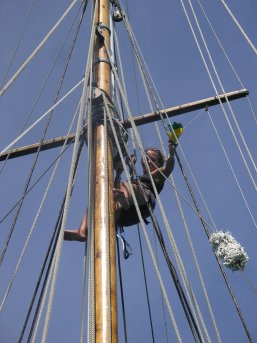 After meeting Noel and Jo's new boat and making various arrangements for meeting up at the end of February, we headed back up the islands, first stopping at Union Island,




then Canouan Island a short distance away, where we went for a lovely walk only to find that the entire other end of the island had been developed into a huge hotel complex and golf course, a bit disappointing since there was a lovely church on the top of the hill which we were no longer allowed to see unless we bought an 'all inclusive day pass'!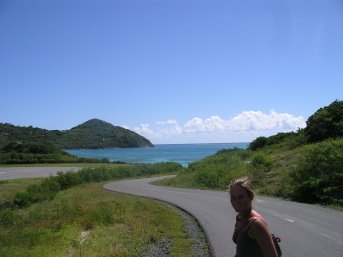 After a quiet night, it was back of to Bequia again on the first February so that Jo could do a five day dive course. Whilst there Rob and Noel concentrated on some mainenance tasks and we saw another lovely boat, this time the english cutter 'Marguerite'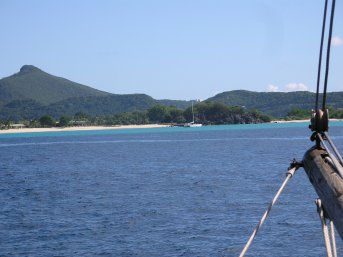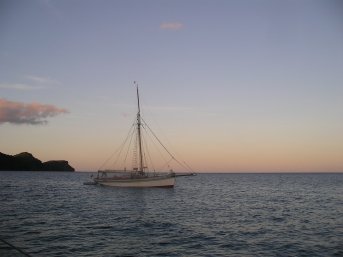 Video clip - panoramic view of Charlestown Bay, Canouan

The 'Prince William' also came into Bequia, and discharged a huge amount of teenagers all over the place.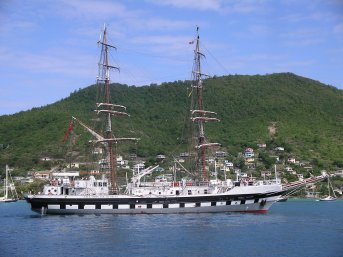 Leaving Bequia again we headed back to St Lucia in time for the next family visit, picking up Art and Becky as hitchhikers for the journey and having a good sail with all the sails, including topsail, up and pulling us along at a steady 7 knots. We arrived back in Soufriere on the evening of the 6th, which happened to be Bob Marley's birthday, a good excuse for everyone to listen to even more Bob Marley, sung by an extremely loud open air band.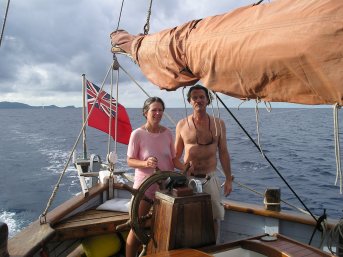 We then carried on to Rodney Bay the next day to finally pick up the water pump repair kit for the generator, which had been out of action for almost a month. Rob set to work mending it straight away, and started on an insulated box to enclose the noisy engine in. We said goodbye to Art and Becky and after a troublesome time scuba diving trying to find our stern anchor which had snapped off the rope holding it and was lost in 6m of murky water, we went back to the now very familiar Soufriere. Noel and Jo set about finding themselves somewhere to stay in the town until they flew out to meet their new boat, and Merryn and Rob busied themselves tidying up the boat a little in preparation for the arrival of Jenny and Jules (Rob's mum and sister) and Jay.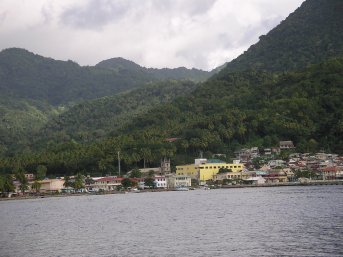 Staying at Soufriere few days with our new crew, we went and did the tourist thing and walked around the Botanical gardens, and saw the volcano and it's sulphur springs.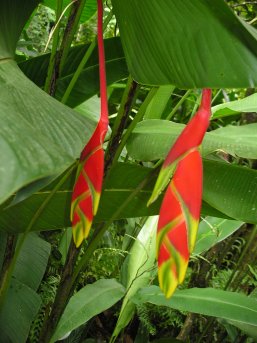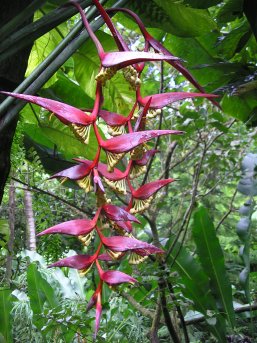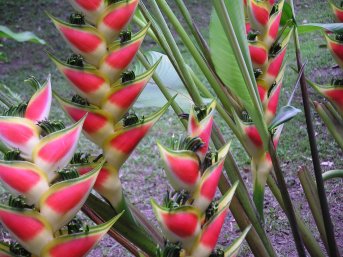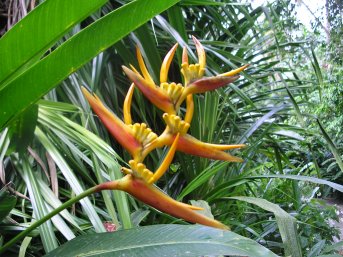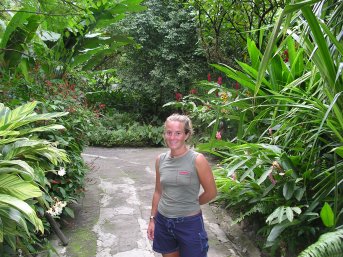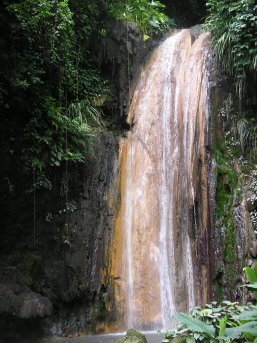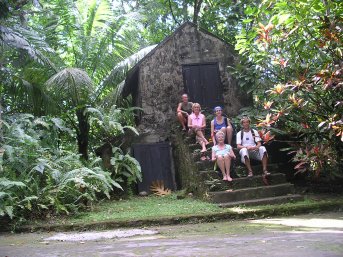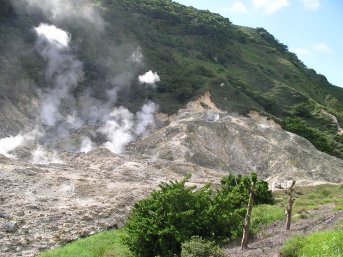 Video clip - bubbling volcano mud

Then it was off to Marigot Bay, and Jenny and Jules had a chance to steer the boat, although we had no wind at all!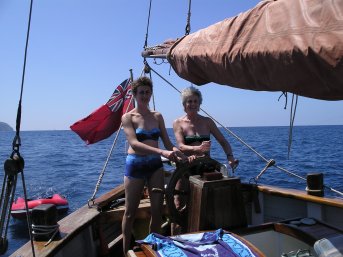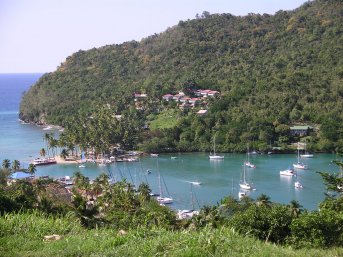 We spent a relaxing afternoon swimming and going to the local shop for some more food and beer, and Jenny was persuaded by the local palm weaver (who called himself 'Special Effects') to buy a sun hat.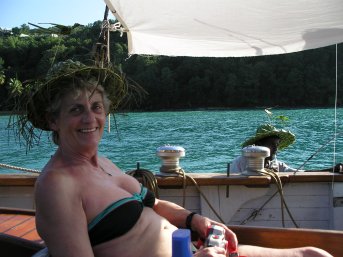 A short trip down from Marigot the next day to pick up a mooring between The Pitons, and due to a good breeze the next day, we went out for a quick sail into the bay, to finally show Jenny and Jules what sailing was really like !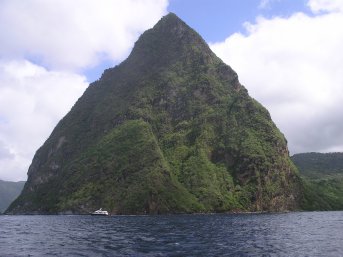 The next event was Maurice and Mary getting married St Lucia style at the hotel there, a very relaxed and enjoyable event.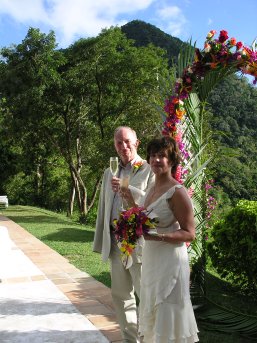 The last day of Jenny and Jule's visit flew by, and before we knew it they were back to the snow in England. Merryn and Rob had been having kiteboarding lessons, and Rob finshed his off and managed to stand up on the board for at least 2 seconds.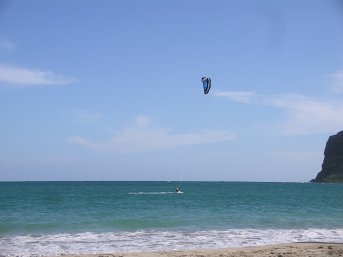 Meanwhile Craig and Katarina had come aboard as passengers for our third trip to Bequia, from where we plan to carry on down to Grenada and the ABC islands, and Panama by the end of March.

Back to previous section - Cape Verde Islands to Antigua
Forward to next section - St Lucia to Colon






















This page hit Count : 176674
This is the Lista Light Website, for the travels of the sailing boat Lista Light

Click here for text-version of site