Antigua

We met ''Keith and Keith'' in Montserrat. In Frank Butcher tones they instructed us to sail to Jolly Harbour, where we would find them in ''Angie's'' between 5 and 12pm every night. They could sort our dockage, a van for supplies.. what ever we needed, they could find it, ''innit'', Del Boy style.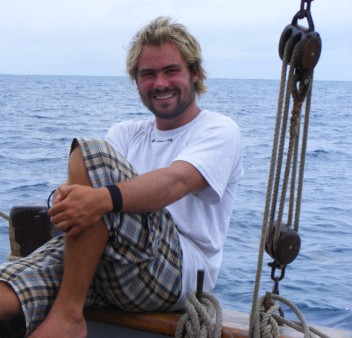 In the end we had to sail to English Harbour to meet the insurance assessor and finally start the process of mending Lista's mast. As we chugged down the creek, a blonde haired guy waved wildly at us from his boat. Marcus, of course, Claire our crew mate from Cornwall had sailed to Portugal with Marcus and his two mates on his 23ft yacht while she was minding Lista in La Coruna. We had never met him, but heard all about the Swede and seen photos of him and his mates dining aboard Lista.


Sorry - image not available (Jess, Freya, Boo, James)

That evening the ''Groupies" descended upon Lista. The English Harbour posy were a fine group of 20-40 year olds who moved in a herd, rather like first year Uni students. It was most unusual for the Lista crew to have such a team of ready made friends. First there was Marcus senior, who sprung up the mast to check it out and regaled us with his eco life style, boating prowess and links with home- the very same village as my Mum's! Marcus' girlfriend, Jess, who had lived in the Caribbean and sailed the seas for years, although only in her early twenties. James and Freya who had worked on Brixham Trawlers in Dartmouth and afar teaching excluded children how to sail, while building a dinghy, working on their boat and making bags. Marcus Younger- our civil engineering student, who sailed from Sweden aged 23 and Boo, who quietly told us of his mission to sail the seas. He had never sailed before, but this did not deter him. He made the leap to quit work, attended sailing courses, gained his Yacht Masters and finally set off as skipper of his own boat, crossing the Atlantic solo.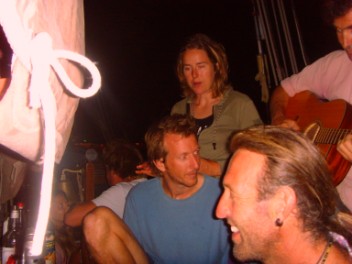 Dave's days were spent talking to the Insurance Assessor for replacing the broken mast, measuring and writing endless inventories of the parts that were lost and finding Ship Wrights prepared to produce quotes for the work. Emails, phone calls, bike rides abounded as Dave tried to figure out the best way forward. Meanwhile Megan and I chased contacts for media, outreach and surveys. Finally the Government granted us survey permits, we linked with the Environmental Awareness Group (EAG), we sorted a slot on the local radio, fired off articles to the local papers, talked to school students and found a venue for our presentation.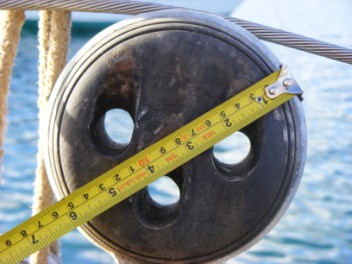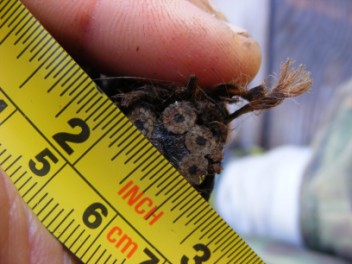 Antigua, unlike the other islands we had surveyed have an active environmental group, EAG, who are undertaking regular surveys on offshore islands. They have gained funding through associated work on the endemic Red Bellied Chaser Snake. De-ratting the islands has been achieved through bait (formulated in Switzerland) that is only attractive to mammals, thus sparing birds and reptiles. EAG is comprised of volunteers who are keen to conserve Antigua's natural heritage and spread the conservation message, working with local fisherman and the like, devoting evenings and weekends to surveying and monitoring.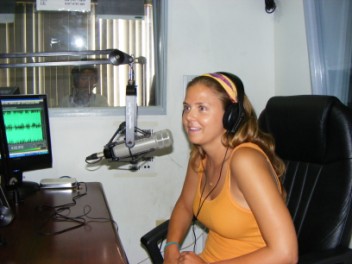 Megan and I met with teachers Victor Joseph and Junior Prosper of EAG and their fishermen for a day's surveying on Rabbit, Great Bird, Lobster and Redhead Islands to the NW of Antigua. We chugged off in the fishing boat, finding no signs of nesting activity, being assured that the time to visit was May when the Terns and Gulls returned laying throughout the islands. Things were to change on Rabbit Island. Following slashed paths through the thorny scrub, we heard rasping calls and squeaking and the pungent aroma of guano grew thicker. As we rounded the bend, Brown Pelicans, appeared- huge fluffy white chicks, grey leathery hatchlings and mottled sub adults all chatting and clapping their bills. They nested atop the bushes with the adults sitting on eggs or by their bulky chicks, returning with fishy snacks in their huge gaping sacks. We rapidly counted eggs, chicks, nests and pairs of adults, soon retreating before the agitated Pelicans flapped from their nests.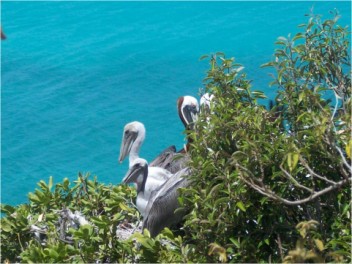 Next was Great Bird Island, heaving with Red-billed Tropic Birds soaring through the air and tumbling to their nest crevices. We picked our way around the island searching out and marking nests, registering chicks and squawking adults. It was perfect terrain and free of rats thanks to EAG's work. The islands were enchanting, low coralline, with turquoise seas lapping at the reefs. The reefs were not so great, however, like most of the reefs we have searched in the Lesser Antilles, much of the choral is lifeless, bleached bricker-brack strewn on the ocean floor. The fishermen waded through the shallow reef searching for conch. He plucked a haul of over 20 into the boat and knocked out their contents as we sped back. We do not know the status of conch in the Caribbean, but it is likely that such a large mollusc must take years to accumulate its calciferous shell (similar to the Lobster, which is threatened in the Caribbean and throughout most of its global range). Can such an easy prey taken throughout the Caribbean served to locals and tourists alike, be sustainably harvested?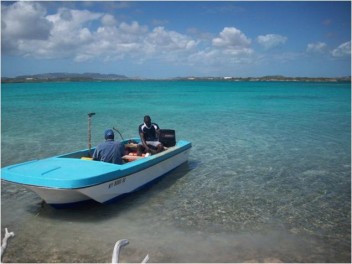 A visit to Claire Hall School where Victor and Junior both work was next on the agenda. A huge crowd of students greeted us and we talked about EPIC, the seabird species we are researching, their ecology, breeding habitat, survey methods and us- how we came to be Ecologists. Questions varied from the effects of D.D.T. on seabirds, to the meaning of fecundity, to queries about petrels and shearwaters. Megan hitched a lift on the back of my bike and we cycled back to St Johns, Antigua's capital city, home to cruise ships and the associated paraphernalia and animosity that surround them. We were soon back in St John's for our radio session. Kim (another EAG member) probed us about our mission and the seabirds of Antigua. We also had a first- phone in questions- there was actually someone listening!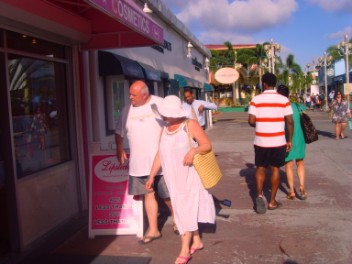 English Harbour was a timeless little enclave full of predictably, Brits. Its architecture had been preserved, along with the watered lawns (kindred of gulf courses; incredible vanity in a country gripped by draught) smart restaurants and bars and a posy of five Brown Pelicans. The Pelicans had perfected the art of smashing through the water on plummeting dives of over 20ft. This takes some learning, young Pelicans, newly wet behind the bill, generally perfect such feats over years (they are long lived like many seabirds potentially living up to sixty years and not breeding until three years old). We spent days trotting down the road, under the road block and along the harbour front to either Gee Gees ór Mad Mongoose for the internet. Sometimes we would slip to Pigeon Beach for a dip or run over the garrison hills amongst the goats and thorns and views out to sea.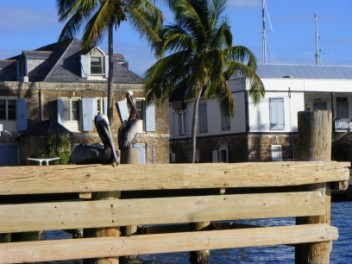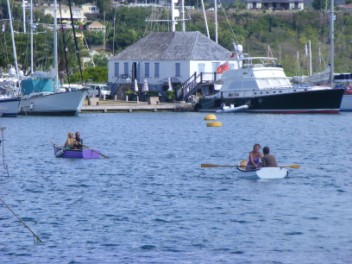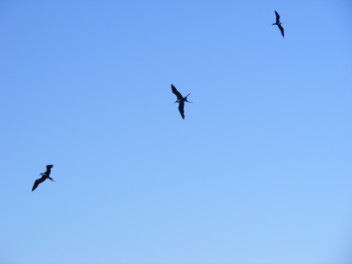 Finally, with outreach complete and presentation booked for our return, we slipped anchor for Barbuda. Barbuda being a fairly hefty trip, we decided to moor by Green Island. With Emily on the bowsprit and Megan and me at the bow we zigzagged our way through reef hemming us in on all sides. We found a patch of white sand and Lista settled with little more than 30cm below her keel. I paddled off in the kayak with the stern anchor to keep Lista locked away from reef, and we snorkelled under our floating survey platform checking out for any marine ''hanger oners''. Together, we flipper off for the reef finding a treasury of fish, but little living coral. This was overshadowed by Megan and Emily's encounter with an Eagle Ray! The next day we hunted for Red-Billed Tropic Birds and sat in the sugary sand as the waves lapped at our toes.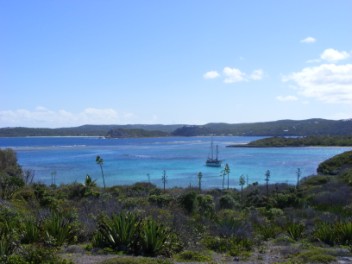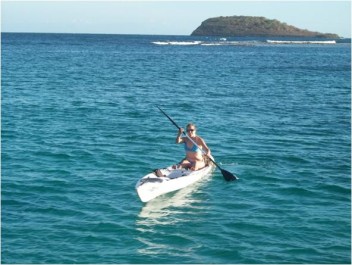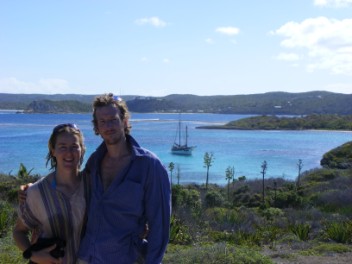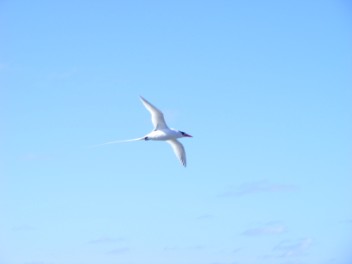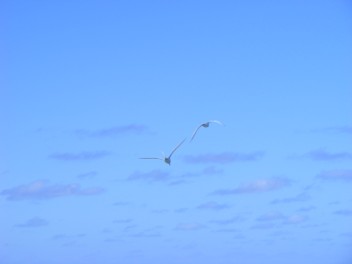 After Barbuda....(read Dave's account of our brief sojourn to the ''pancake paradise island'') we returned again to anchor near Green Island before heading back to English Harbour to our friends and the Yacht Club presentation. Megan and I spent most of the day preparing and rewriting our talk. Dave was ensnared with Lista before three intense hours of film creation - a Project montage from our video snaps. Half an hour before departing, the video crashed... we left to prepare for the talk, leaving Dave to retrieve the file. Luckily Dave appeared with laptop and video sorted and the three of us began our presentation to an inquisitive audience of birders, conservationists and sailors who pelted questions at us as we talked.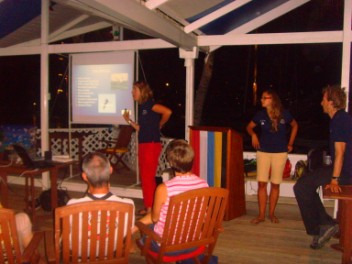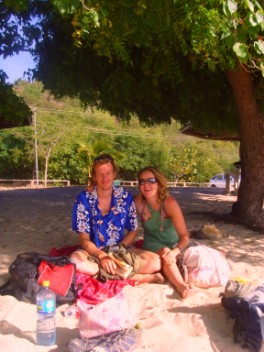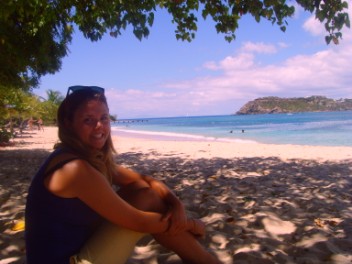 With Marcus (Younger) in tow until Guadeloupe we finally left English Harbour. Our last appointment on Antigua was Five Islands, a group of little islands near the mouth of Jolly Harbour. Megan and I slipped into the kayak and headed for them, while the others motored to Jolly Harbour to provision. We secretly prayed there would be nesting birds, but did not hold much hope. Two down, two to go, we paddled to number three and there they were, PELICANS!!! screeching, stinking, Brown Pelicans balancing in the scrub. We jumped out of the kayak with GPS and note books and tethered it to a rock. Like snakes we slipped up the crumbly island side and peered at the inhabitants. There were masses of chicks in flimsy nests in the branches ( a few on the floor) sprouting pin feathers, mottled and near to fledglings or still eggs. They objected to our presence, squeaking wildly and flapping desperately to hop away. We couldn't bare the disturbance, scared that the eggs or chicks might topple, or chicks ensnare their selves in the thorns. So quickly and crouching low we recorded the numbers, before descending and sneaking to the other side of the island for the missed birds. There were no signs of rats, but we were concerned that the critters might swim over from the mainland to the seabird booty. Mission accomplished in under 20 minutes, we slunk off, leaving the magnificent birds in peace.

Within an hour, we were back on Lista and joining the crew to haul the latest provisions aboard. The last owners of Lista had warned us against the ''mosquito infested hell hole that was Jolly Harbour'. We soon appreciated the meaning of the words. Squished together in front of a lap top screen on the ''library'' seat, we watched a film. Sweat sluiced off our sides and our skin stuck together. In our mini, 'Black Hole of Calcutter' mosquitoes whined incessantly in our ears. It was truly horrific, none of us got a wink of sleep. Marcus tried the bow sprit net and several spots up on deck, Megan and Emily preferred below deck and were eaten alive by the blood suckers. Dave and I also attempted above deck, with the whisper of a breeze, buried from head to toe under sheets, but still proved fair game for the frenzied flying hoards.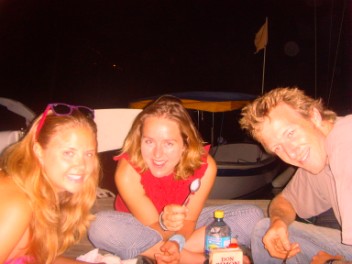 And to finish, a few key photos from Antigua......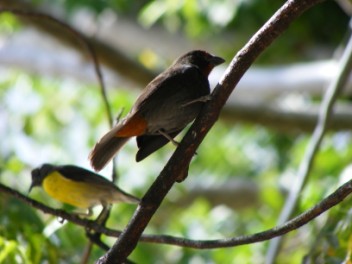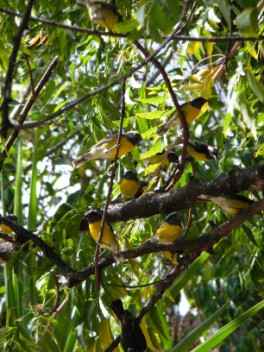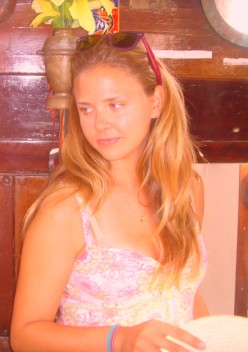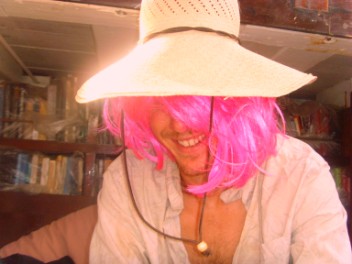 Back to previous section - Montserrat
Forward to next section - Barbuda






















This page hit Count : 4103
This is the Lista Light Website, for the travels of the sailing boat Lista Light

Click here for text-version of site