Barbuda

Over the course of our journey to date we have been amazed by the variety amongst the islands of the Caribbean, preconceptions of simple white sand, and pina-coladas, and stereo-types of jovial "don't worry be happy" mommas have been blown clean out of the water. Barbuda, this flat smear on the ocean was to be no different. Over the course of the journey too, we have always been ready to leave each of our ocean "nests" by the time of departure, excited to be moving on, exhausted from rolly anchorages, breaking moorings, grating anchor chains, even unreliable contacts and harassing officials. In this instance Barbuda was totally different. We could have stayed for a week and feel like she, this rural petit idyll has plenty to offer people of our mindset. Til we meet again, Barbuda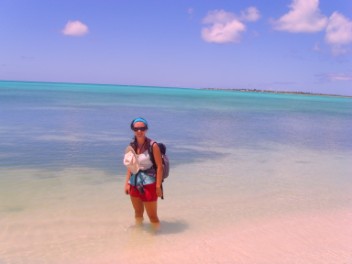 Due to pressure on our schedule (uh-hum, how business like...) from slow passages with a minimal rig, and from some meetings with assessors we had originally considered whether Barbuda would even be possible at all. On the one hand it was the home of a trillion Magnificent Frigates (well, about 2500pairs, the biggest population in the Caribbean), a massive spectacle which because of its importance is currently being studied by a Phd student, and the local Environment Awareness Group (EAG) of Antigua and Barbuda. So there was work we could draw upon instead of reinventing the wheel. On the other hand Barbuda must be home to other species too, and perhaps they hadn't received the same focus? To the north of Barbuda, is, well, nowt, until Nova Scotia 1500 miles to the North, so as a geographic outpost it peaked our interest. We headed off from Green Island, Antigua SW, nice and early, under motor and sail until about noon, easily pushing 5kts with an ensemble of mizzen, mizzen staysail, main(3-reefs) and Jib, and a low level of motor assistance. The breeze improved a little so we cut the engine and still kept our pace on a beam reach which improved my mood no end! Perfect. The scientists rested their minds or mulched on the morphology of a tropicbird or some such. I scanned for Whales and Dolphins. We had seen bugger all since passing some miles to the North of Barbuda in January. The depths on this leg of the passage barely exceed 30m but at the deepest point something caught my eye. A bloody great splash, and again with large blows! I yelled something and awaiting the awkward few minutes after raising the alarm when everybody is scanning the horizon and starting to doubt, oh dear. But relief! They smashed through the surface again and again – a pod of 5-6 Humpbacks a couple of miles from our starboard bow but clearly visible. No photos of random bits of sea, just lovely to see and remember.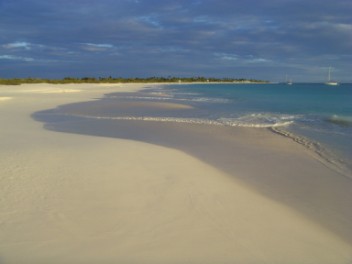 Barbuda is more chanced upon than arrived at. With a peak of 59m, the bulk of the 64sqm being below 10m it all that is seen from up to 5 miles out is a very fine, sheer line of white sand with the odd palm tree. As we eventually picked our way through the reef into Cocoa Point we were greeted by both Bottlenose Dolphins and a huge Turtle, probably a Leatherback, and mile upon mile of white sand. The population of 1500 must have been elsewhere, which was nice.

The next two days unravelled with military precision and planning. Without time to factor in "outreach" here this was 100% surveys. It took Kath back to her Boland days, where I had stalked her originally proving my outdoor credentials through kilometre squares of bog and moor, seeing only her rump as she tore up the hills (once surveying, once to re-collect key articles deposited on the hill like GPSs etc)...

Day 1.

Megan and Emily were handed Spanish Point and as far North as they could get on the Eastern fringe. Having landed the bikes the night before, Kath and I mounted the old steeds (after recovering then from the night watchmen at Cocoa Point everso exclusive hotel complex) and surveyed the South West up to Codrington passing a number of breeding pelicans at the port crashing blindingly into the small fry at the waters surface...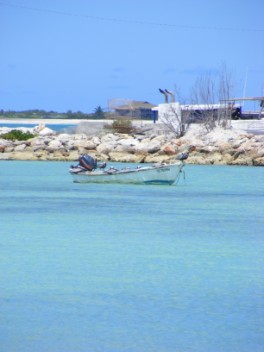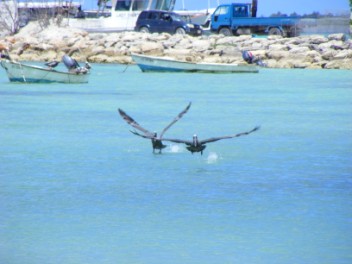 We hesitated for a brief internet session at the furniture store, and cool bottle from the shop (conspicuous in its lack of alcohol, despite it being 11am the locals seemed to have gone straight to beers to wake up), and then joined the Highlands at gun shop cave,10m to the North. The highlands in this case was a slight aspiration, at a mighty 26m, but I guess relativity might play a part in this little misunderstanding. From there we headed out on foot leaving the bikes in the mangrove.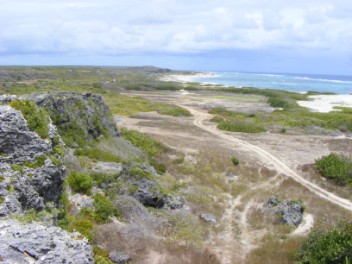 The bikes have been heroic. We treat them badly, prop up the seats with stones, walk them down gritty beaches, load them in salty seawater and in return they provide us easy miles, even on dust, ball-breaking roads, and fast access to survey sites anytime of day. They also allow us to get a good idea of habitat, predators/threats and see amazing sights along the way like the American Kestrels, Crested Hummingbirds and the ever present Bananaquits...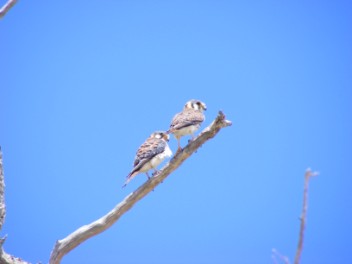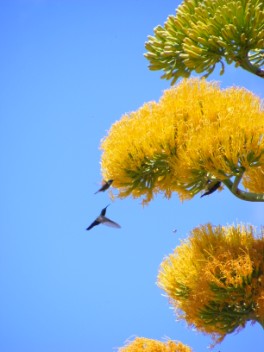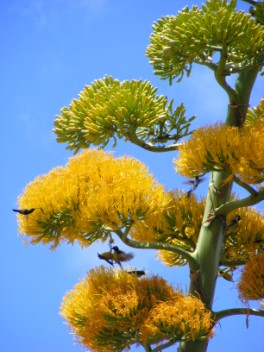 Back on foot -mile upon mile of white sand and flotsam greeted us, baked our senses, and filled our crappy shoes. Flotsam consisted of mainly single shoes, a theme on Barbuda, fishing floats, oil cartons and assorted crap floated over from Europe.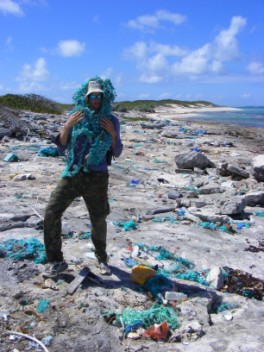 By the time we had surveyed the northern section the paths had turned into donkey tracks, then goat tracks then duck waddling tracks then no tracks at all, just mangrove. We walked miles before chancing upon 5 boys mounted facing variously forward or backwards on 3 donkeys who grinned at us foolish donkey-less white folk, and eventually Codrington, the capital, for ice-cream and hydration.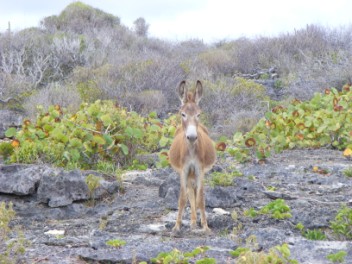 We hitched and walked home as the night sky turned the azure and white into shades of metallic grey and blue. Nudey nocturnal swimming back to base camp always a treat.

Day 2

Breakfast strategy meeting at 6am. Landing craft departed at 0700. Clinical. This time Megan and Emily tackled the Western fringe, so far as could be reached until Mangroves said no, and then headed North to Codrington. Lowrie and Lowrie yomped to the South of the highland chain and surveyed north splitting between cliff and dunes. This was spectacular territory, the lowlands reminiscent of African bush, the cliffs like Mexico perhaps with tall Century succulents, cactus and rocky outcrops.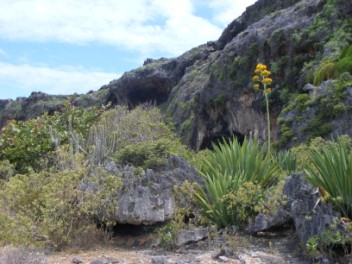 Caves dotted throughout the South Eastern highlands were filled with evidence of camps created by Barbudans getting away from the rat-race in Codrington. Or fishermen. Lots of goat, deer, donkey and tortoise remains littered the sites.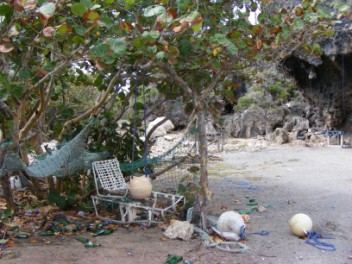 We found one family there cooking up sweet potatoes (a relief to the local mammal population no doubt) and relaxing on mattresses on pallets. They shared information on nesting sites and local terminology for the birds (Chi Chi Chowa is the local name for a Red-billed Tropic). But not their sweet potatoes despite Kath and I hesitating awaiting some sort of offer which we would apologetically accept, waiting like a bad smell (I pose that as a simile but I suppose it was fairly factual too). On we went on one of the most fun days yet, 10miles on foot north, then riding 10 miles back.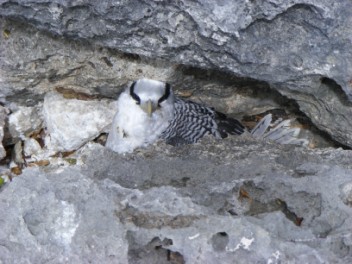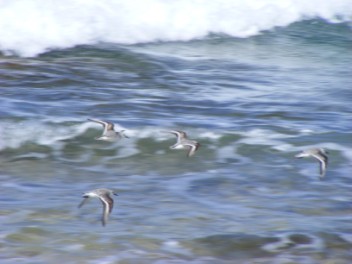 It was amazing territory, a good few Tropicbirds in unexpected locations, more hummingbirds, waders, and totally deserted apart from one family. At one point as Kath was digging large thorns out of her left shoe we accidentally flushed a mother goat from the rocks, she darted out bucking and leaping. She left her Kidd. I should know better but i picked the little critter up and he sort of befriended us, highly unprofessional i know. I have been searching for goat to make the legendary Goat Water, a Caribbean sort of stew, for weeks. Many rocks thrown, no hits.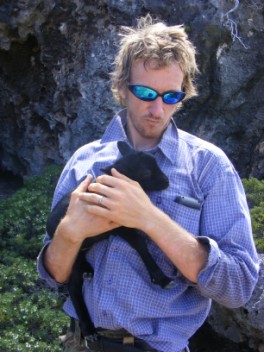 Now one sat with his weak, un-resistant neck in my arm, too easy. I thought about it for a second but we had bonded, no good, and we put him down. But as we ran off he followed, caught up, sat by my leg (looked up then seemed to read my previous thoughts) then quickly re-attached himself to the safer haven of Kaths leg instead!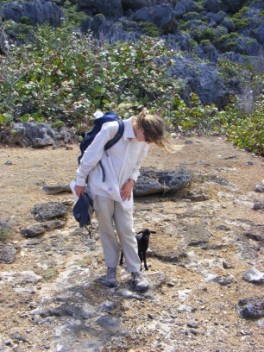 We finally evaded him and allowed the mother to return and chastised ourselves for interfering with nature's way, but it was all good fun.

So we collected at the boat for our evening debrief. In 2 days we managed to cover all of the ground we could without overlapping with the Frigate site to the North, we had tucked into local banana fritters, ice-cream and chicken, chatted to the locals on their bikes and merely opened the lid on this little nation. Perfect beaches and scrub, small densely arranged population without the usual sprawl, 2 hotels, two grass runways, no cruise ships and a spattering of yachts, and too many fond memories. Not for everybody, thankfully, but to us Barbuda was a flat version of a perfect tropical hideaway, rustic, rural, rich in simplicity and introspectiveness. Been there, didn't buy the t-shirt (because there wasn't one, thank god!).

Back to previous section - Antigua
Forward to next section - St Lucia






















This page hit Count : 4435
This is the Lista Light Website, for the travels of the sailing boat Lista Light

Click here for text-version of site